Before You Choose
Before you search our site for your new holster, you need to confirm the following:
Gun (Make and Model)
Weapon Light

Carry Position
1. Gun
In order to ensure a secure fit, every T.REX ARMS holster is designed for a specific gun or gun/weapon light combination. For example, your‌ ‌SIG‌ ‌or‌ ‌CZ‌ ‌won't‌ ‌fit‌ ‌in‌ ‌a‌ ‌Glock‌ ‌holster.‌
If you are unsure if we make a holster for your handgun or have questions on holster fitment, please contact us at team@trex-arms.com before placing your order.
Most modern semi-autos have an accessory rail near the muzzle-end of the gun, and we consider a rail-mounted light a high-priority accessory.
Carrying a gun with a weapon light requires a "Light-Compatible" holster molded for that specific gun/weapon light. If you substitute one weapon light for another or remove your weapon light, your Light-Compatible holster transforms into a Kydex bucket with no retention. A mere shadow of its former self.
We recommend you look at what gun/light combos are supported by a holster before you buy both the holster and the light.
To see what lights we recommend and the holsters that work with them, explore our Pistol Light and Light-Compatible Holster pages.

3. Carry Position
Carry Position is a matter of priorities and preferences. You have two basic categories:
IWB vs. OWB
IWB holsters are optimized to hide your pistol. When you choose an IWB holster, you sacrifice a little speed and comfort to keep the fact that you are carrying discrete. Choose IWB for carrying your gun every day under normal clothes.
Comfort is subjective so we recommend playing around with different ride heights and placements to see what works best for you. Please keep in mind that at the end of the day, you are wearing a gun in order to protect yourself, your loved ones, and to ultimately preserve innocent life. Sometimes comfort needs to be sacrificed in order to meet this goal.
OWB holsters are the opposite. Your gun is visible, but you increase your weapon access, comfort, and mobility. Choose OWB for practicing at the range, duty use, competitions, or perhaps when doing Rooftop Korean activities.
IWB Options
T.REX ARMS specializes in IWB holsters; our Sidecar holster has been the industry standard for 6 years. The Sidecar has a modular hinge system that allows you to choose between a variety of carrier attachments and swap them out if desired.
Appendix Position: You may also see this written as AIWB (appendix inside-the-waistband). If you want to run the Sidecar in the appendix-carry position (worn inside the waistband on the front of your body somewhere between the 11 o'clock position and the 1 o'clock position), you can run it with any of the attachments that the Sidecar is compatible with.
3-5 o'clock Position or Strong Side Carry: If you want to run the Sidecar at 3-5 o'clock, use the Raptor Wing attachment. This will give you the stability you need while also allowing you to carry in a different position. A Raptor Wing attachment is included with every Sidecar purchase by default regardless of the other attachments you add or decline to add.

OWB Options
The Ragnarok is our OWB holster (we also make light-compatible and suppressor compatible Ragnarok versions).
In our opinion, the best way to carry a Ragnarok is with a Safariland UBL and a Thigh Strap. If you're swapping out multiple holsters on the same belt, you'll also want the QLS System which consists of the QLS Receiver and QLS Fork. Otherwise, the UBL and Thigh Strap are all you need.
If you can't use a UBL due to competition or department rules/regulations, we feel the next best option is the Belt Slide.
Whenever you order a Ragnarok and an attachment in the same order, we install that attachment for you.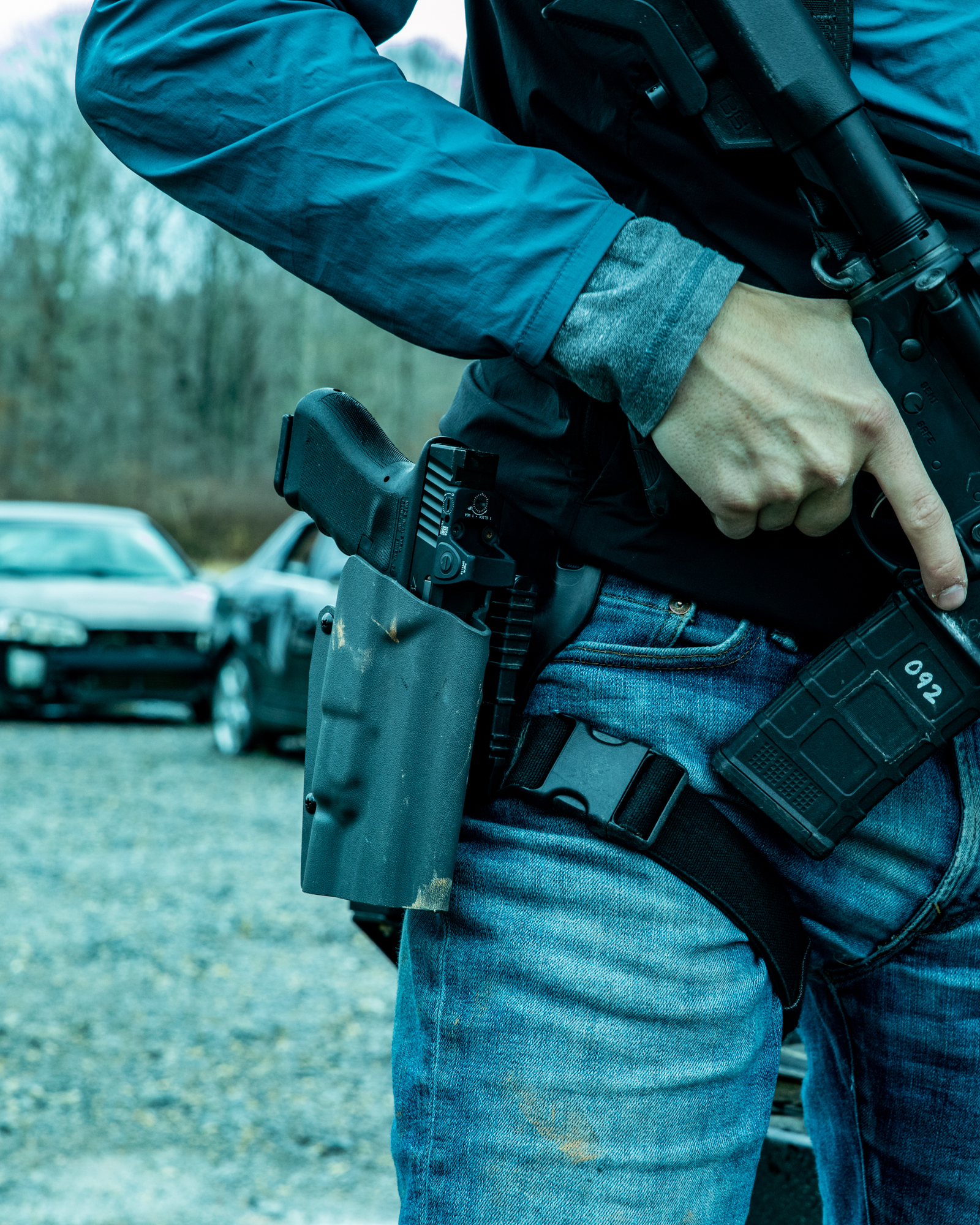 Still Have Questions?
We exist to make sure you're equipped with the best information and gear for your mission. If you need answers, advice, recommendations, or help, email us at team@trex-arms.com.