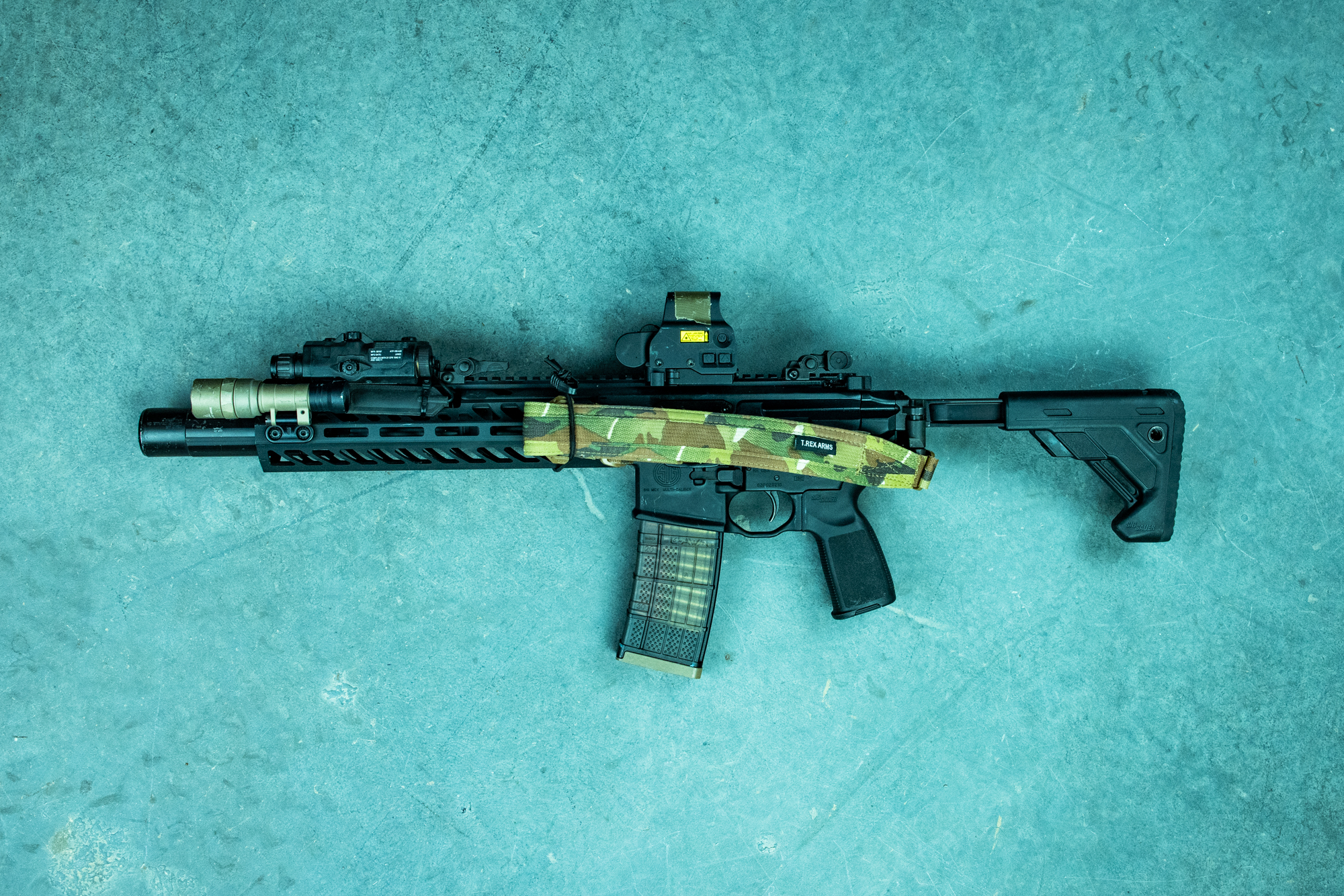 As 300 Blackout has grown in popularity, so has the MCX platform. While the MCX was not intended to be purpose-built for one round, it sure seems to be perfect for both Super and Subsonic 300 Blackout. There are plenty of guns that shoot this round, but the MCX rocks in this caliber.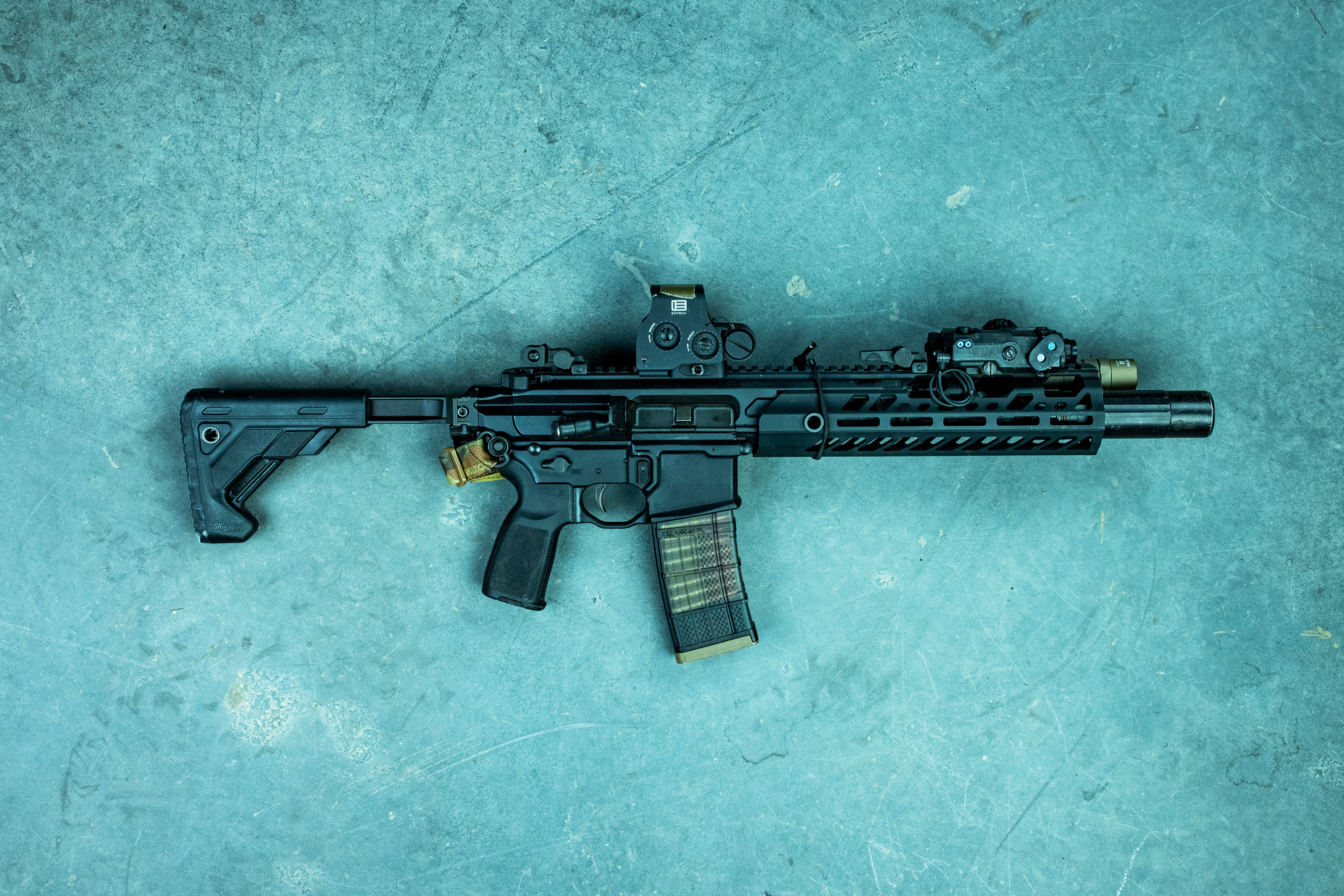 This specific rifle has a unique side because it's anodized black. All civilian MCXs are cerakoted tan or grey from the factory, but government contract guns are black. Not that color is a big deal, but we appreciate that this is a hard-to-find build. We purchased over 20 of these from a law enforcement agency as unconstitutionally restricted SBRs in fairly new condition.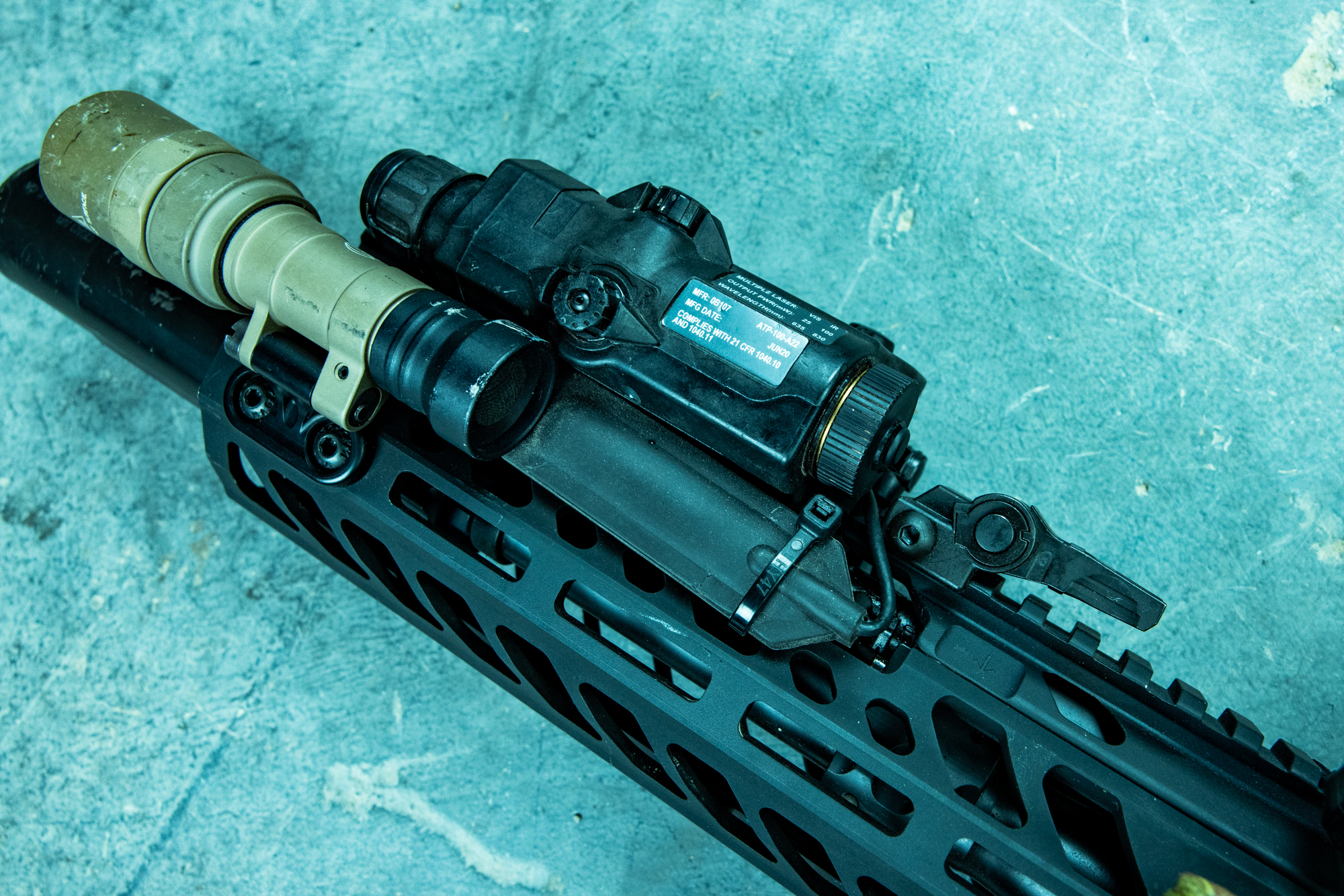 Moving on to the accessories that we added. You will notice the LA-5 has a pressure pad directly under the laser and behind the light switch; this does a few things for us. First, the way the laser overhangs the pad protects any accidental activation. We don't want to sling the rifle and have the laser bump on; we also have the light switch installed just forward of where our thumb sits on the rail. The SureFire PRO mount allows the light to swivel exactly where we want and puts the button in line with the shooter's thumb, making light activation easier and more consistent.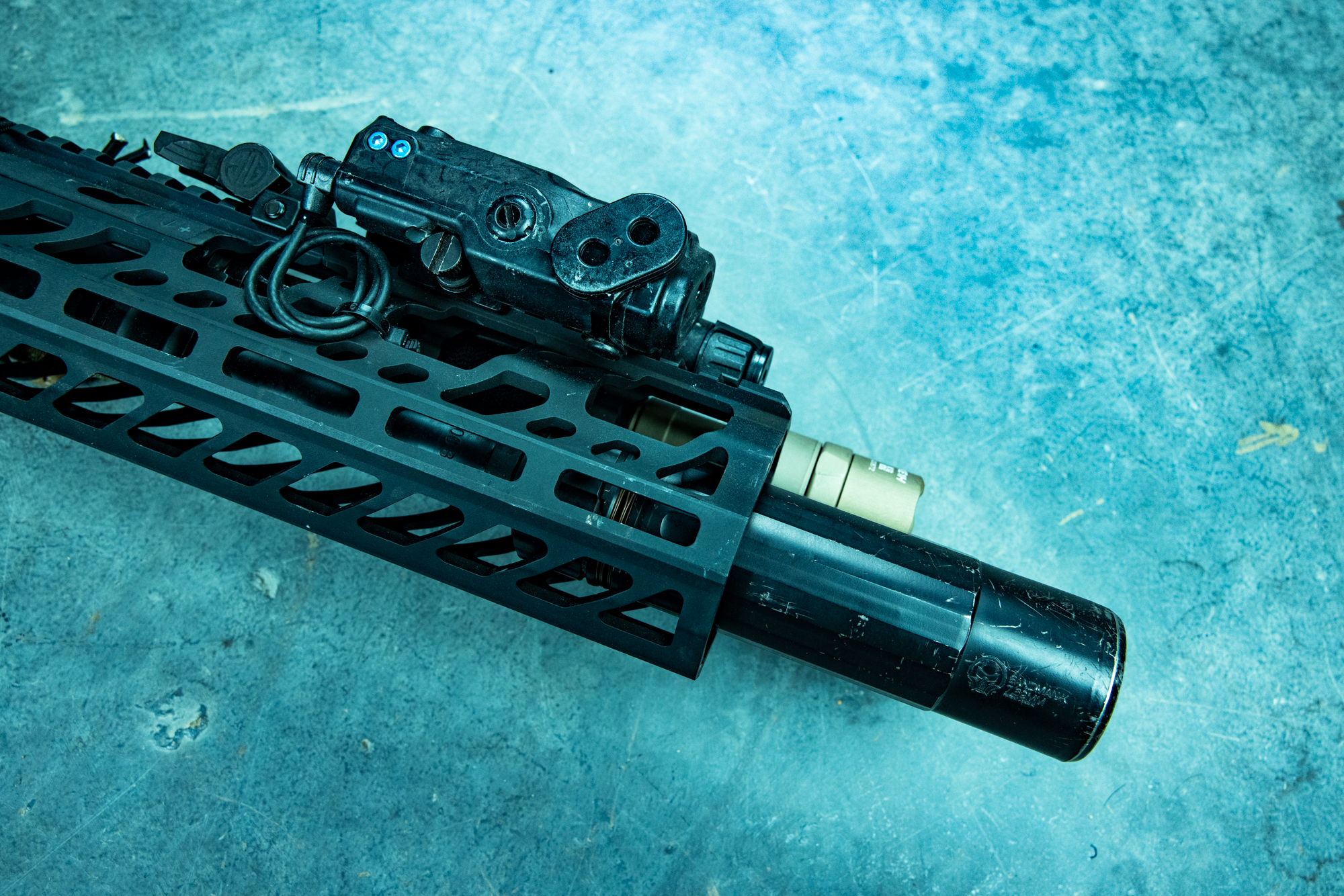 One thing that makes 300 Blackout special is the wide range of ammunition available. 300 can come in many flavors, from screaming fast 110-grain all the way up to heavy 220-grain subsonic loads. Combine this with fast powder burn, and you get a short, capable gun that can adapt to fit many roles. Because of the ability to utilize subsonic loads, the 300 Blackout cartridge really shines when run in conjunction with a suppressor. We chose the Sandman K to keep everything nice and compact on this particular build.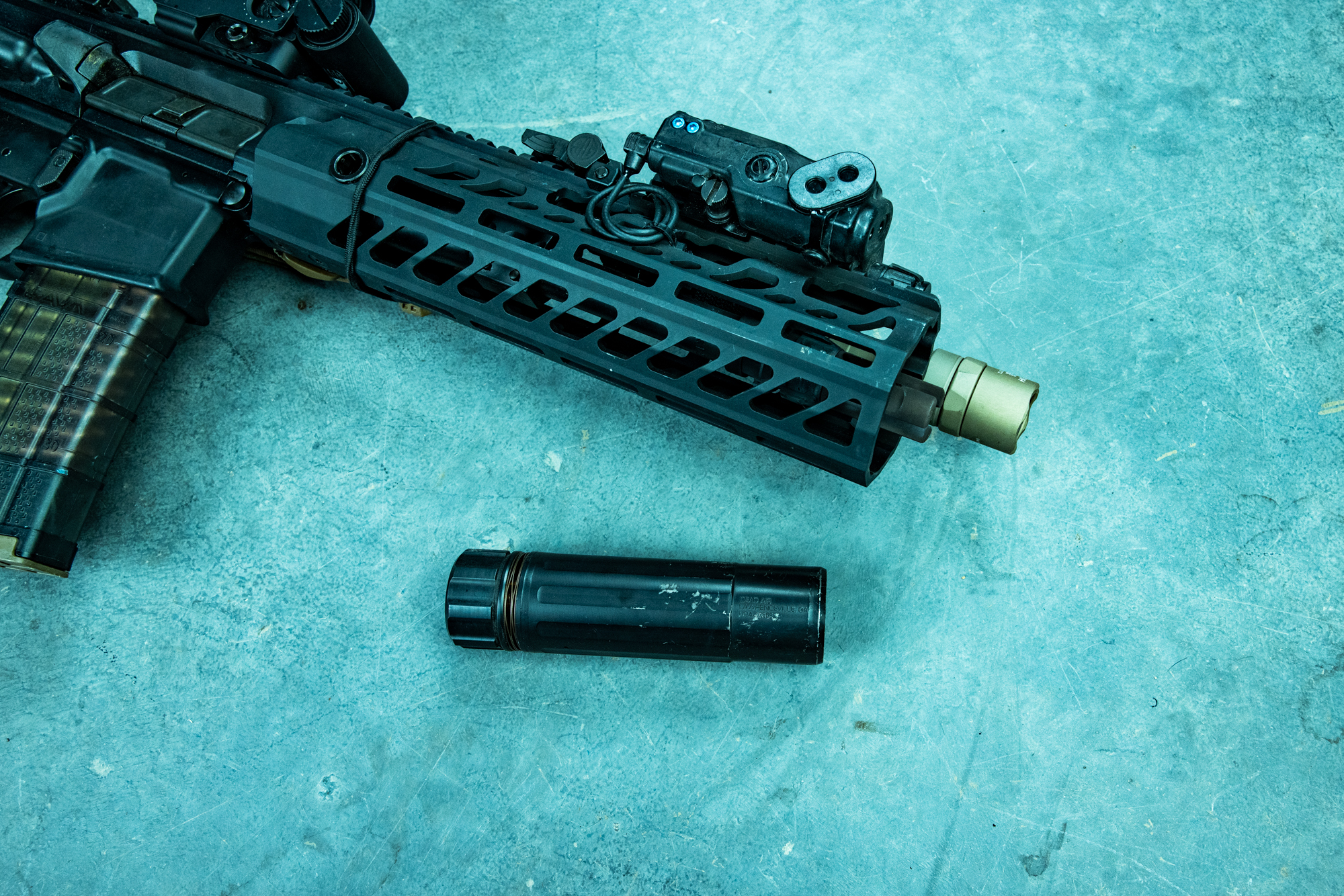 With the suppressor off, our flash hider does not protrude far enough past the SD handguard for us to shoot. You can see the tines hardly pushing past the rail, so this particular build will be shot suppressed exclusively.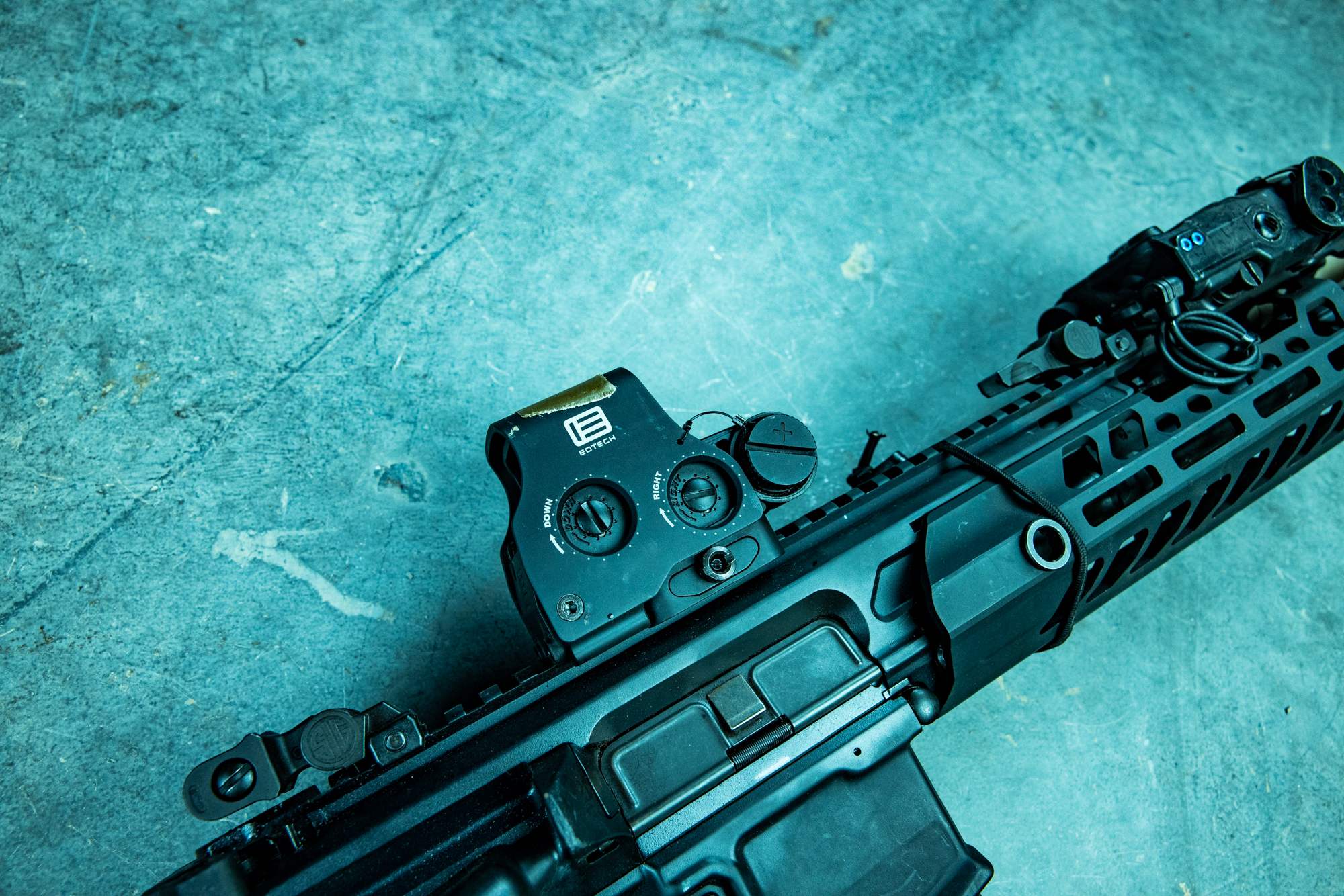 One of our go-to optics is the EOTECH EXPS3-0. Some of the numbers and letters get confusing, so here is a quick way to remember the EOTECH models. "E" stands for elevated. The E series optics are at a lower 1/3rd height. "3" has three buttons where the third button activates night vision and "-0" means that there are no additional dots in our 68MOA circle. It's a lot to consider, but all the EOTECH optics seem to be winners.
Every rifle needs a sling of some kind. Not only will it retain your rifle when you swap to your secondary, but it will also keep your rifle attached if you slip, fall, or drop the gun. MCX lowers have QD receivers built into the lower, so we used those to attach the sling. We prefer using the right-side QD receiver because this holds the rifle closer to the body when the rifle is stowed.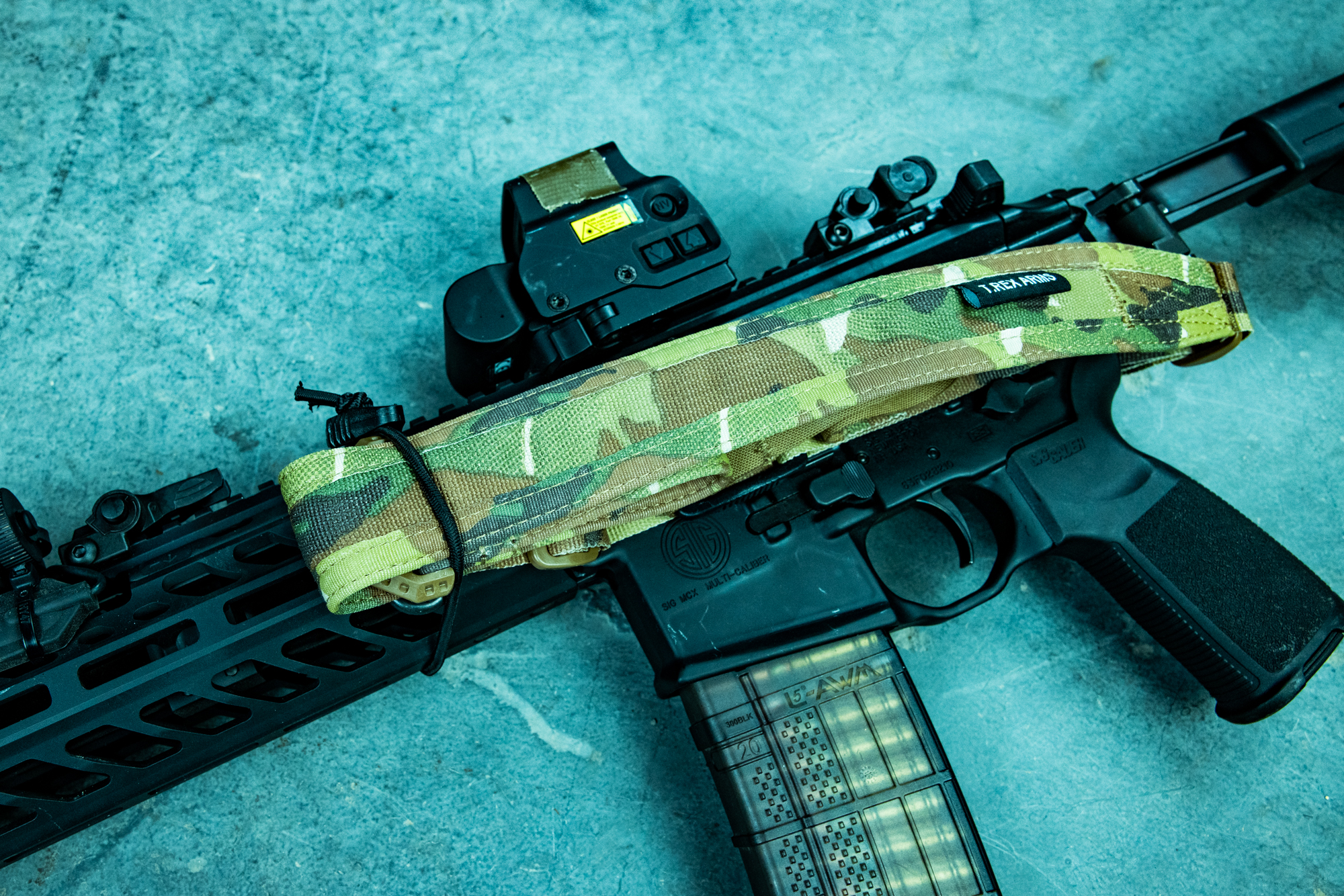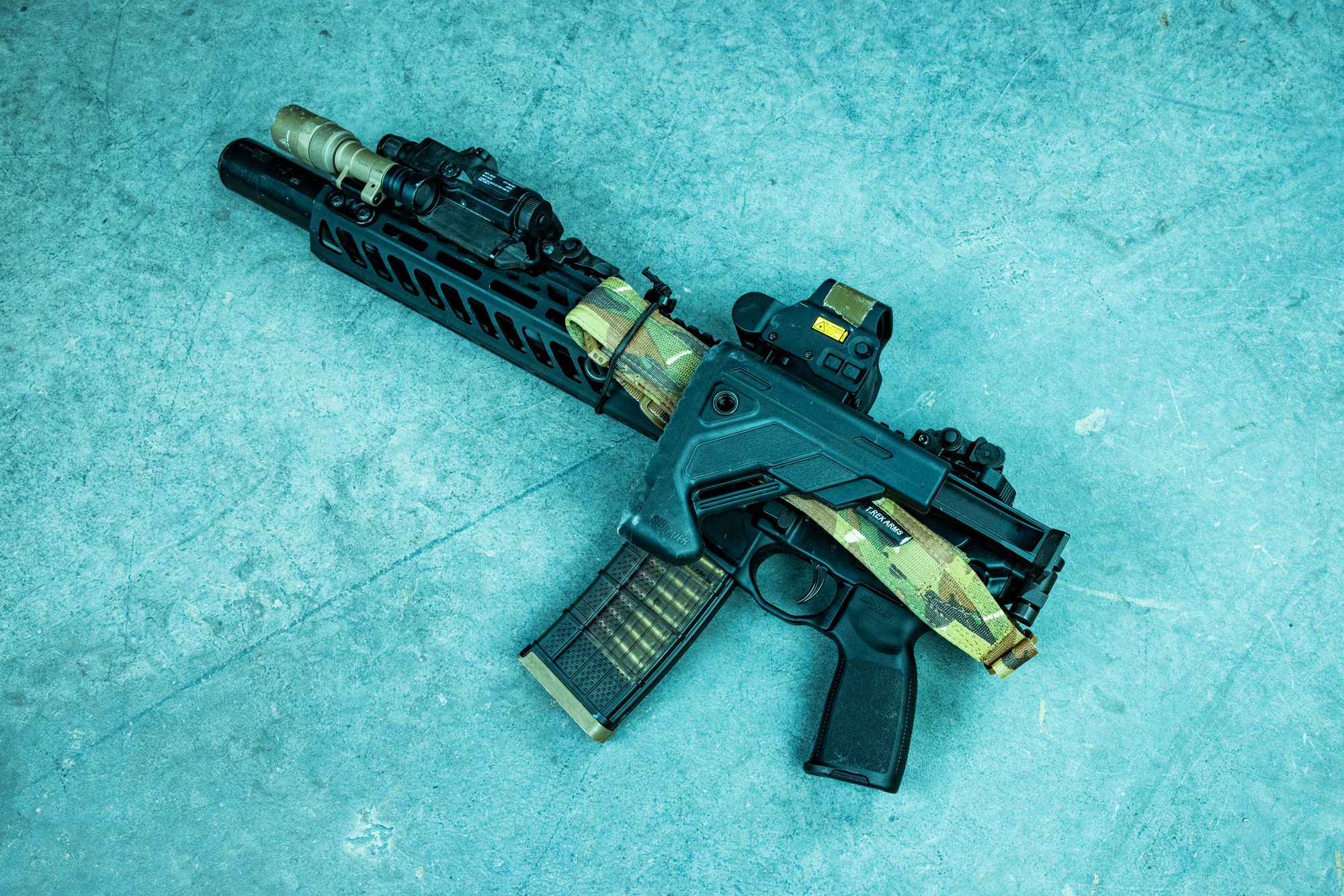 The slim profile of the T.REX Sling not only cuts down bulk around your back and neck but also stows close to the gun when captured by our sling retainers. This is a notable benefit when placing the rifle in a bag or narrow space in your car. More importantly, though, many rifles have the capability of folding the stock over. Law folders on ARs, AKs, and MCXs fold tighter when the sling is low profile and compact.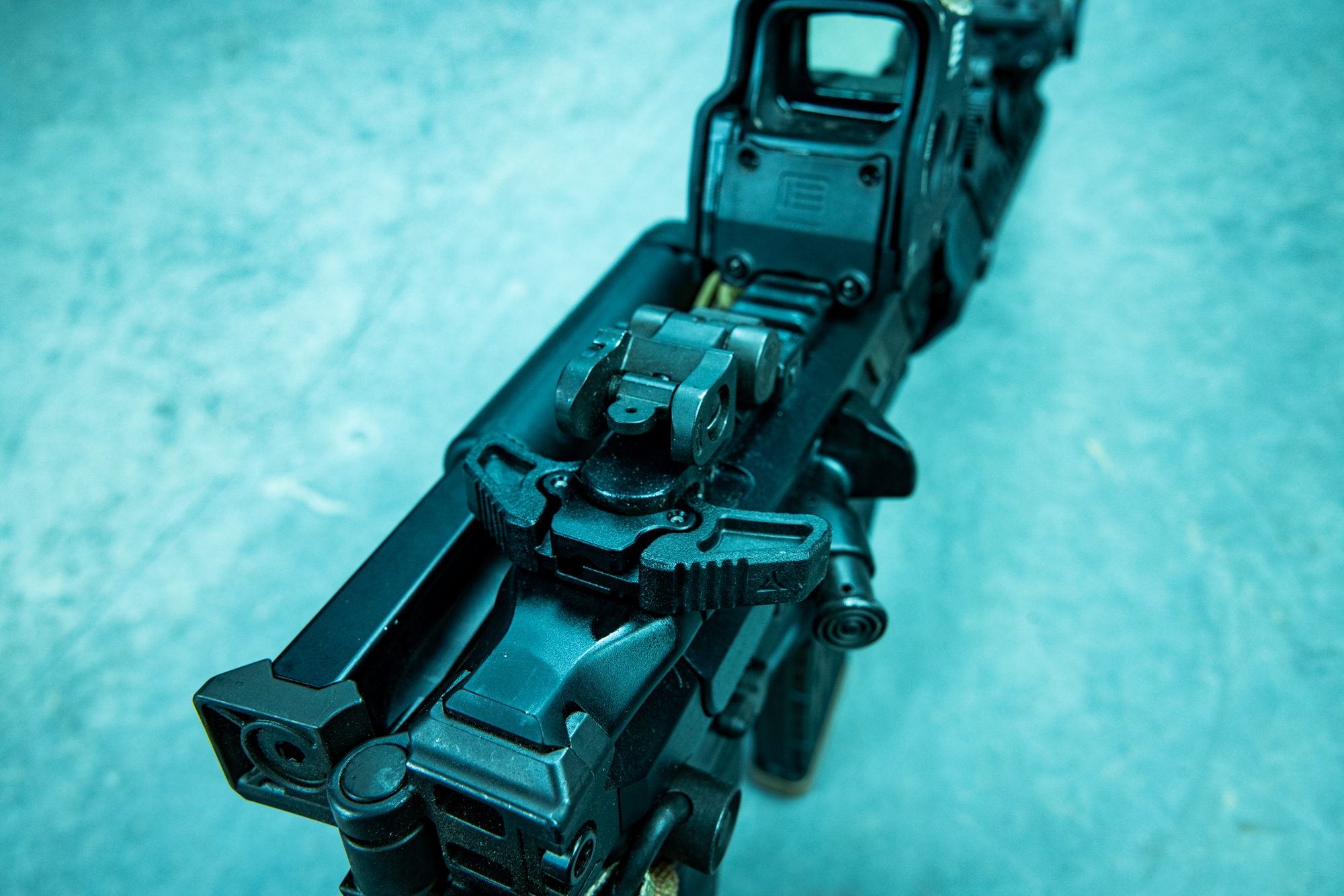 To finalize this build, we upgraded the charging handle to a Radian. The MCX is not compatible with AR charging handles, but thankfully, Radian makes the Raptor for the MCX, which is a welcomed upgrade to the ergonomics of this platform.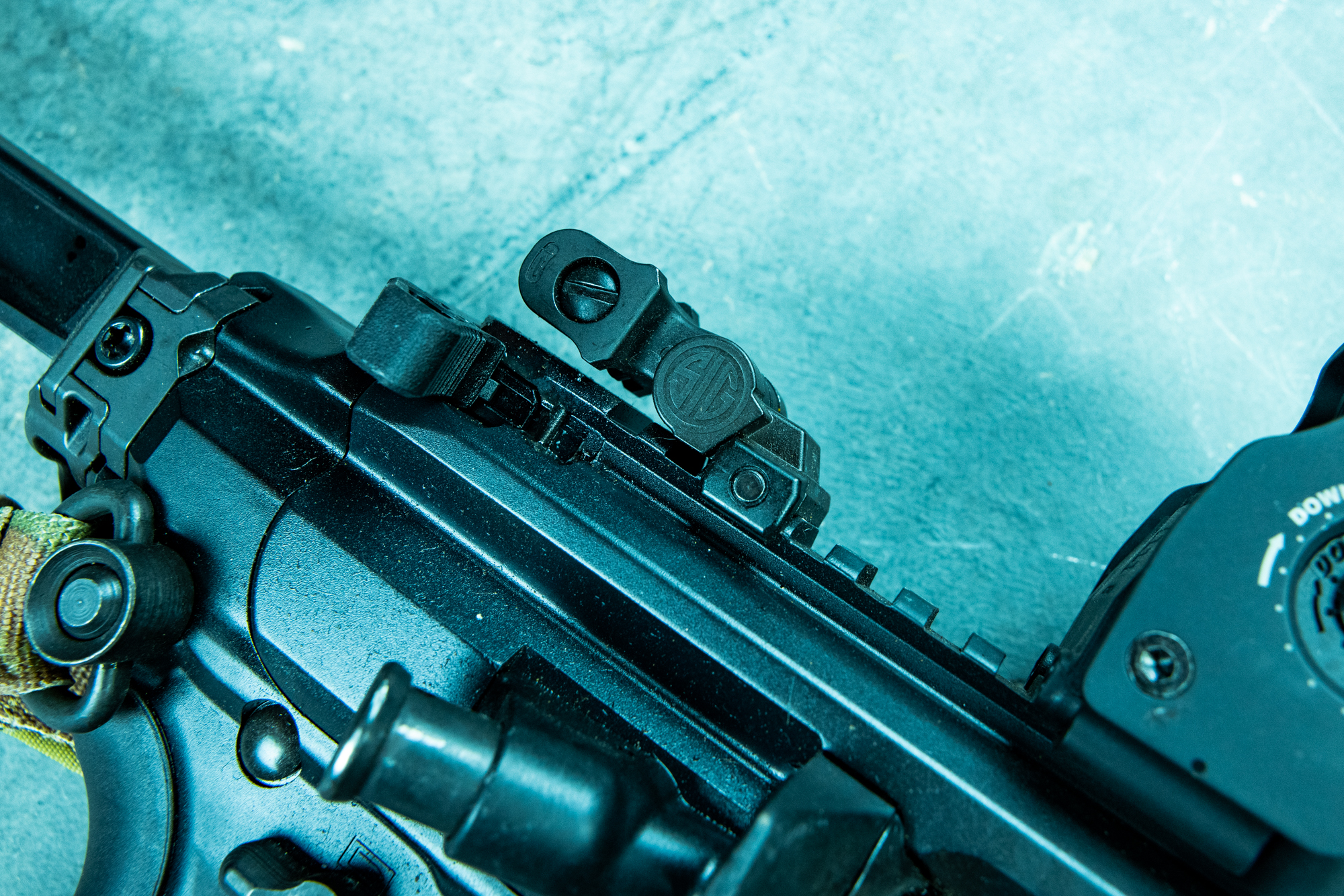 We also kept the Sig iron sights in case our primary optic goes down. Many argue that quality optics don't need backup irons, and while that may be true to a point, it never hurts to have a failsafe. As with everything, if you don't use it, you won't be good with it, so if you run a backup sighting system, be sure to get some reps in with them and not just your primary optic.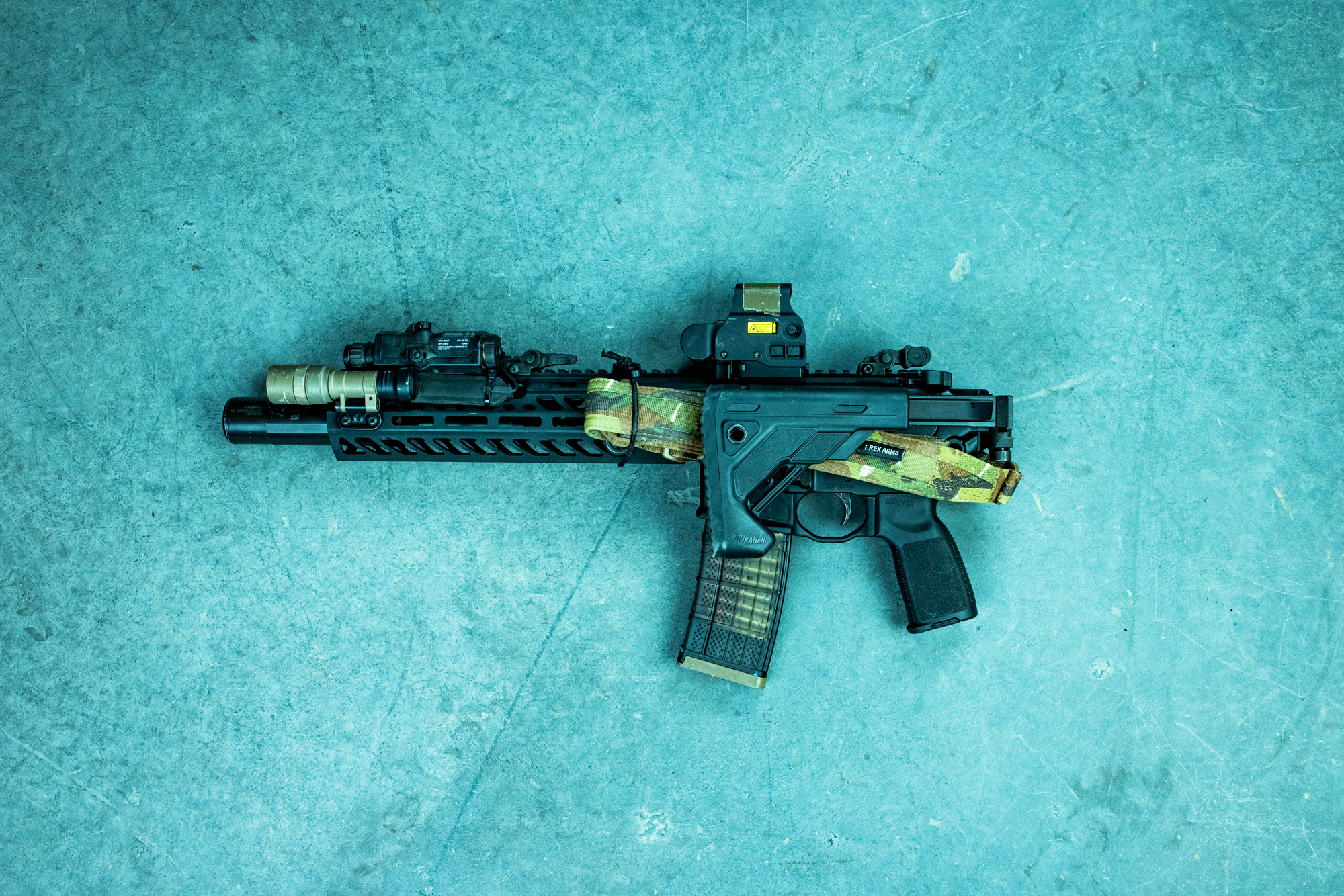 There is no such thing as a "do it all" gun. Every build should serve a specific purpose, as mission dictates gear. Still, every build needs three key things to be effective.
First, white light is a must; good guys don't shoot unless they can positively identify a threat. Being that its dark half of the day, we strictly adhere to the mindset that every gun needs a light.
Secondly, every rifle needs a way to be carried efficiently, a good sling allows you to do this, and most options are relatively inexpensive. Considering the task they perform, a sling is an almost invaluable addition to any rifle.
Lastly, and most importantly, is the end-user. A fully kitted gun like this is not going to make you a better shooter or a better thinker; you are ultimately responsible for this as well as everything in, on, and around the gun.
In addition to this in-depth Loadout Article, you can watch our full video on it below!
Build List
Attachments
If you have any further questions, don't hesitate to email us at team@trex-arms.com.