Two common questions we get from those new to guns or new to Kydex style holsters are, "Can I use a Light-Compatible holster without the light attached?" and "Will your holsters work with more than one model of the same gun?" In the article below we will go over these questions and hopefully clear up some confusion.
Can I Use A Light-Compatible Holster Without the Light Attached?
Since our holsters are molded for each specific weapon system and light, the light must be attached for proper fitment and retention. Each holster variation requires different dimensions to properly hold your gun. Unlike Active-Retention style holsters, our Ragnaroks have Passive Retention, which basically uses the material of the holster to hold your weapon. This is why the shape and dimensions of the holster are so important. This is why they cannot be used without the light or with a light other than the one it was designed for.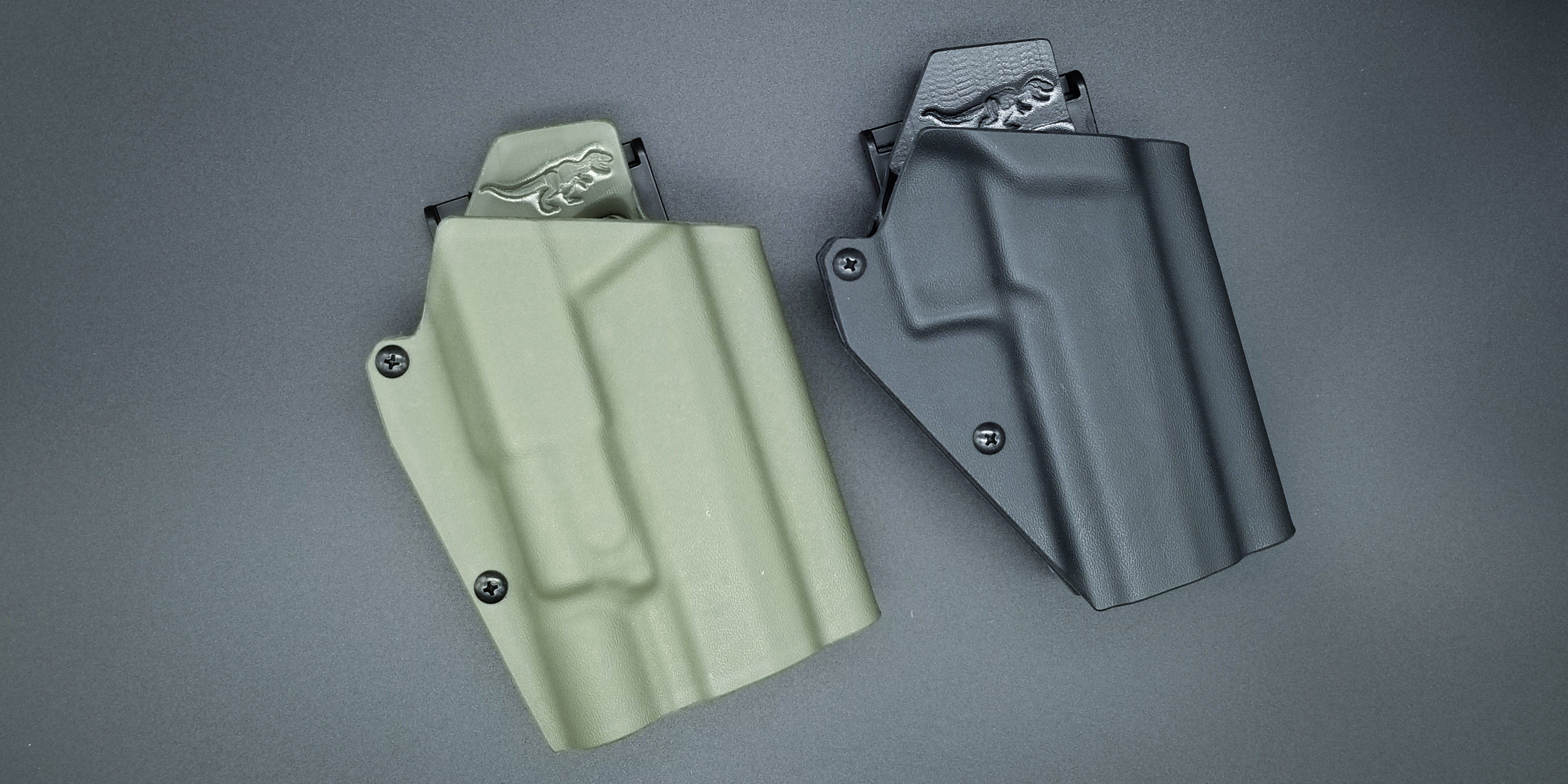 Pictured above: P320 + X300 Light Compatible Ragnarok (Left) P320 Ragnarok (Right)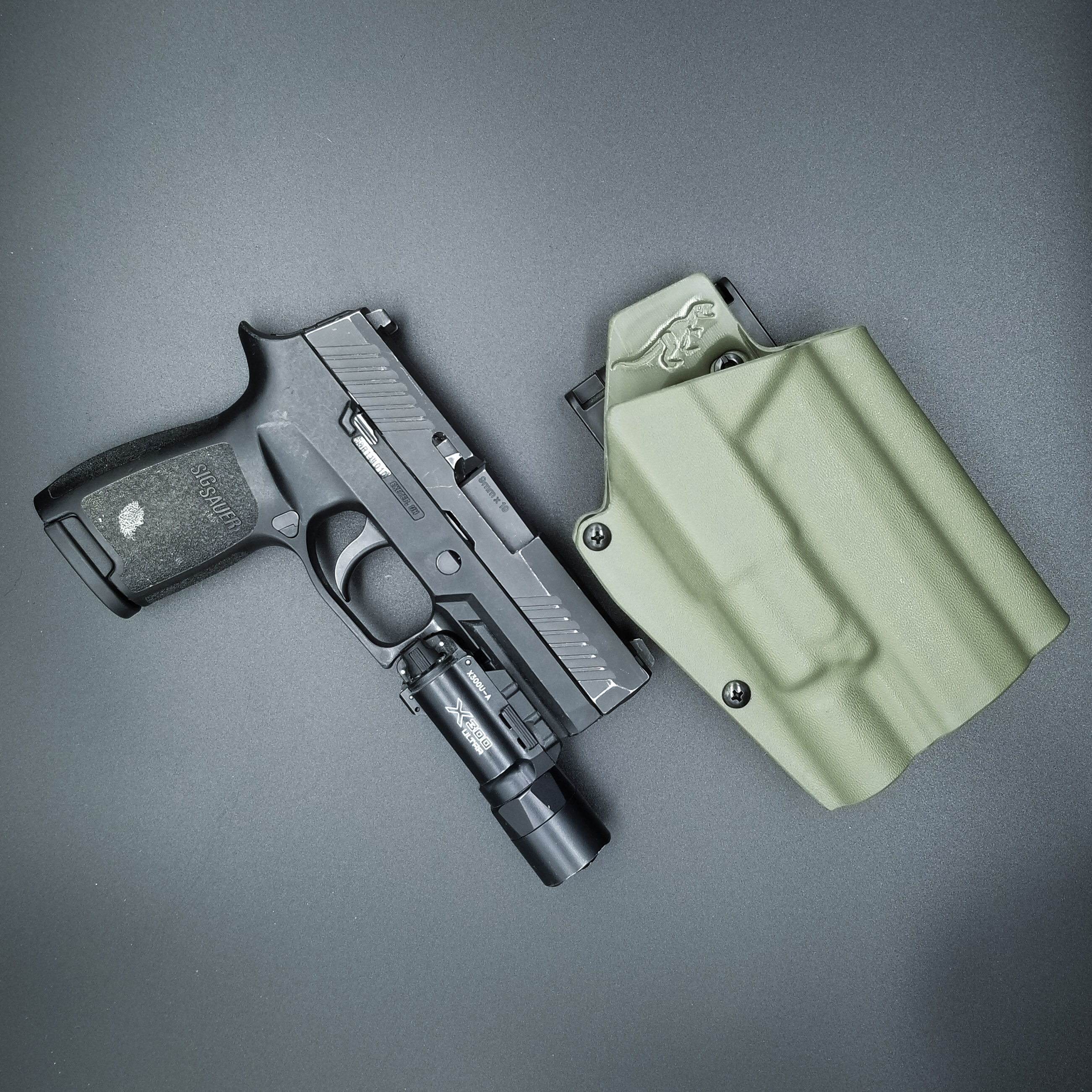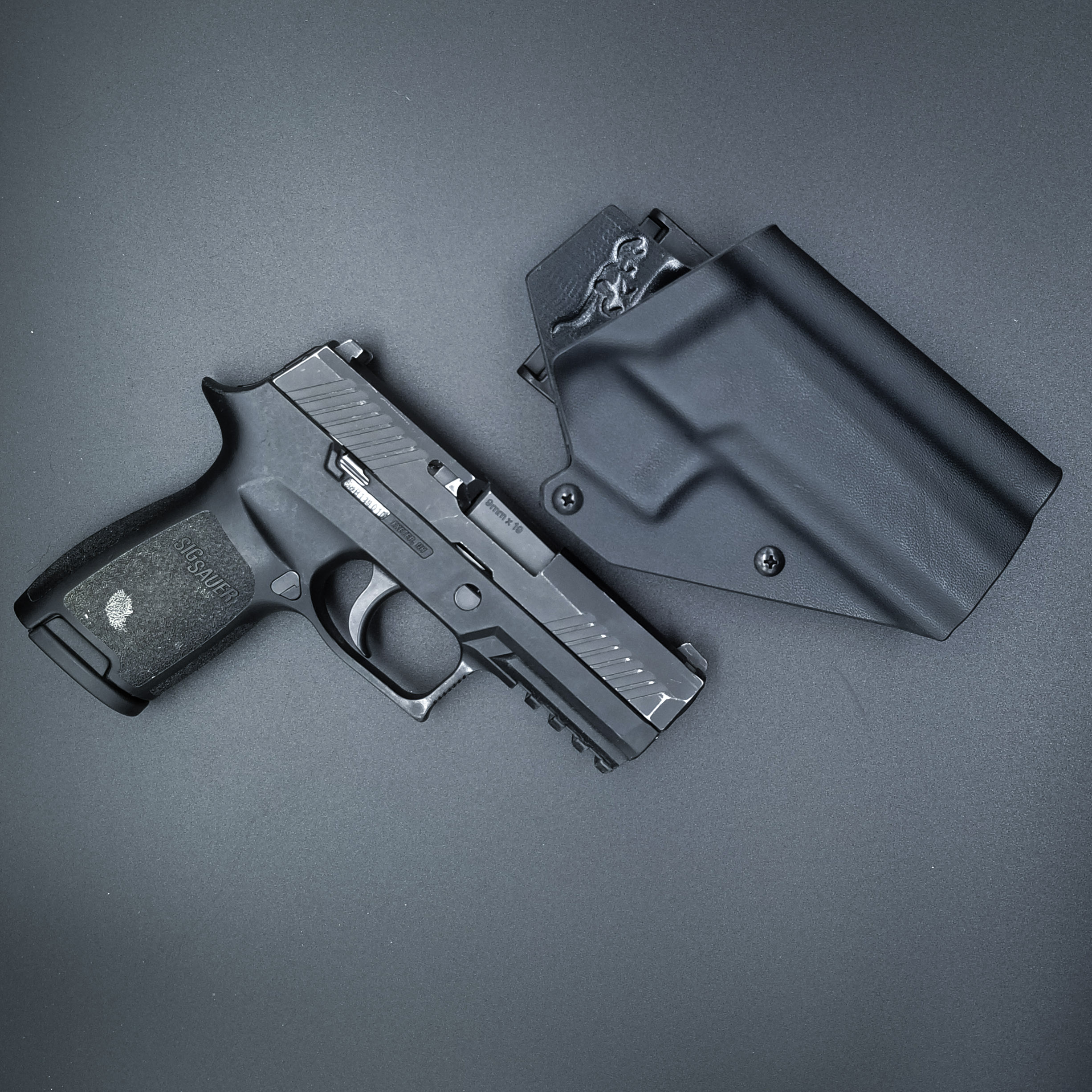 Pictured above: P320 + X300 with a Light Compatible Ragnarok P320 with a standard Ragnarok
The same is true for our Sidecar holsters; each weapon system/light has its own mold. Like the Ragnarok, the Sidecar uses Passive Retention which is standard for most inside-the-waistband holsters. If you try and use either our Sidecar or Light Compatible Ragnarok without a light there will be a large amount of empty space in the holster where the light was meant to go. This will cause the gun to move excessively in the holster, and the gun will not have any retention.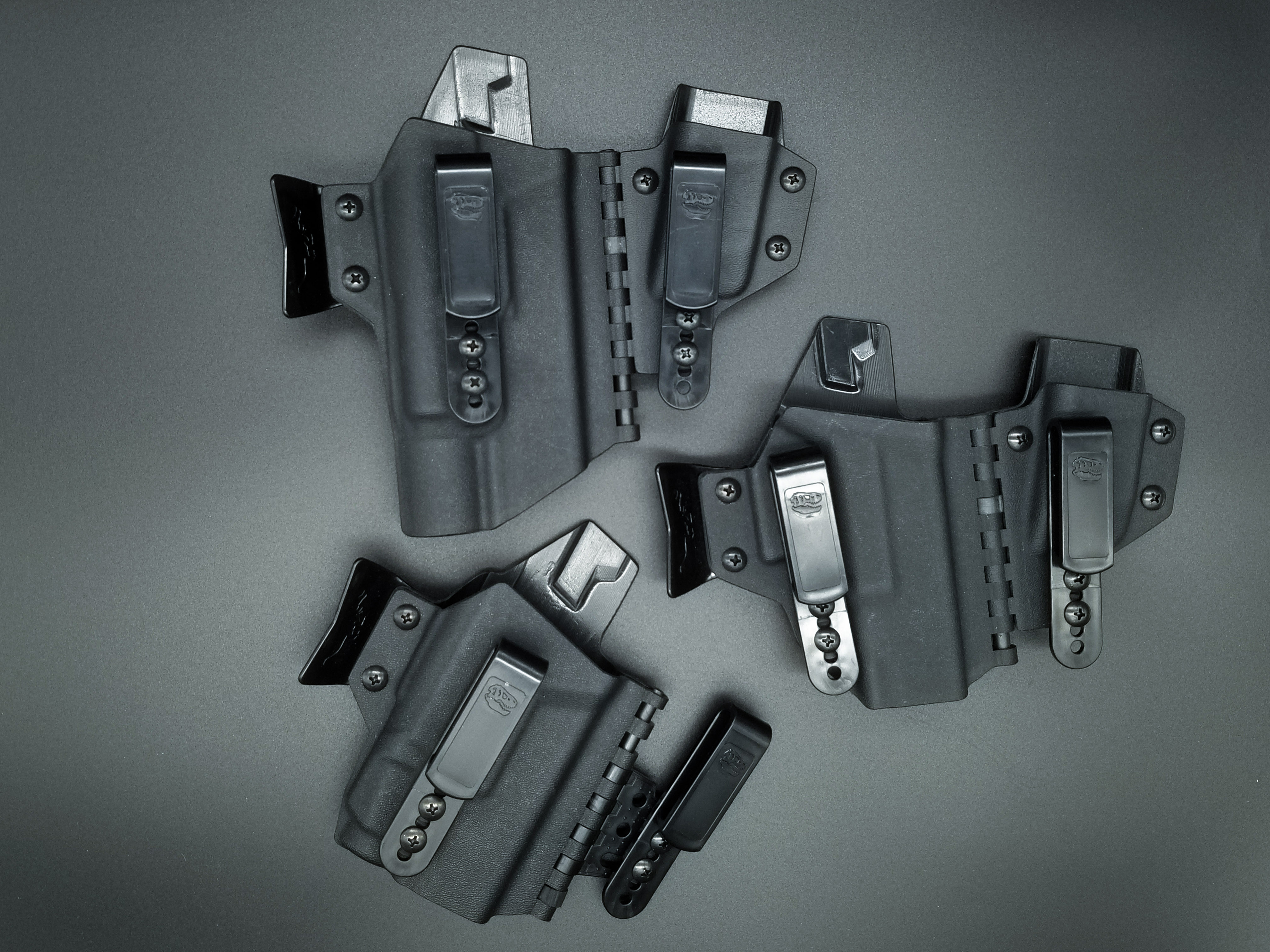 Pictured above: Glock 17 + X300 Sidecar (Top) Glock 19 Sidecar (Middle) Glock 19 + TLR-7 Sidecar (Bottom)
Will Your Holsters Work With More Than One Model Of The Same Gun?
An example of this question would be, "Will my Glock 19 work in a Glock 34 holster and vice versa?" The answer is yes. Most of our holster models will support longer/shorter guns than the length they are cut for unless otherwise stated on the product page. This is because the only thing that generally changes between holster molds for the same model is the length, and since all of our holsters are open-ended, nothing is restricting a longer gun from going into a shorter holster. Listed below are some examples of this.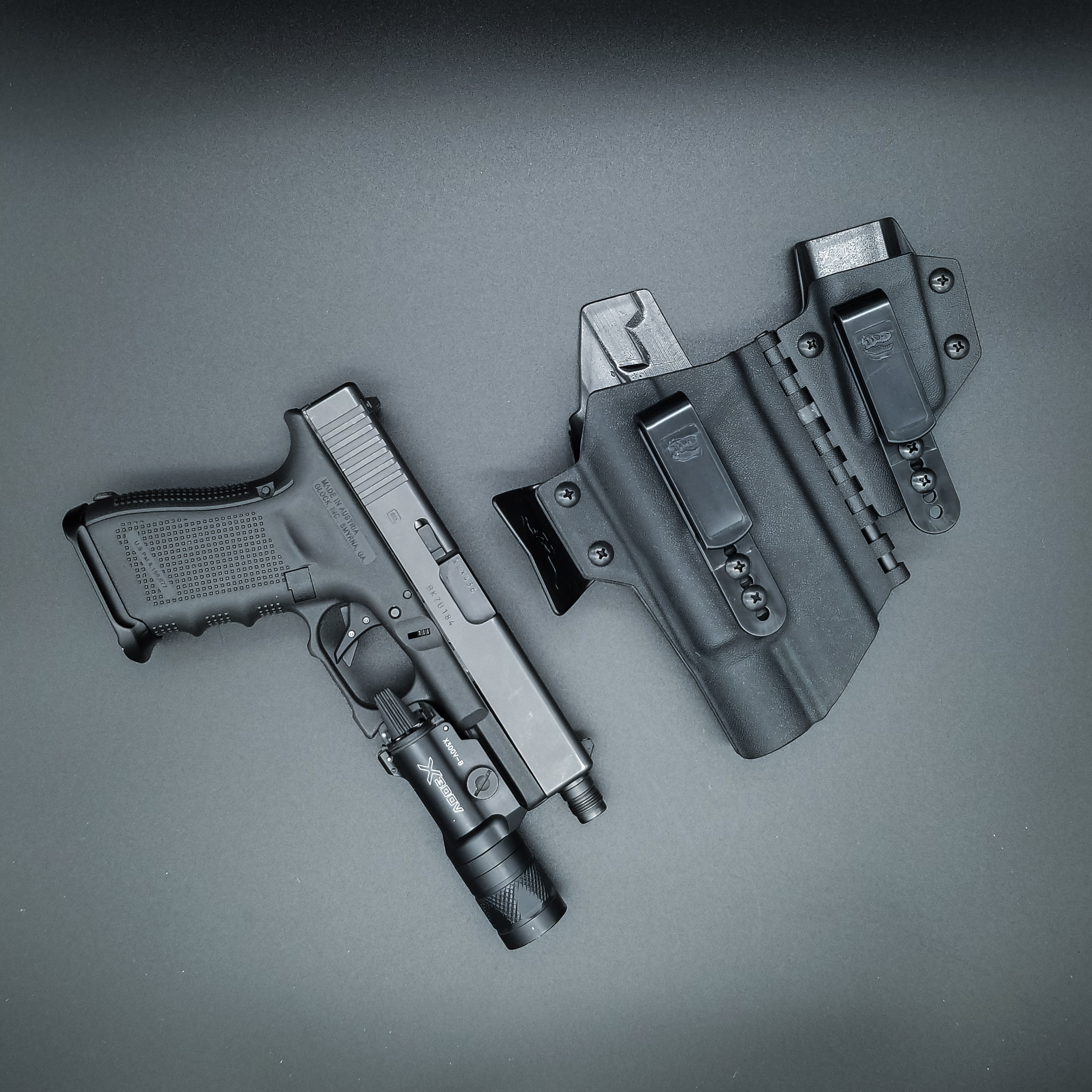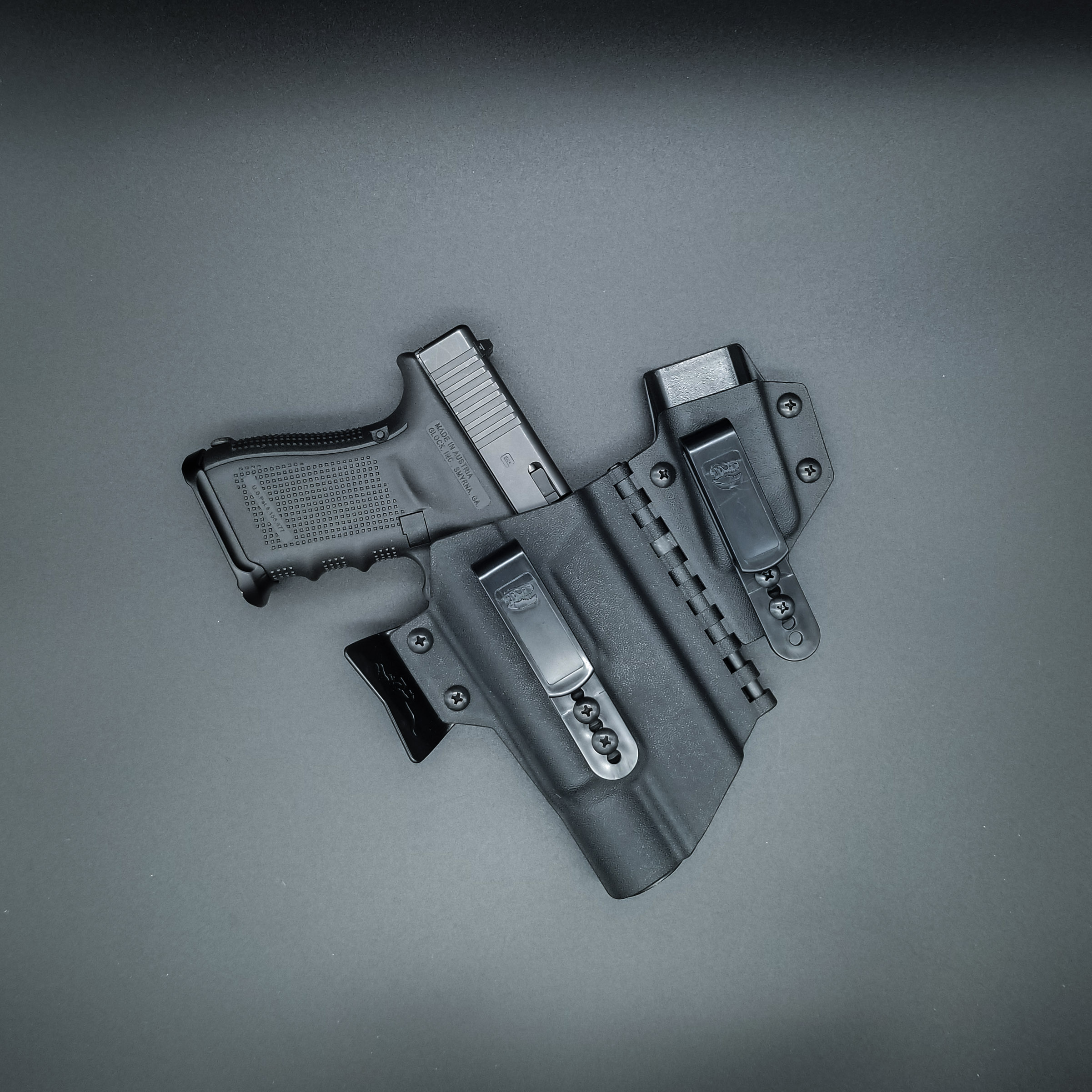 Pictured above: Glock 19 with a threaded barrel and an X300V in a Glock 17/X300 Sidecar
As you can see below, this Glock 34 works in the same holster as the Glock 19 above, the slide does protrude slightly from the bottom of the holster, but this doesn't affect fitment or retention.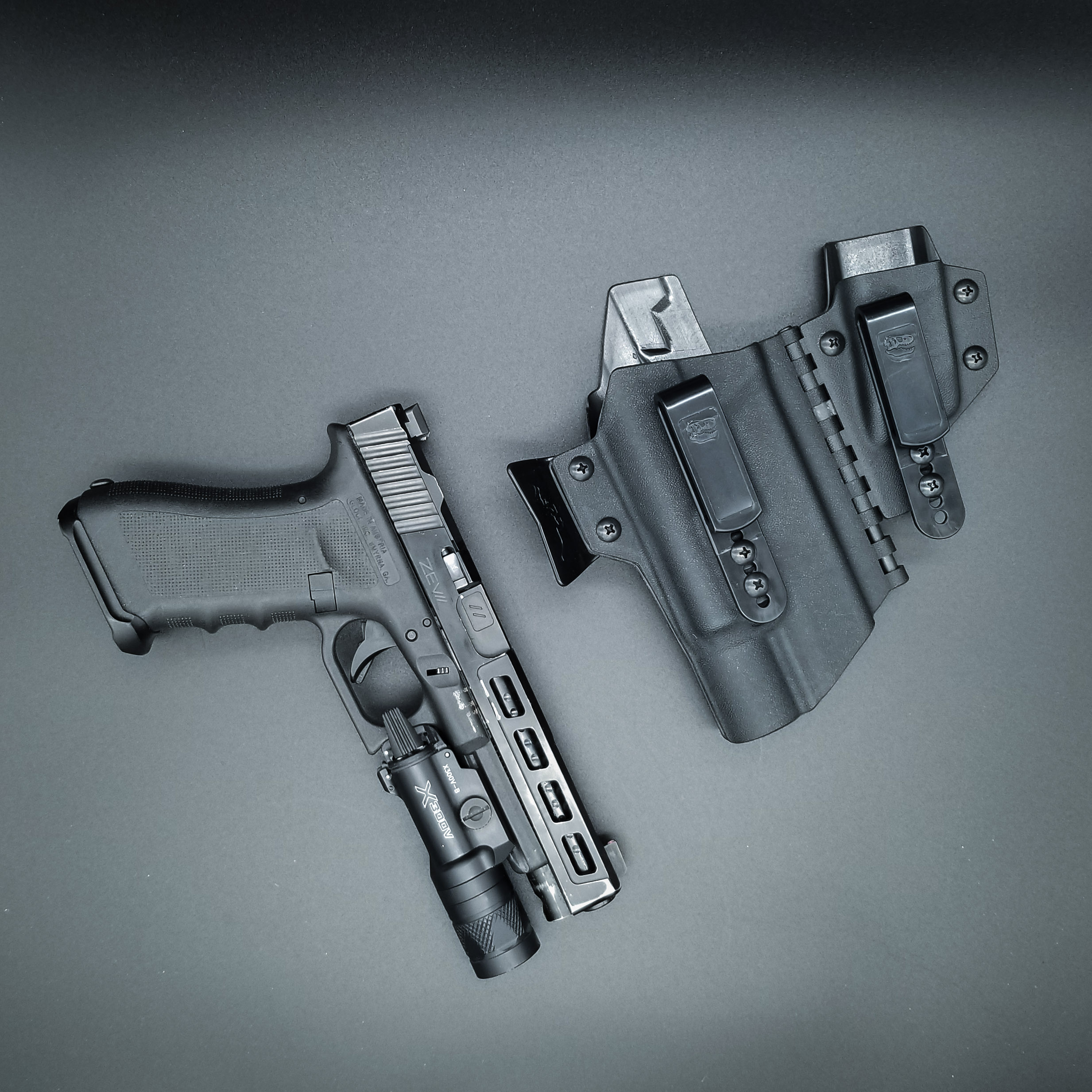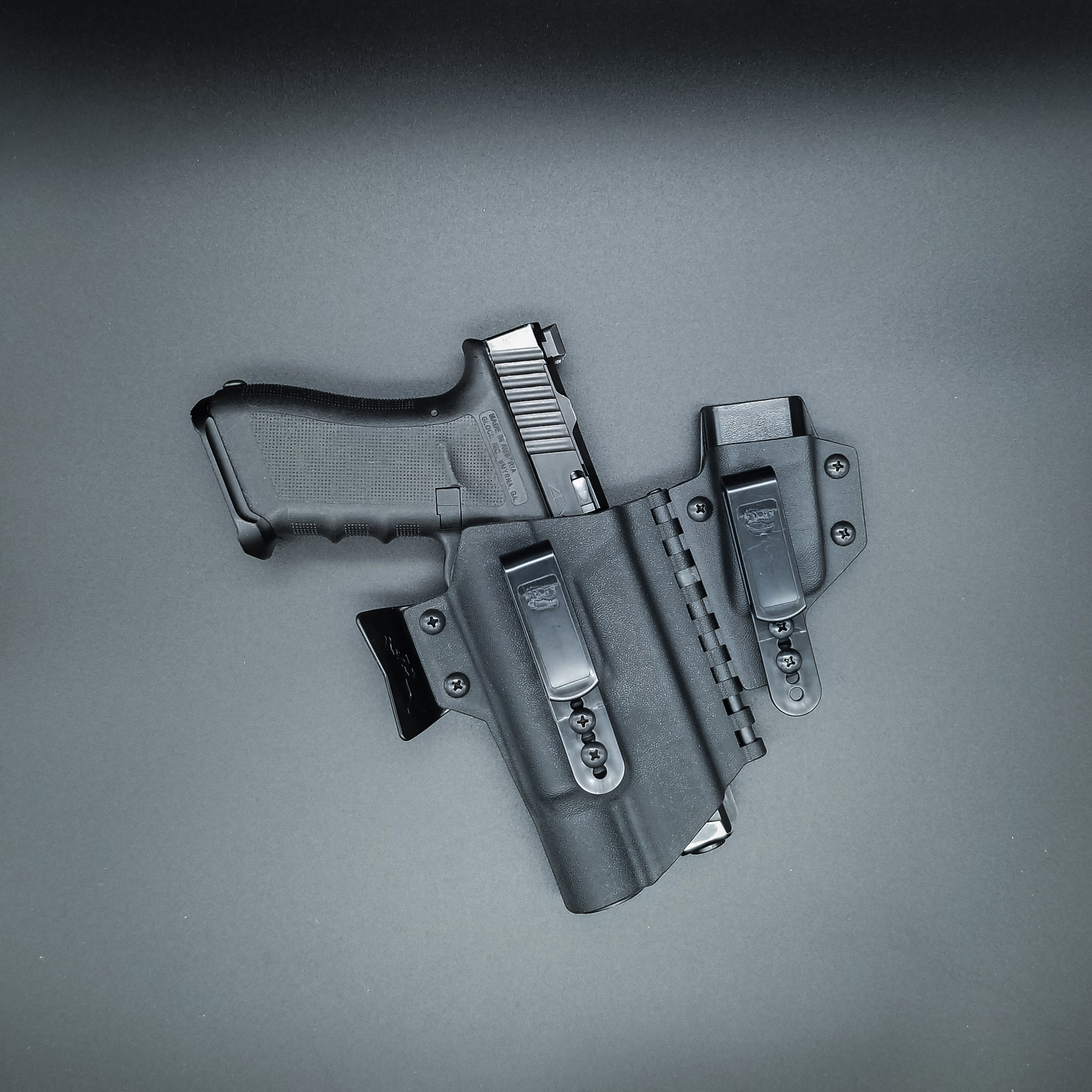 Pictured above: Glock 34 with an X300V in a Glock 17 + X300 Sidecar
Both our Ragnarok and Sidecar holsters will also accept compensators as long as they are the same profile as the slide. Compensators will need a longer holster to be covered entirely but they work in shorter holsters as well, as shown by this KKM comped Glock 19 in a Glock 17 + X300 holster.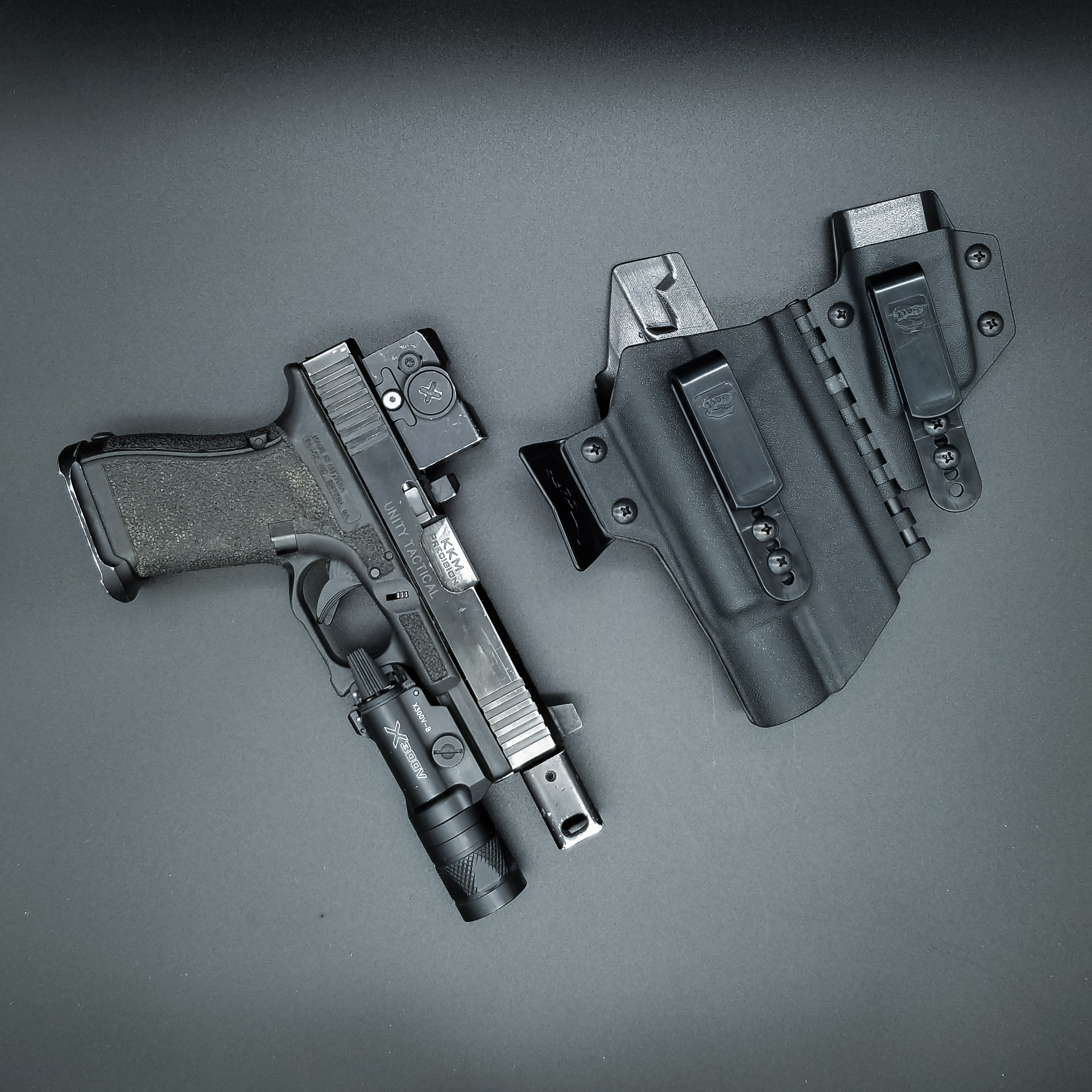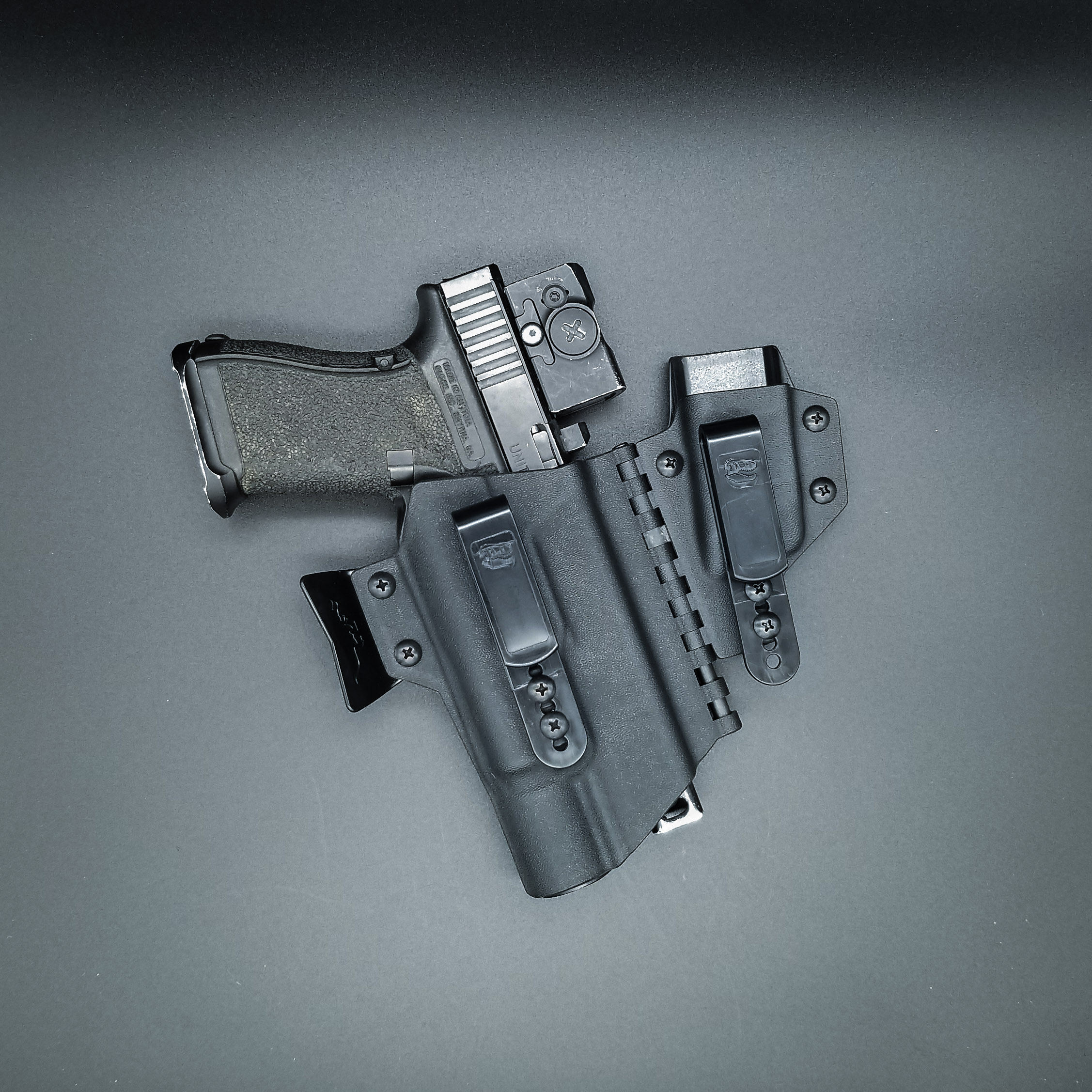 Pictured above: Glock 19 with a KKM comp and an X300V in a Glock 17 + X300 Sidecar
If you have any more questions, feel free to email us at team@trex-arms.com.