What Size Plate Do I Need? | Mobility Vs. Survivability | What Kind of Armor Do I Buy? | Cost, Weight, Protection, Triangle | Shooter Cut Vs. SAPI Cut Plates | Single Curve Vs. Multi-Curve | Ceramic Vs. Steel | Plate Carrier Sizing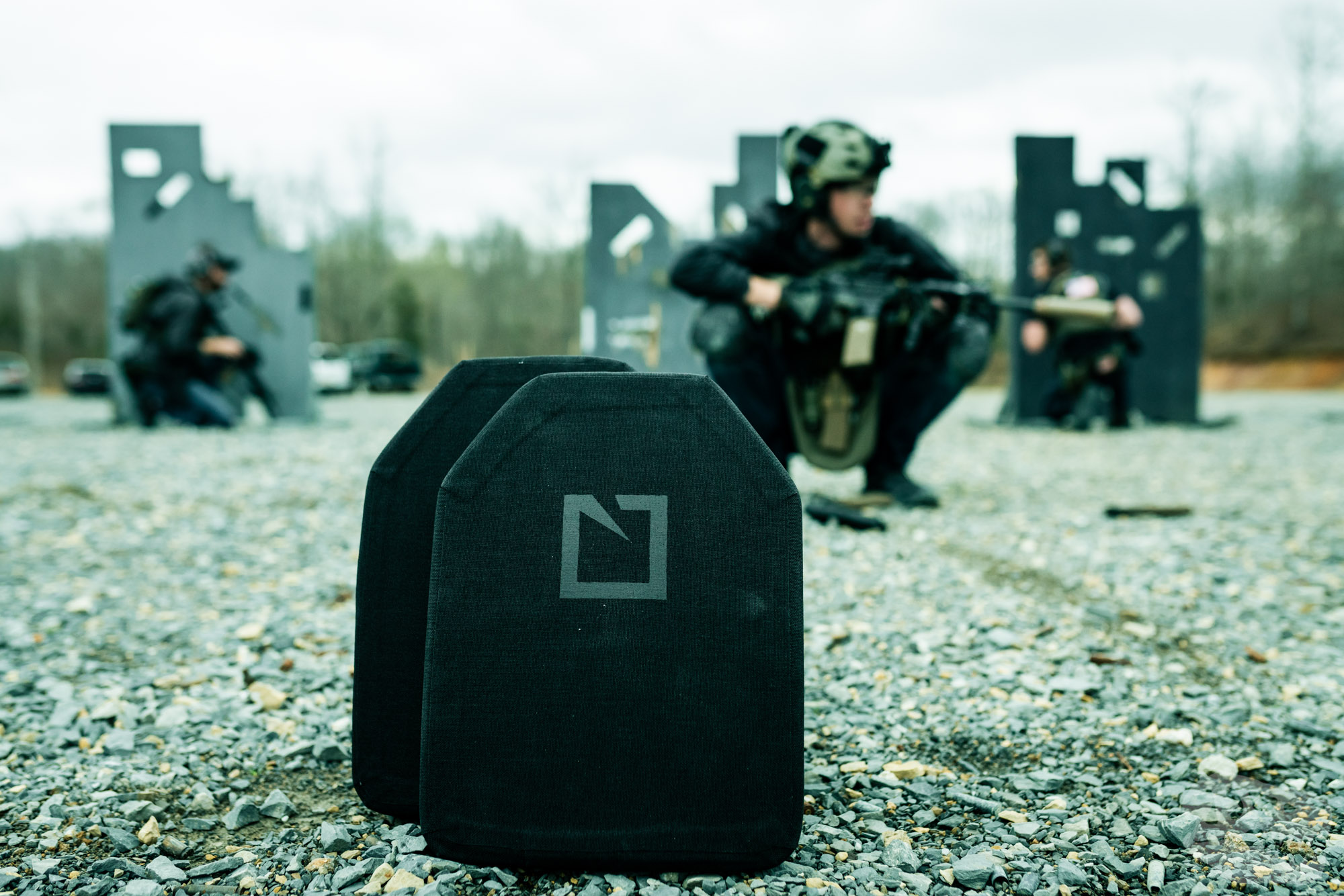 Armor and how to carry it on your body can be a complex topic, but it doesn't need to be. In the following article, we will go through the basics of armor and how to determine what is the best choice for you and your situation.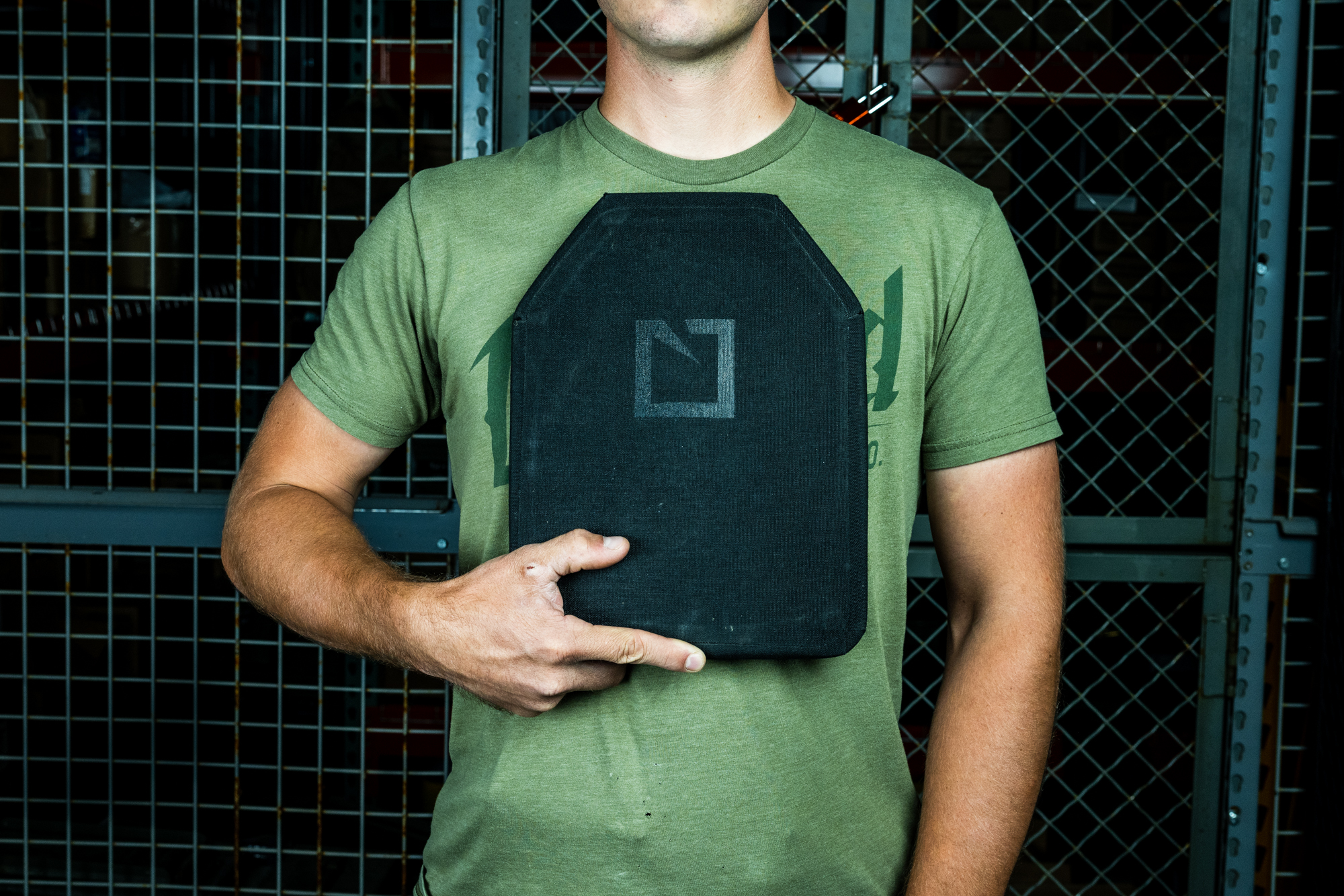 Plate sizing is pretty straightforward. Most reputable manufacturers will offer standardized SAPI sizing and 10x12 or 8x10 shooter/swimmer cut options, which we will explain later. The size plate you choose will directly affect what carrier you purchase, so it is crucial to narrow this down before buying a plate carrier. Sizing information from Hesco can be found in the chart below.
Chest Measurement
Measure under the arms around the fullest part of the chest. Be sure to keep the measuring tape level across your back and comfortably loose.
Length Of Plate
Determine the length of the plate that best suits your body type while protecting all vital organs and vessels. The plate should fit comfortably when sitting and standing. This measurement will need to be taken from the Clavicular Notch, which sits right below your neck.

While coverage is essential, too much can hinder mobility, especially when moving around and shouldering a rifle. Some people might find themselves in between sizes and wonder whether to go larger or smaller. While the answer to that question depends on many variables, it all boils down to mobility vs. survivability.
The basics of this principle are that a smaller plate allows more mobility, but it lacks the coverage of a larger plate. In contrast, a larger plate will offer more coverage but limits mobility due to the extra weight and material around your shoulder pocket.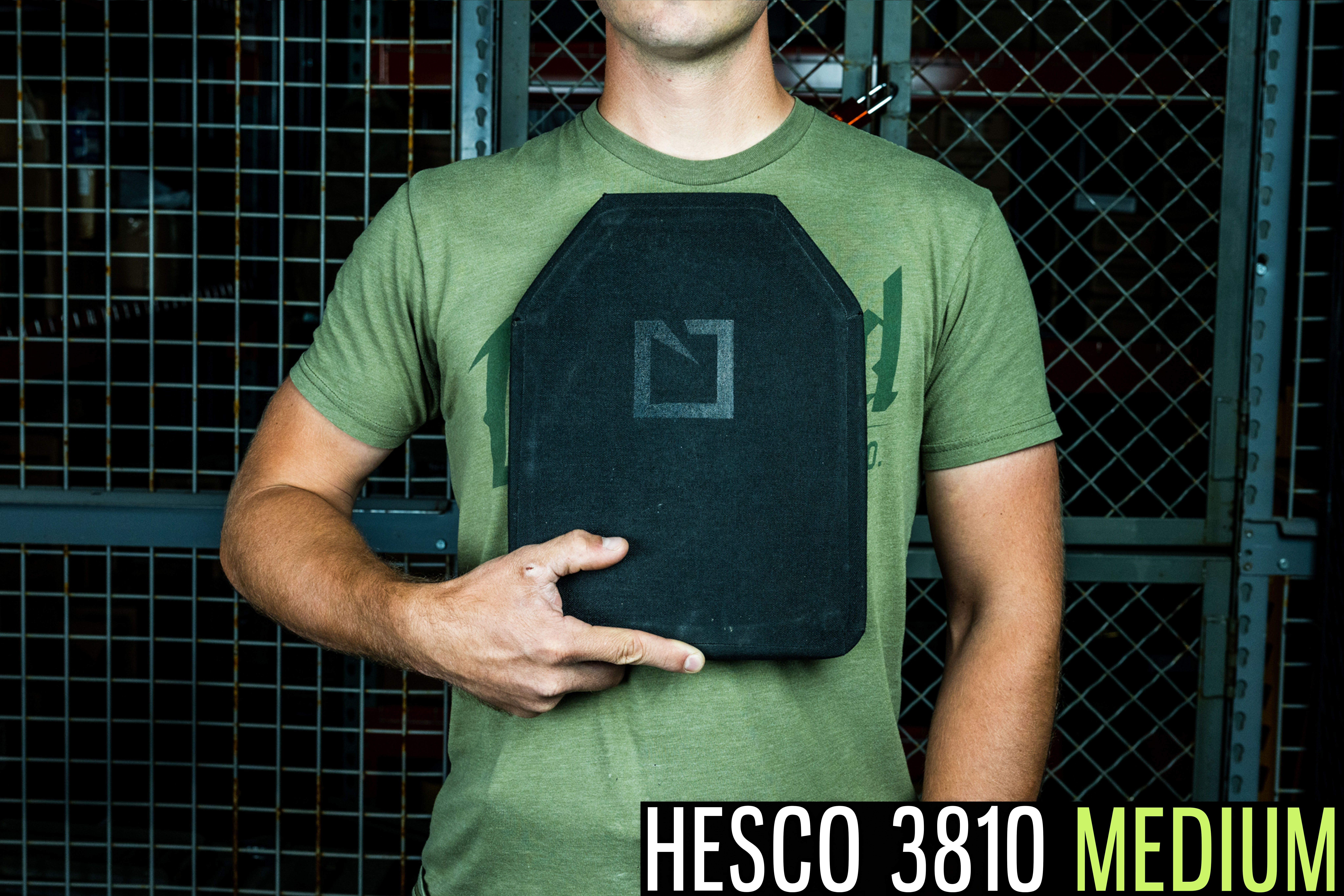 Above you will see a properly sized plate that will allow ample movement and unimpeded stock placement. In the picture below, you can see our subject could also use a large SAPI plate, but by doing so, he will limit his mobility, and depending on the position, the plate could start to impede the shoulder pocket. This can make positional shooting difficult and inefficient, but this option does offer slightly more coverage.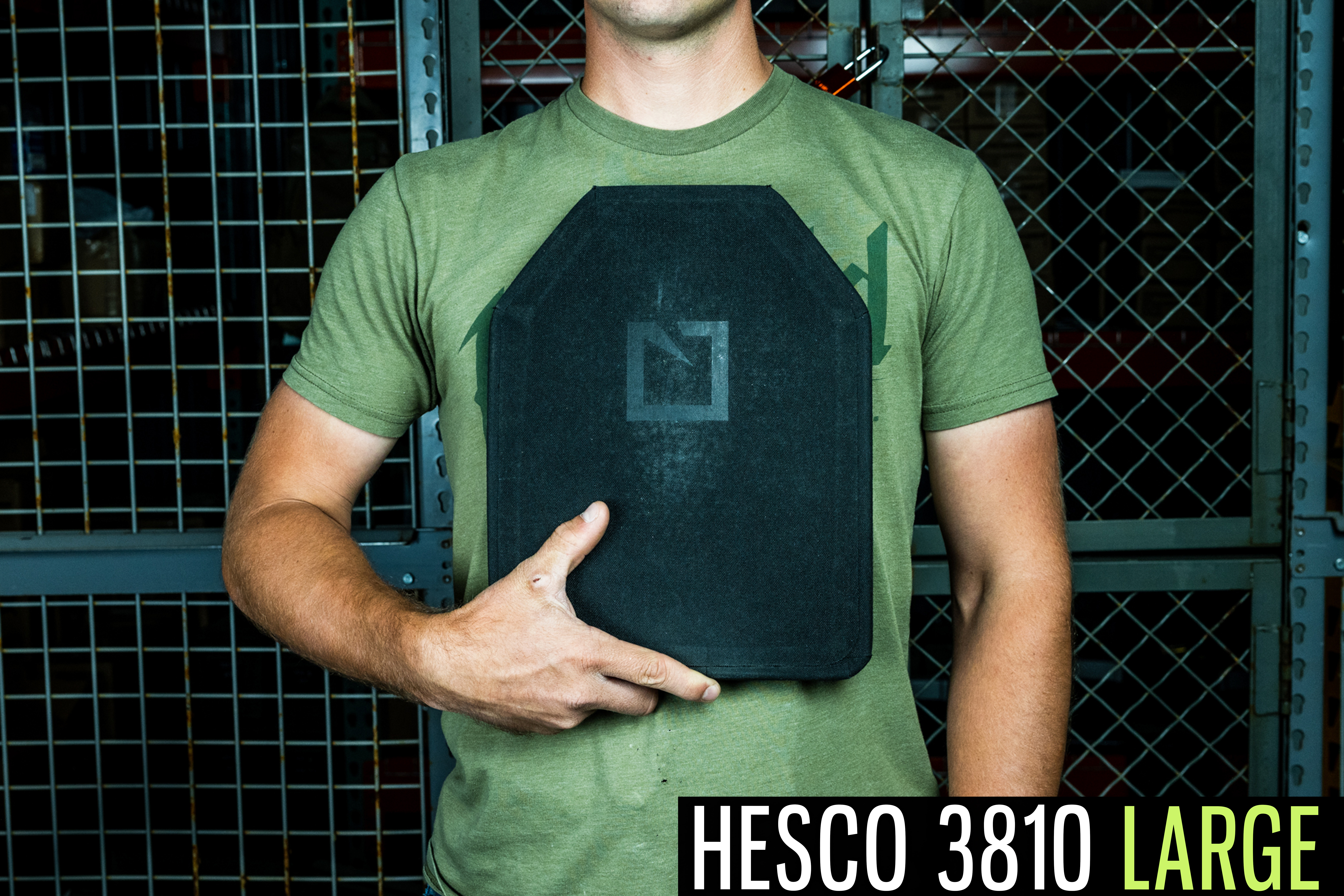 Now that the reasonable comparisons are out of the way, we can look at more extreme examples. On the left, you can see that the small 3810 does not offer adequate coverage of all vital organs. While this may offer the most mobility possible, it is not protecting everything it should be. While on the other end of the spectrum, the extra-large 4601 covers everything it needs to be and quite a bit more than is necessary. This will require our subject to alter his stock placement and result in less mobility overall.

Now that we have tackled plate sizing, we can narrow down which exact model of armor plate you need. Several factors play into this choice, so it is essential to consider your situation and the most common threats to you and your area.
Threat Levels and NIJ Standards
The National Institute of Justice (NIJ) is the US DOJ agency in charge of testing and evaluating ballistic armor. They also set the standards that NIJ-certified armor must meet or exceed.
The current standard is (NIJ Standard 0101.06), but a new revision (NIJ Standard 0101.07) was proposed in 2018 to simplify naming and add threat levels that weren't covered in NIJ 0101.06. For our purposes, we will mainly refer to NIJ Standard 0101.06.
NIJ Standard 0101.06
Level IIIA
Stops Pistol Rounds up to .44 Magnum
Level III
Stops Rifle Rounds up to .308(M80 Ball), Excluding M855 Green Tip
Level IV
Stops Rifle Rounds up to .30-06 M2 Armor Piercing
Additions In Proposed NIJ Standard 0101.07
NIJ RF2 (III+)
Stops rifle rounds up to .308(M80 Ball), Including M855 Green Tip
Special Threat Plates
Some armor plates are referred to as "special threat." These plates are not covered under the current NIJ Standard 0101.06 and therefore aren't NIJ Certified. Our most recommended special threat plate is the Hesco L210. The L210 drops M80 ball protection of level III and III+ but gains M855 protection, and in the case of the Hesco L210, M855A1 protection. This can be useful for those that expect to see more intermediate threats like 5.56 and may not need the .308 protection.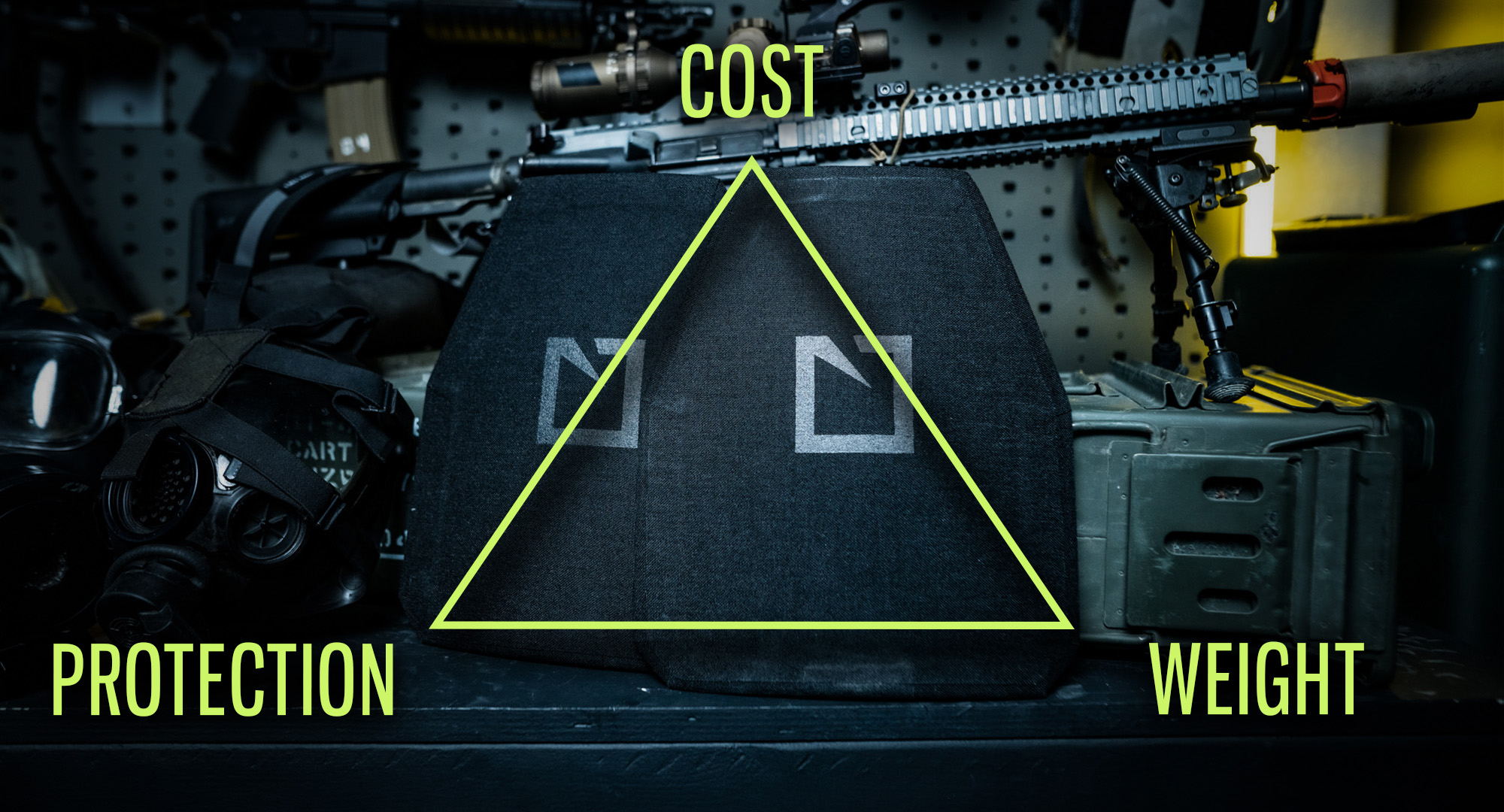 Armor comes with trade-offs, as most things do. Want a super-light plate that stops Level IV threats? It's not going to be cheap. Want a cheap plate that doesn't sacrifice protection? It's not going to be light, so on and so forth. To answer this question, you will need to look at your situation and determine which trade-offs you are willing to deal with to best serve your purpose.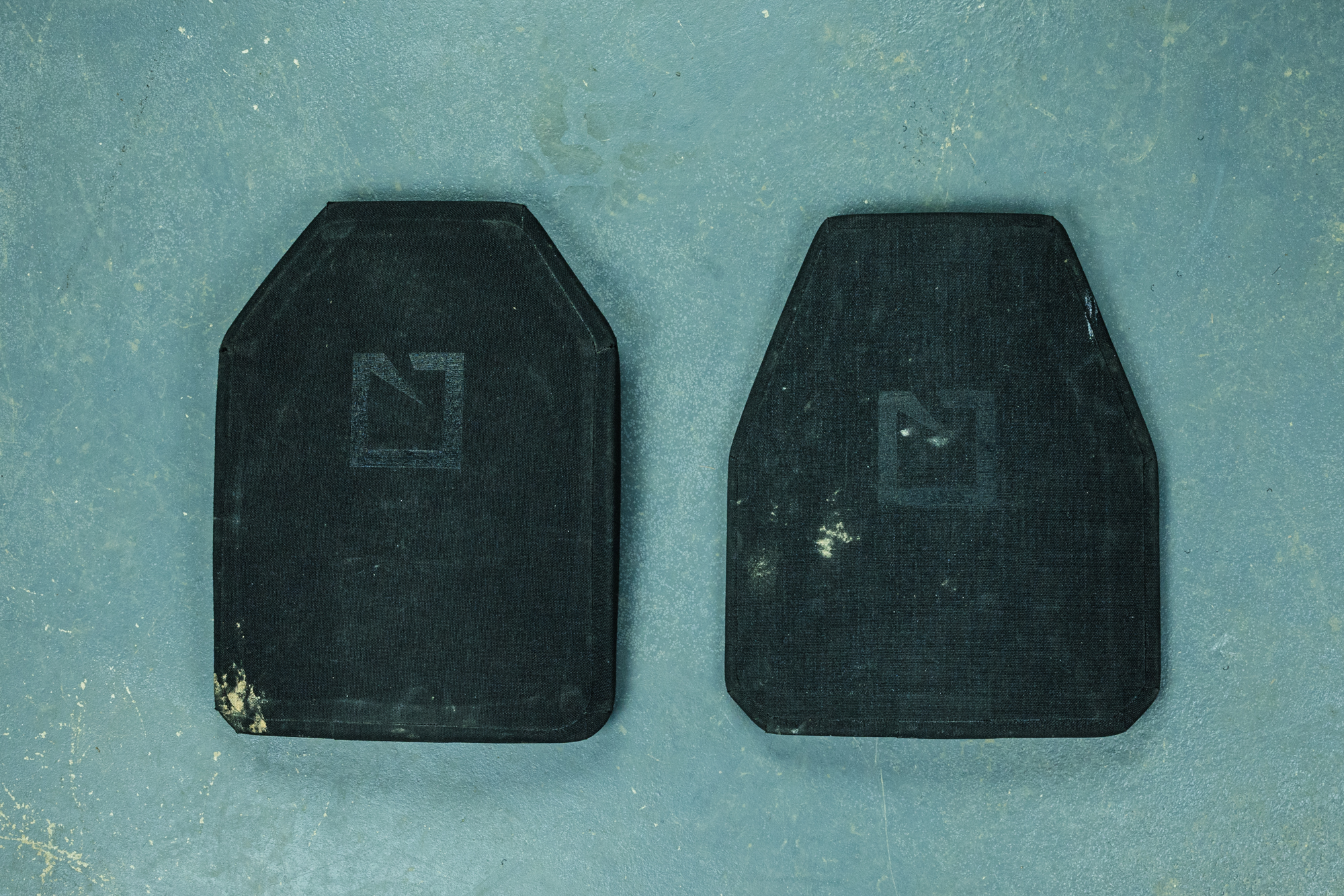 Hesco 3810 SAPI Medium (Left) Hesco L210 10x12 Shooter (Right)
Another consideration is the profile or "cut" of your plates. SAPI cut plates are based on the profile of the SAPI/ESAPI armor used by the US military since the early-mid 2000s. Many modern armor plates use this shape and its standardized sizing, which we mentioned earlier. SAPI cut plates prioritize coverage over mobility, making sizing your plates more critical.
Shooter cut plates offer less coverage, allowing more arm movement while also keeping your shoulder pocket clear. Because of this, sizing is a little more lenient than SAPI cut plates. There is no official standard for "shooters cut," so each company's options may differ in shape and size.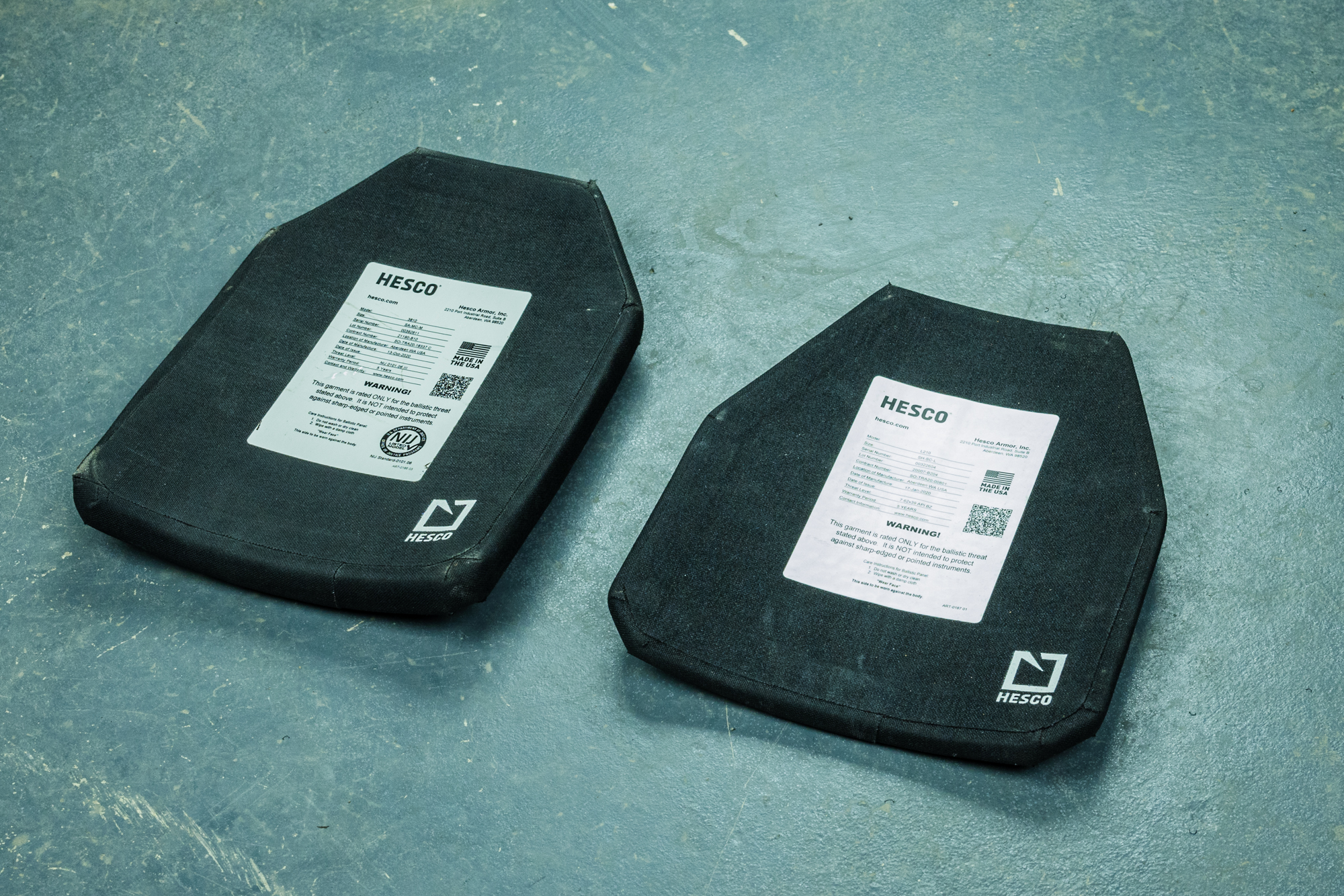 Multi-Curve Hesco 3810 (Left) Single-Curve Hesco L210 (Right)
For armor meant to be worn on your body, you will want it to have some type of curvature. Most plates will either have a single-curve or a multi-curve design.
The more common and generally cheaper option is single-curve. This is adequate for most, but it is not as comfortable or concealable as multi-curve as it doesn't conform to the body's shape as well. This can be mitigated with a pair of plate backers to offer more padding. Multi-curve plates are the more expensive but more comfortable option. These plates match the shape of most people's bodies better, allowing the plate to sit closer without creating hot spots and discomfort.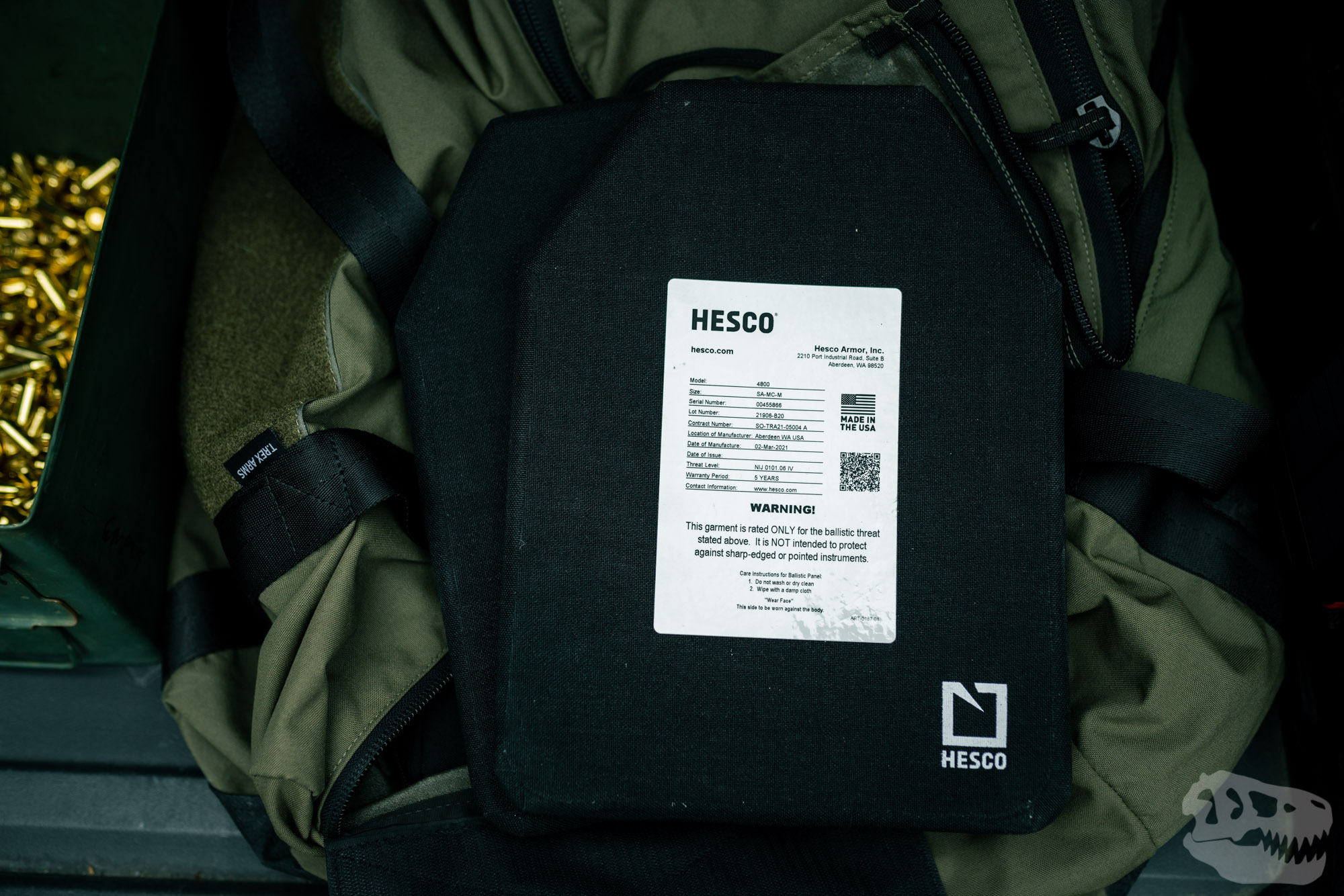 Steel armor is not recommended over a good set of ceramic plates in almost any situation. But why is that? Steel armor may appear cheaper than ceramic at first, but to make it even close to a viable option, you will need spall coatings and trauma sleeves that quickly bring the cost over that of a good set of ceramic plates. This also comes with the detriment of extra weight. The average 10x12 steel level III plate weighs 9.5lbs each with the additional coating; in comparison, the Hesco 4401 level IV plates weigh 7.5 pounds each while offering more protection.
When shot, steel armor also creates fragmentation, commonly called "spalling." This is what the "spall coatings" and "build-up coats" are supposed to mitigate. These coatings are generally nothing more than glorified Bedliner that costs the end-user extra money and doesn't do a good job of containing fragmentation. This fragmentation tends to follow the curvature of the plate, which can send shrapnel into your neck and extremities. An example of this can be seen in this video.
Now that we have all these considerations taken into account, you can narrow down the plate that best fits your wants and needs.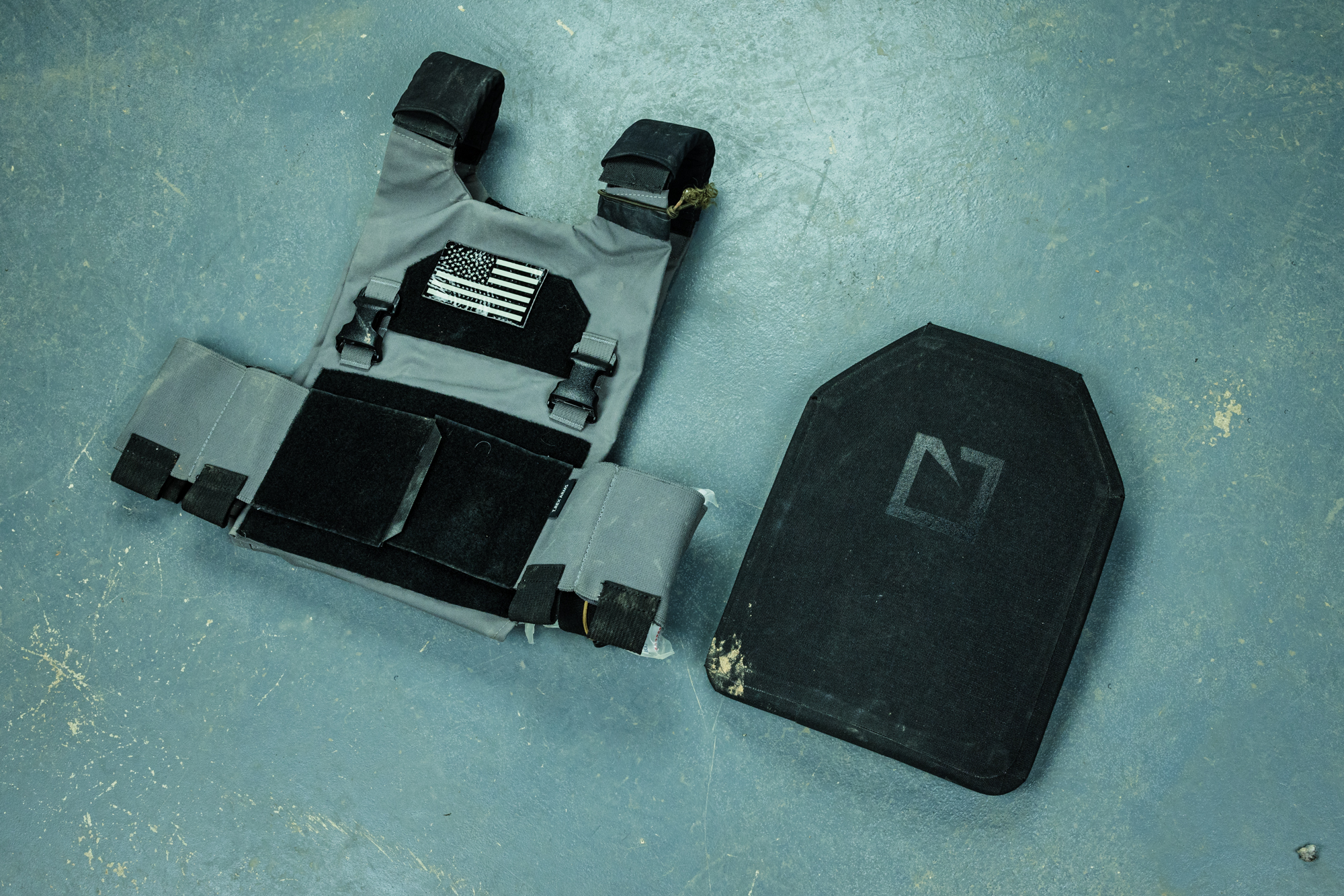 One common misconception with plate carriers is that the size of the carrier is affected by the size of your body, shirt, height, etc. The main factor in choosing carrier size is the armor plate itself. Plate model, size, curve, and other factors will directly affect plate carrier size.
Our AC1 is sized around the Hesco 3810 since it is a standard multi-curve plate that is about 1 inch thick. This allows sizing to be consistent with most hard armor currently available. For SAPI cut and sized plates, the size of the carrier will generally match the armor. This is also true for multi-curve 10x12 plates. There do happen to be some exceptions to the rule, however. The Hesco L210 is a 10x12 single curve plate with a thickness of .6 inches. Because of how thin these plates are and their single-curve profile, they will need a medium plate carrier even though they are technically a large plate.
Below will be an AC1 sizing chart for all the Hesco plates we have confirmed fitment with.
AC1 Small
AC1 Medium
AC1 Large

Hesco 3810 Small

Hesco 4800 Small

Hesco 4601 Small

Hesco 4401 Small (8x10)

Hesco L210 Small (8x10)

Hesco M210 Small

Hesco D220 Small

Hesco D220 (8X10)

Hesco 3810 Medium

Hesco 4800 Medium

Hesco 4601 Medium

Hesco L210 Large (10x12)

Hesco M210 Medium

Hesco D220 Medium

Hesco 3810 Large

Hesco 4800 Large

Hesco 4601 Large

Hesco 4401 Large (10x12)

Hesco M210 Large

Hesco M210 Large (10x12)

Hesco D220 Large

Hesco D220 Large (10x12)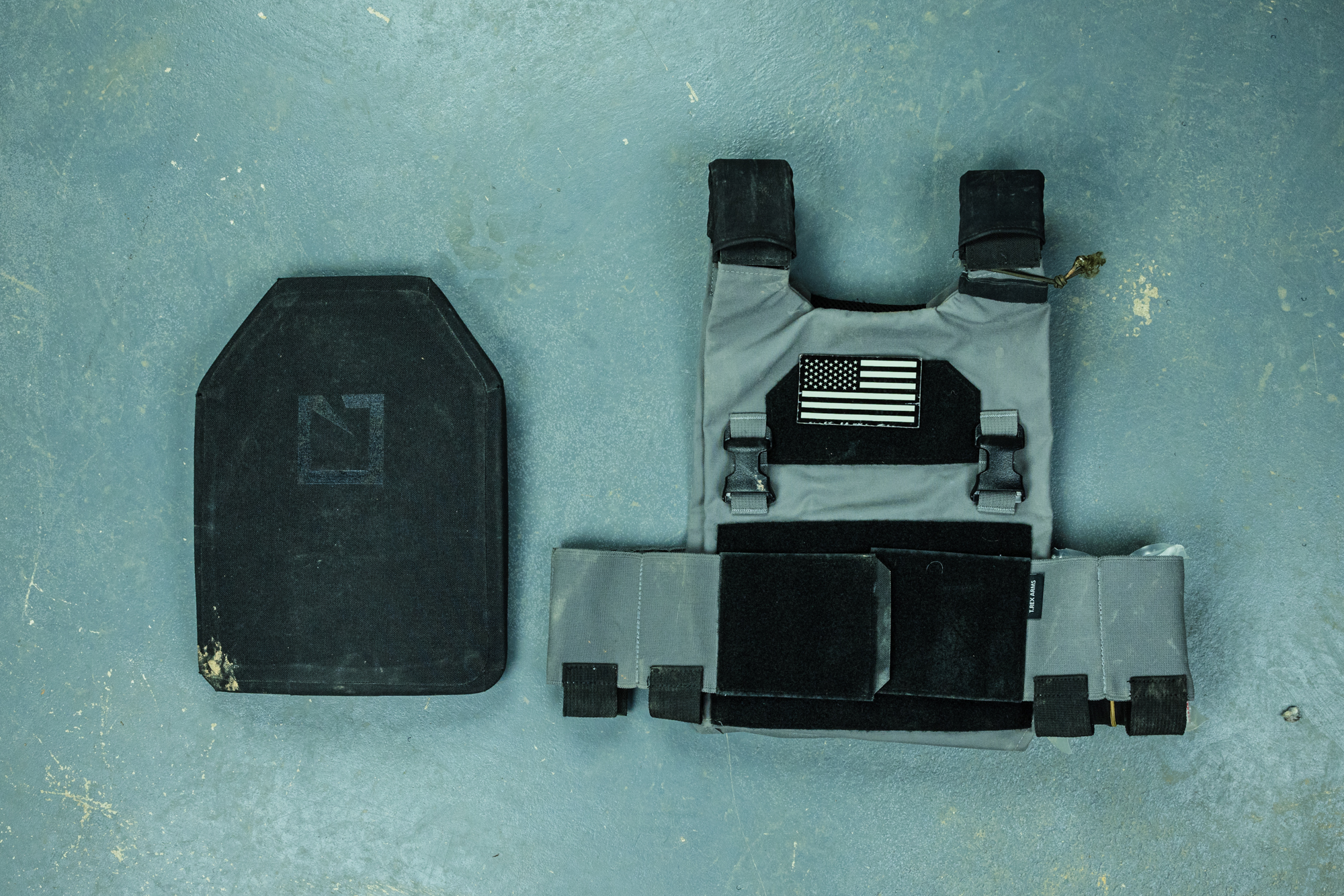 With all these factors taken into consideration, you should have all the information necessary to make an informed purchase for the armor and carrier that fits your needs. As mentioned earlier, this is a complex topic, and this article is but a brief breakdown of multiple subjects that can get incredibly in-depth.
We encourage further research into these topics if you are curious about them, but feel free to run any questions by us at Team@trex-arms.com.