EOTECH EXPS3-0 | EOTECH Pros/Cons | Aimpoint Micro T-2 | Aimpoint T-2 Pros/Cons | Conclusion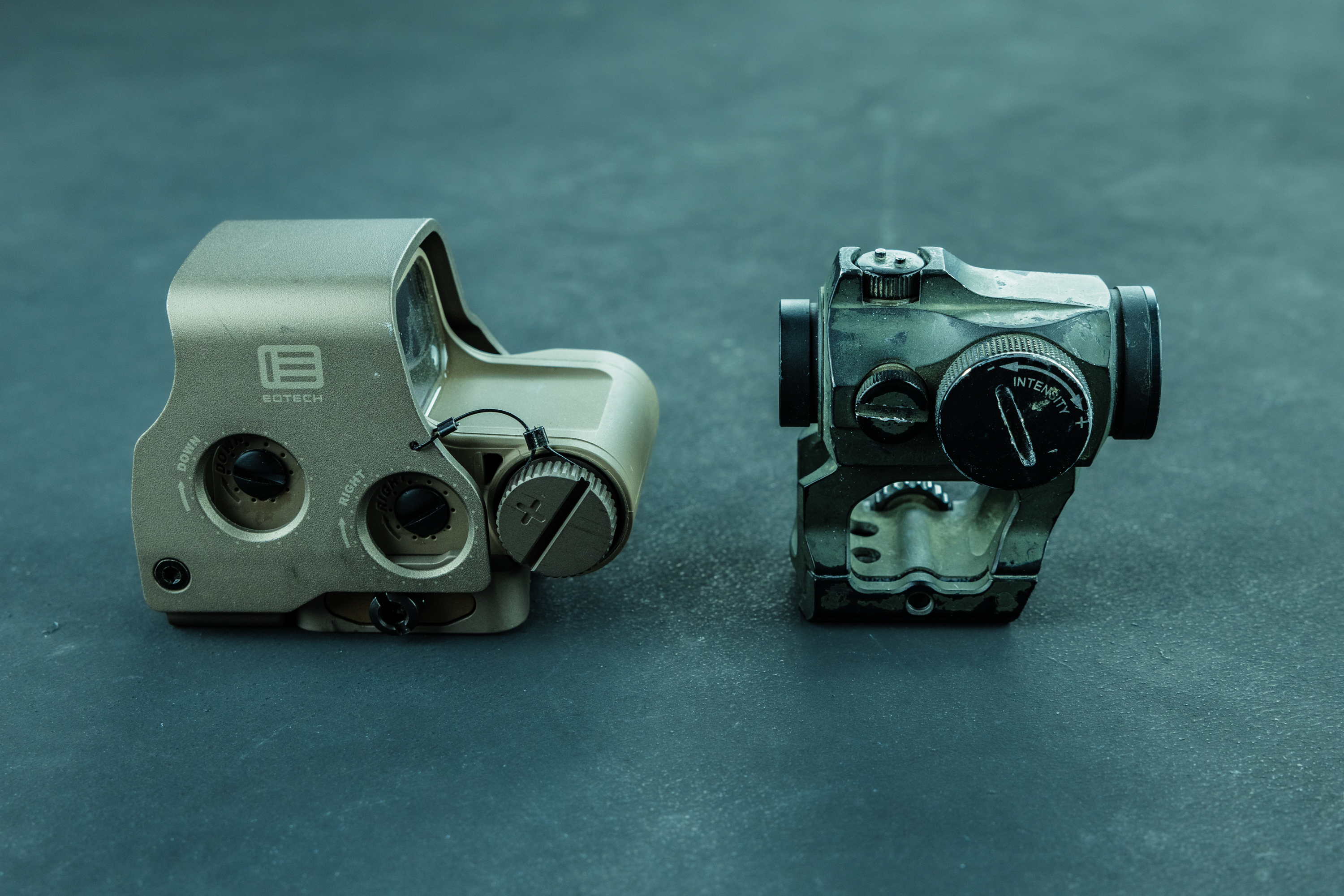 Gear and everything surrounding it is a highly subjective topic that doesn't always have one singular answer. One of these gear questions we are often asked is, "Should I get an Aimpoint or an EOTECH?" The true answer to that depends greatly on your personal preferences, application, and several other factors. This article will cover the pros and cons of two of our preferred optics, the Aimpoint T-2 and the EOTECH EXPS3-0.
EOTECH EXPS3-0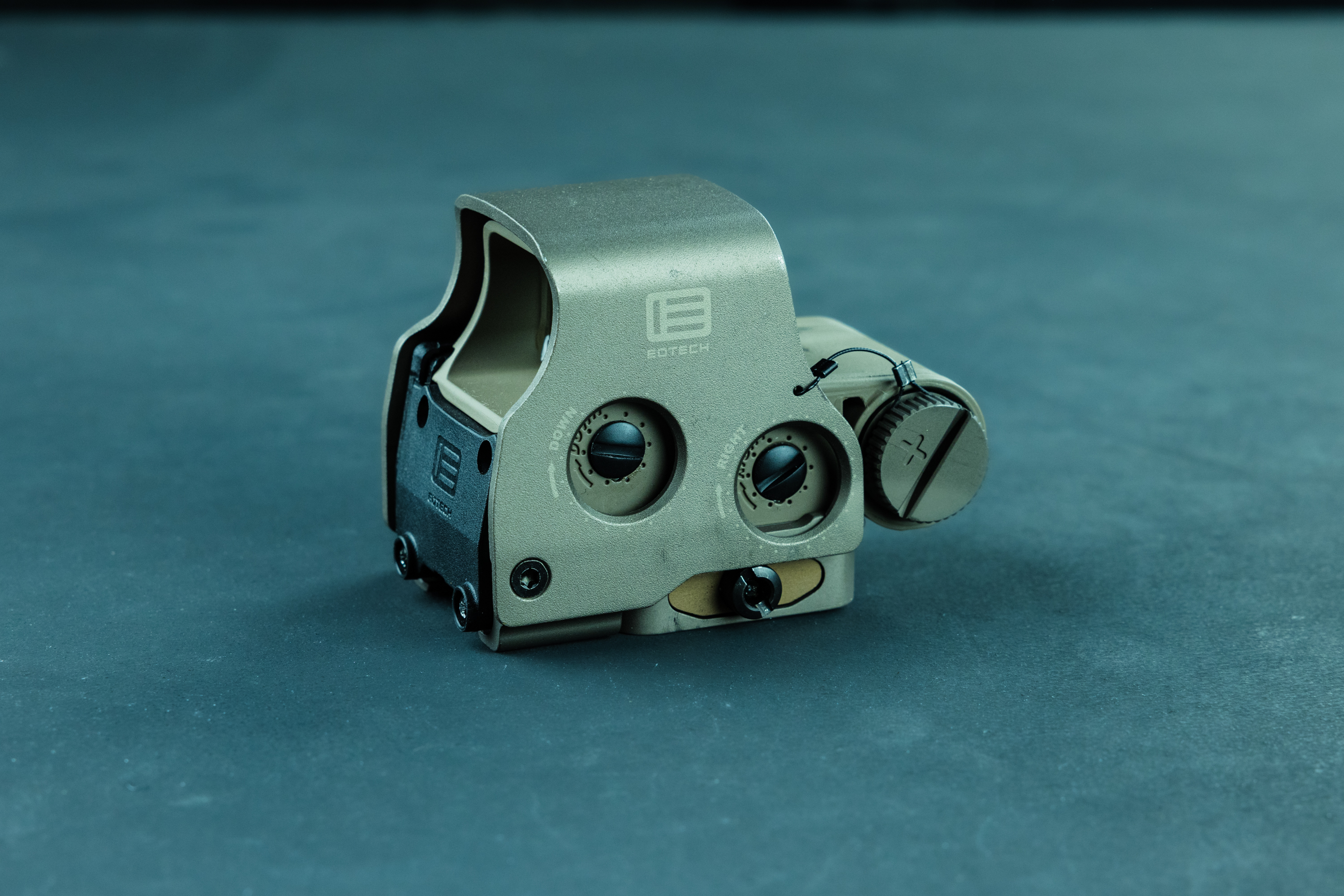 EOTECH optics, mainly the EXPS3-0, have become a staple in our armory over the past few years because of their large field of view (FOV) and ease of use. The EOTECH naming system can be confusing initially but is relatively easy to reference once learned.
If the first letter of the EOTECH model name starts with an E, that means the optic sits at a lower 1/3rd co-witness (about 1.6"). If the model name begins with an X, the optic sits lower at absolute co-witness (about 1.4").
One easy identifier is that all EXPS models will have buttons on the side of the optic and feature a QD mount, whereas XPS models will have buttons at the rear of the optic and use a standard screw mount instead of a QD.

If the first number of the model starts with a 3, that means the optic has ten extra night vision settings. The easy way to remember this is that 3-0 models will have three buttons, and 2-0 models only have two. The third button on the 3-X models is used to enter the extra NV modes.

Lastly, we will look at the number on the end. If the model ends with a 0, that denotes the standard 1 MOA center dot with a 68MOA outer ring. Models that end in a 1 have a single 1 MOA dot with no ring, and models that end in 2 and 4 have 1 MOA BDC dots along with the standard center dot and 68 MOA ring. The 2 has two dots inside of the outer ring, and the 4 has four dots.
Using this information, we can decipher different EOTECH HWS models relatively quickly. For example, we now know that an EOTECH EXPS3-2 will sit at lower 1/3rd co-witness, have side buttons, a QD mount, NV capability, and a BDC reticle with a 68 MOA outer ring, a 1 MOA center dot, and one extra 1 MOA BDC dot.
Now that we have cleared this up, we can move into the pros and cons of the EOTECH EXPS3-0 compared to the T-2.
EOTECH EXPS3-0 Pros and Cons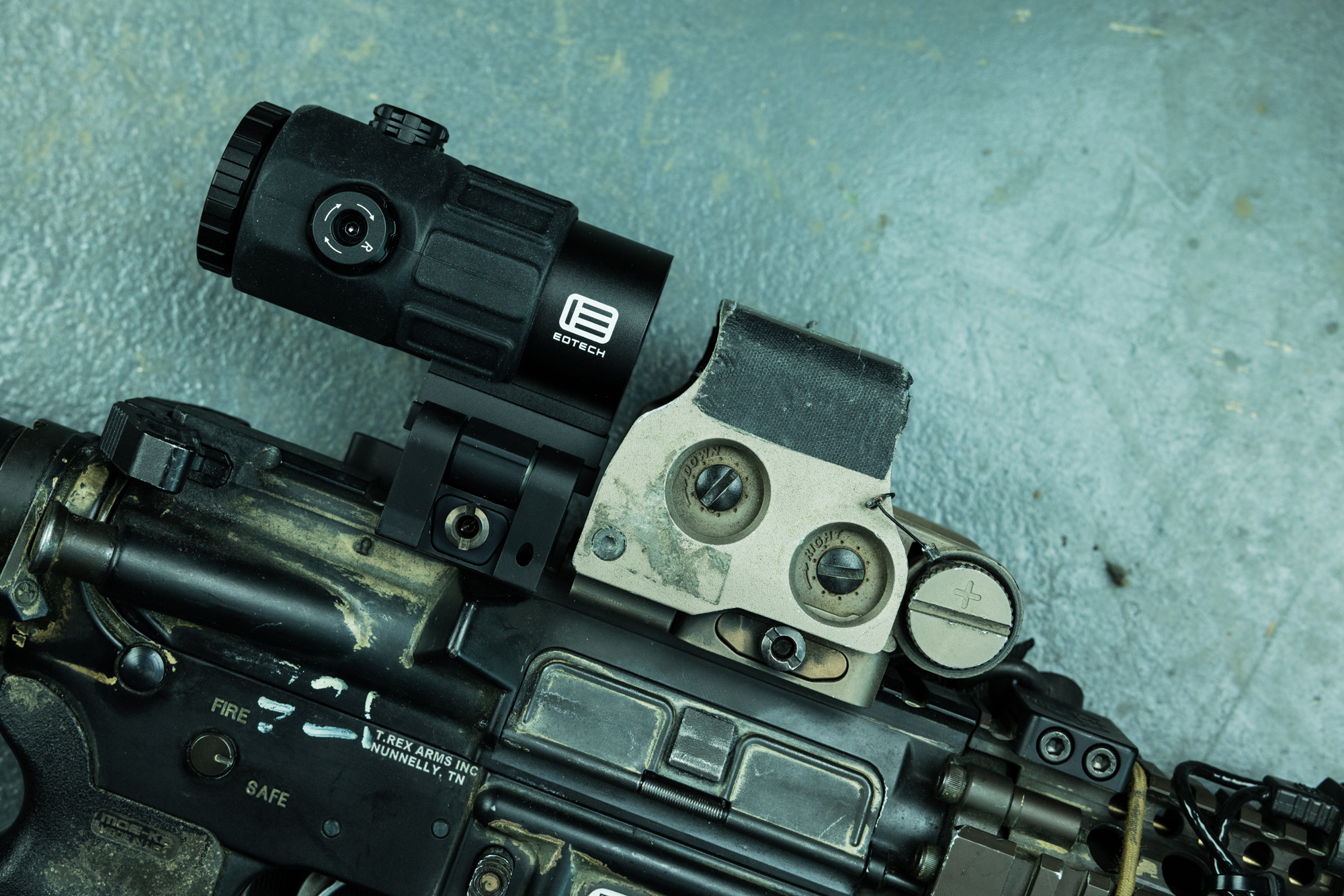 PROs
Large

FOV with very clear glass.

Several reticle options depending on the model.
More affordable than the T-2.
Integrated mount, ready to go out of the box.
Better under NV/magnifiers due to large window and glass clarity.
Battery commonality with NV, lasers, weapon lights, etc. (1x CR123).
Quick zero adjustments while maintaining protected turrets.
CONs
Significantly less battery life (1k hours vs. 50k for the T-2).
Not constant on, either 4 or 8-hour auto-off.
Integrated mounts offer more convenience but less modularity.
Heavier than the T-2 with a comparable mount (11.2 oz. vs. 4.97 oz. for the T-2).
Aimpoint Micro T-2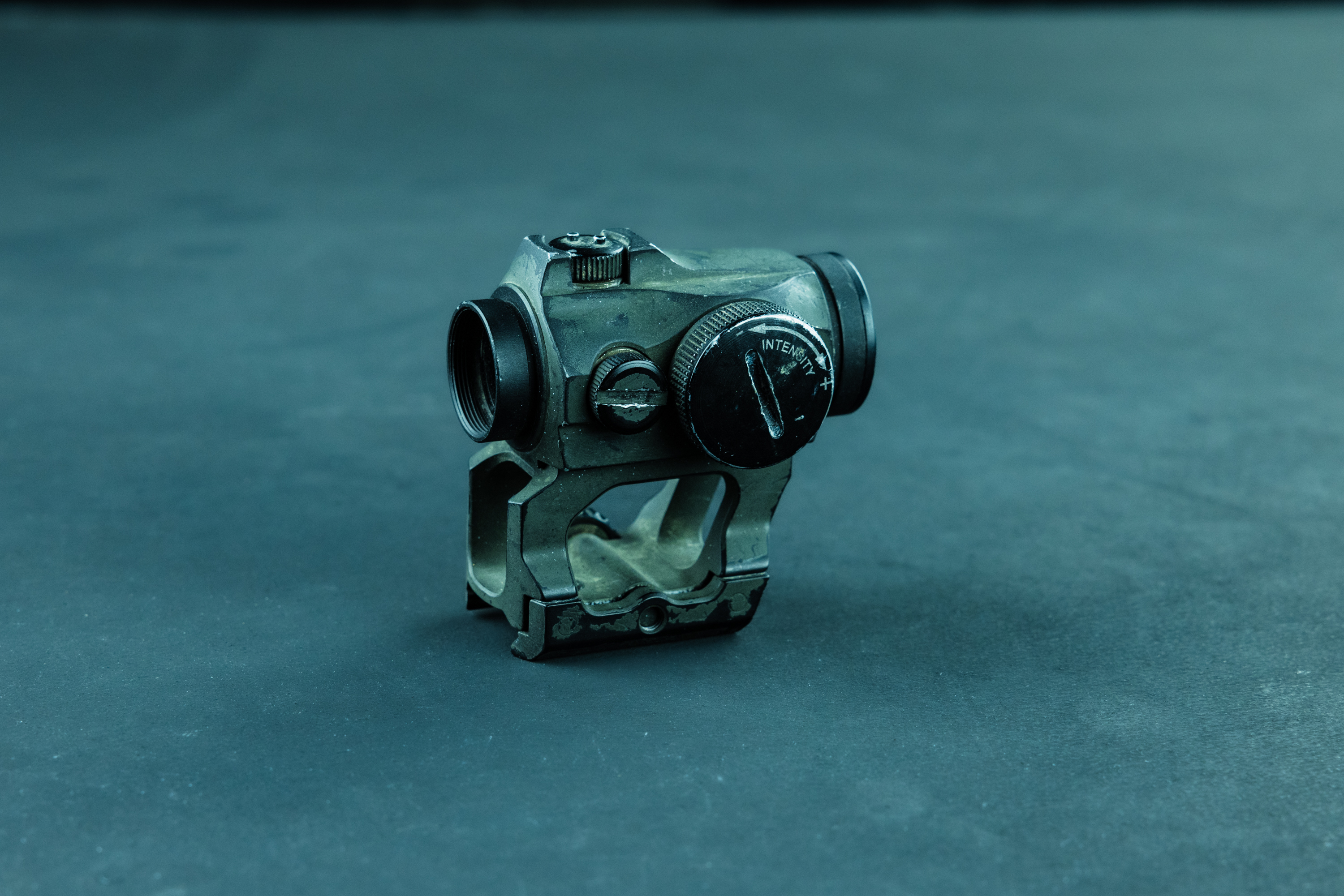 The Aimpoint Micro T-2 and its predecessor, the T-1, is a small, rugged optic that has been a proven choice for many years. It is our go-to non-magnified optic when we want something extremely modular and lightweight. The T-2 can be used on anything from pistols to rifles and everything in between due to its widely popular footprint and the aftermarket mounts available for it. Nothing can be without compromise, however. Below is a list the pros and cons of the T-2 when compared to the EXPS3-0.
Aimpoint T-2 Pros And Cons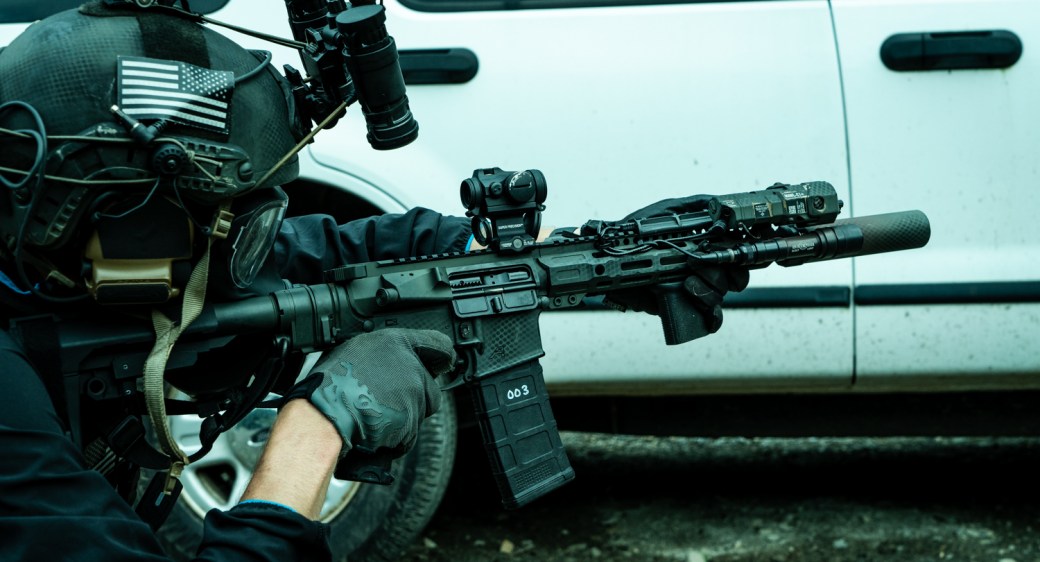 PROs
Excellent battery life (50k hours vs. 1k hours for the EXPS3-0).

Constant on, no auto shut-off feature.

Smaller and more compact than the EXPS3-0.
Tons of aftermarket mounting options.
Lighter weight with comparable mount (4.97 oz. vs. 11.2 oz.).
CONs
Smaller window with a slight blue notch filter.
Less affordable than the EXPS3-0.
A Micro T-1/T-2 footprint optic mount and tools are required for installation.
Zeroing is less intuitive, and the turret caps are easy to lose.
Not as good under NV/magnifiers due to the notch filter.
Conclusion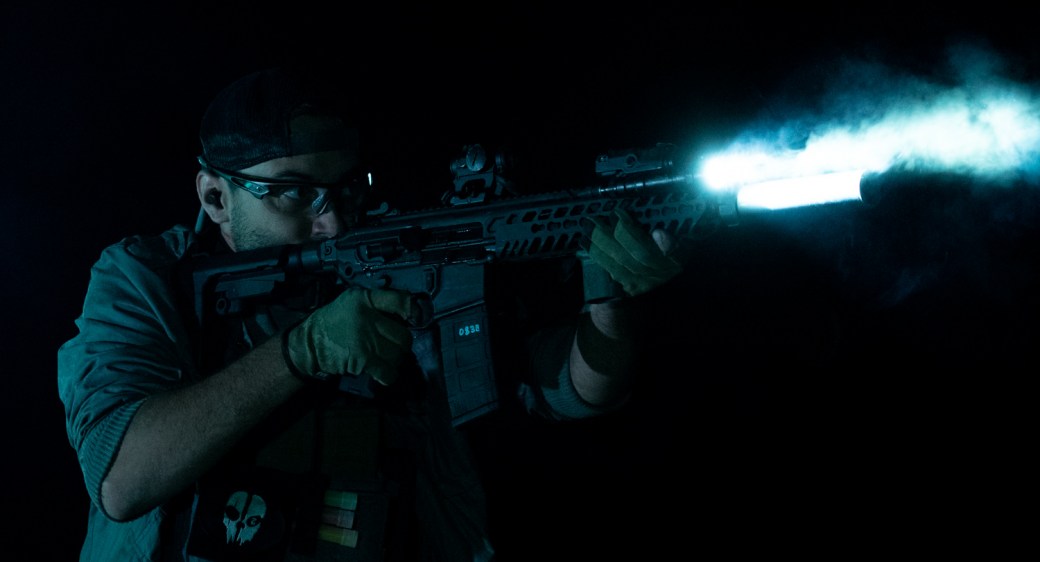 Ultimately, which optic you choose will determine what features best fit your needs. Hopefully, this brief article helped provide some insight into the pros and cons of each system. Both EOTECH and Aimpoint make exceptional optics, and neither of these options would be a bad choice. Take a look at your subjective needs and preferences and choose the option that best suits you.
If you have any further questions, please email them to team@trex-arms.com.