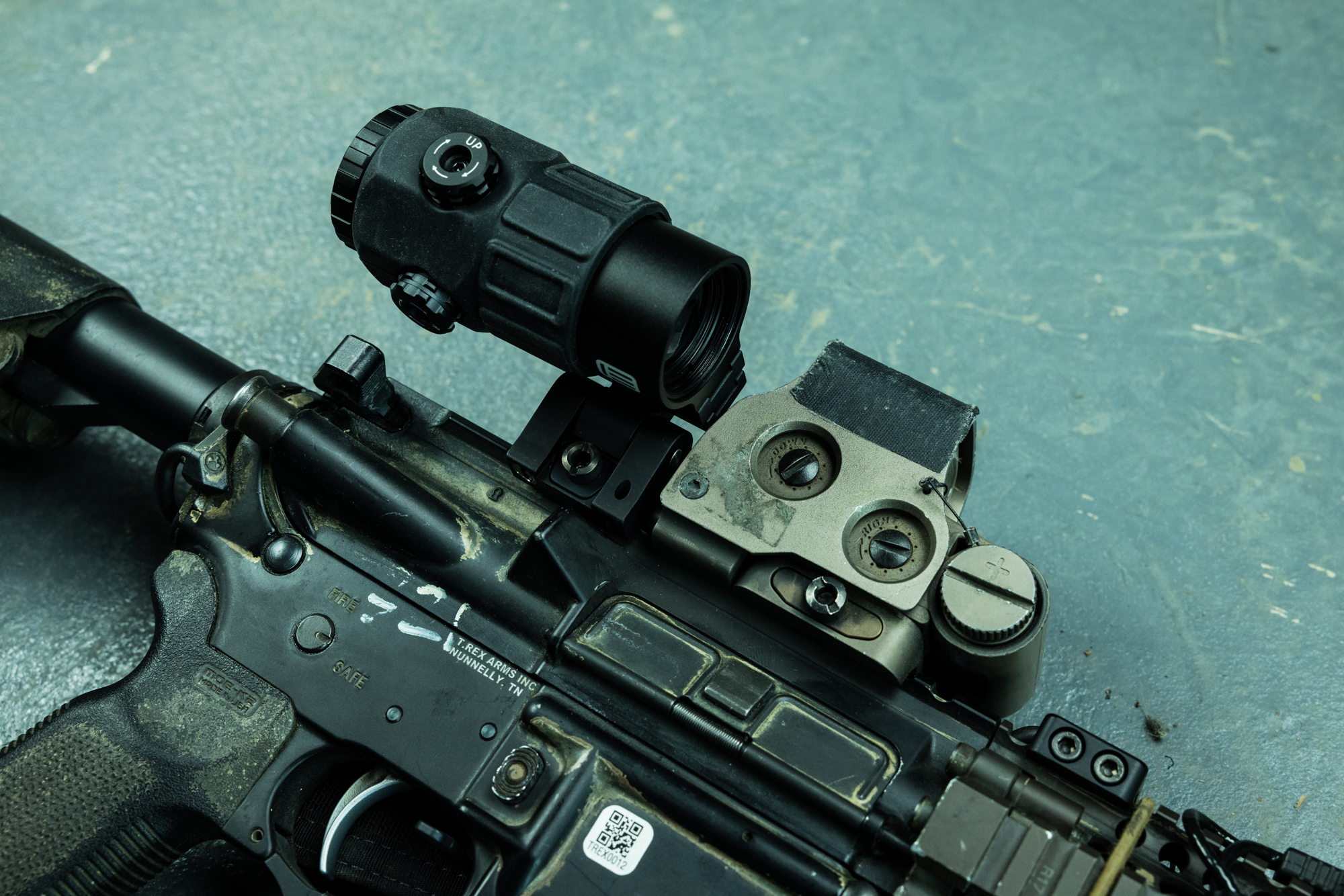 Magnifiers are a great tool that can be quickly added to a rifle equipped with a red dot optic to extend its useful range. While they may not be as precise as an LPVO, they can be quickly taken off and stowed on your kit to remove some weight from the rifle and can also be used as an impromptu spotting scope when removed from the rifle. Now you may be asking yourself, which EOTECH magnifier model do I need? In this article, we will look at each magnifier's features and discuss why we don't carry specific models.
EOTECH G33 Magnifier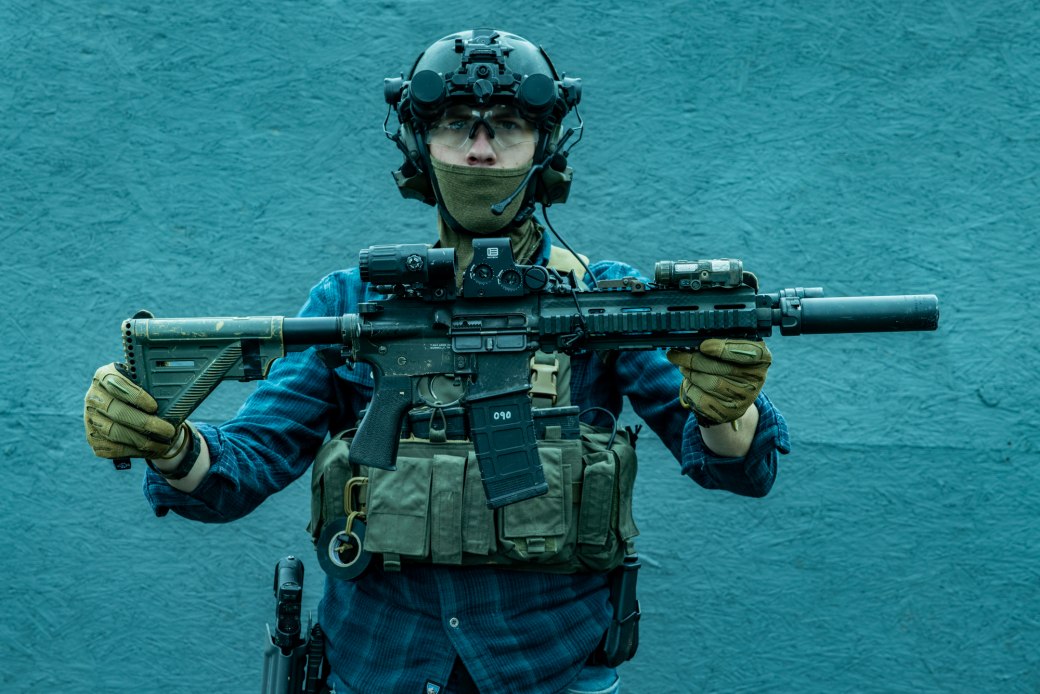 The EOTECH G33 was announced in 2012, and since then, it has become the gold standard of magnifiers and one of our personal favorites. The G33 is the third generation of magnifiers made by EOTECH, replacing the G23, which was popular in the mid-2000s. The G33 is currently the lightest EOTECH magnifier. It comes in just under 11 ounces and has an eye relief of 2.2 inches, an improvement over its predecessor but not as good as the latest EOTECH magnifiers. All current EOTECH magnifiers come with a flip-to-side mount that allows the user to quickly flip the magnifier out of the way to resume unmagnified use of their primary optic. These mounts also include a spacer, allowing them to work with optics up to 2" centerline height.
EOTECH G45 Magnifier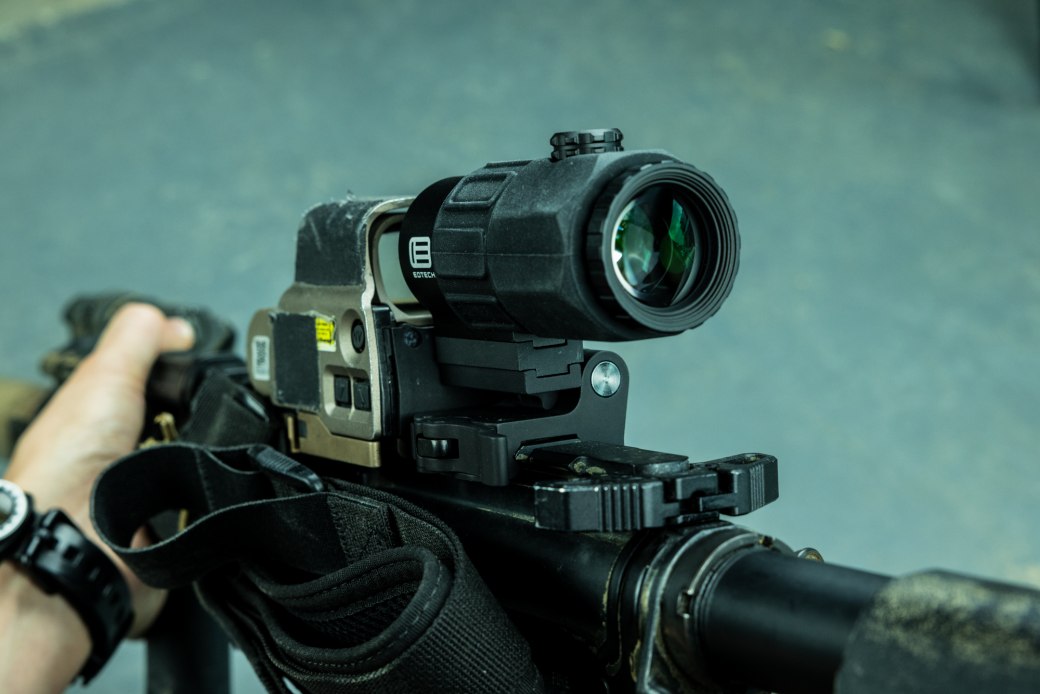 The G45 is one of EOTECH's newest magnifier offerings that bumps magnification from 3x to 5x while improving eye relief. While the G45 is slightly heavier and bulkier than the G33, we find the extra magnification a welcome addition. Out of all EOTECH magnifiers, the G45 has the best eye relief, but some field of view is lost because of the extra magnification. The G45 uses the same flip-to-side mount as the G33, which means it will also work with optics up to 2" in centerline height.
Why We Don't Prefer The G43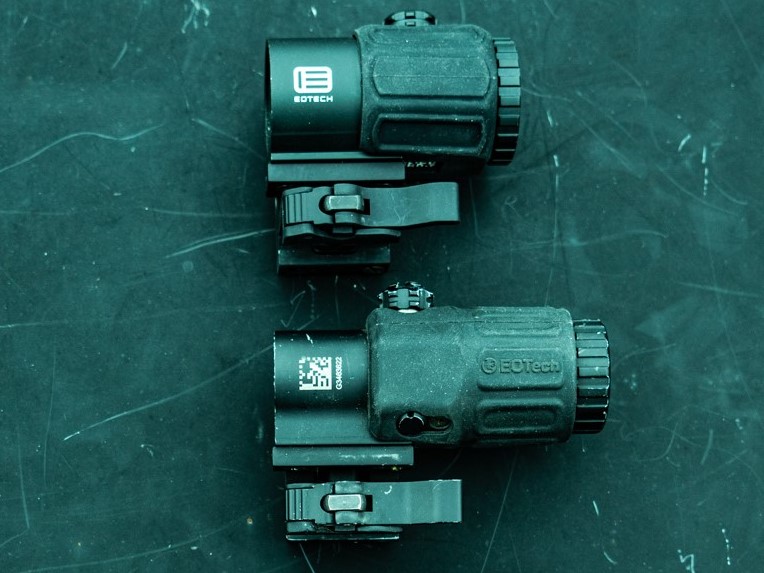 By now, you will have noticed we haven't mentioned the G43. The G43 magnifier may be smaller than the G33, but the G33 is still slightly lighter. Since the G43 was shortened behind the mount, the improved eye relief is negated as it will need to be mounted further back than the G33 or G45. The small profile of the G43 may be helpful on weird platforms such as bullpups, but that isn't something we use often, and for these reasons, we still prefer the tried and true G33 when it comes to EOTECHs 3x options.
EOTECH Magnifier Comparison
EOTECH G33
EOTECH G43
EOTECH G45
Weight: 10.6 Oz
Weight: 11.3 Oz
Weight: 12.8 Oz
Eye Relief: 2.2"
Eye Relief: 2.5"
Eye Relief: 2.6"
Field Of View: 7.3

°

Field Of View: 7.5

°

Field Of View: 4.4

°

LxWxH: 4.4" x 2.2" x 3.3"
LxWxH: 3.1" x 2.3" x 3.3"
LxWxH: 3.9" x 2.3" x 3.3"
The above chart lists the important specs of the three magnifier models EOTECH currently offers. If you want to explore this topic further, we recommend checking out our EOTECH Magnifiers Explained article, where we answer common questions such as mounting height, eye relief, and more.