There are many variables when it comes to making this decision - What platform are you using? What optic are you considering? Where does your receiver sit in relation to your stock? How much cheek do you want on the stock? Do you want more of an "upright" shooting position? How long is your neck?
(left to right) Aimpoint T-2 mounted on an Absolute co-witness (1.42"), lower third (1.57"), and 1.93 Scalarworks LEAP mounts.
Absolute(1.42") or Lower 1/3rd(1.57")?
For the most part, the two most "common" optic heights will be Absolute and Lower 1/3rd. These two heights are standardized amongst most optics on the market. For instance the
EOTECH EXPS (Lower 1/3rd) and XPS (Absolute) models. (Which have mounts integrated into them)
Generally speaking, we recommend lower 1/3rd over absolute height. The reason being, absolute height often requires more hunching over. There are, however, some situations where an absolute height optic might be a better option for you. (i.e., MP5, SCAR, HK416, AK Variants)
If your stock sits lower in relation to the receiver (like this SCAR), it may be more advantageous to go with an "Absolute" height optic/mount, like this T-2 + Scalarworks Leap combo on a SCAR-16
Because the stock sits lower on this SCAR, it is natural that optics will feel like they sit higher.
On some platforms, you might even want to mount the optic lower than Absolute(1.42)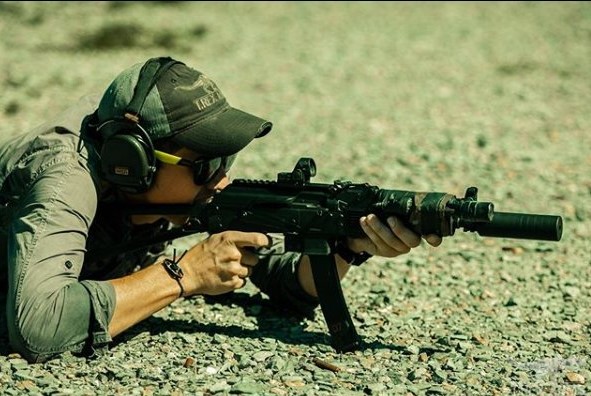 Pictured is a 9mm AK Variant with a Trijicon SRO mounted directly to the rail.
1.93 (Scalarworks) or 2.26 (Unity FAST)
There are a few reasons you might want to go with a taller optic (1.93 or taller).
For instance, If you are running a gas mask or are shooting passively under night vision, you might want your optic to sit at 1.93 or 2.26. Many people prefer 1.93 or 2.26 simply because it keeps the head in a more upright position when shooting. We typically recommend 1.93 over the 2.26 fast mount, as 2.26 is often taller than needed in most cases.
If you do find yourself wanting a taller optic, keep in mind the taller you go with your optic, the lesser your cheek weld will be and the greater your height over bore will be.
Aimpoint T-2 on a 1.93 Mount
Aimpoint T-2 on a Unity FAST 2.26 mount.
To conclude, optic height all boils down to the platform you are using, what gear you are running, and your personal preference. If you have any further questions feel free to email them to team@trex-arms.com.