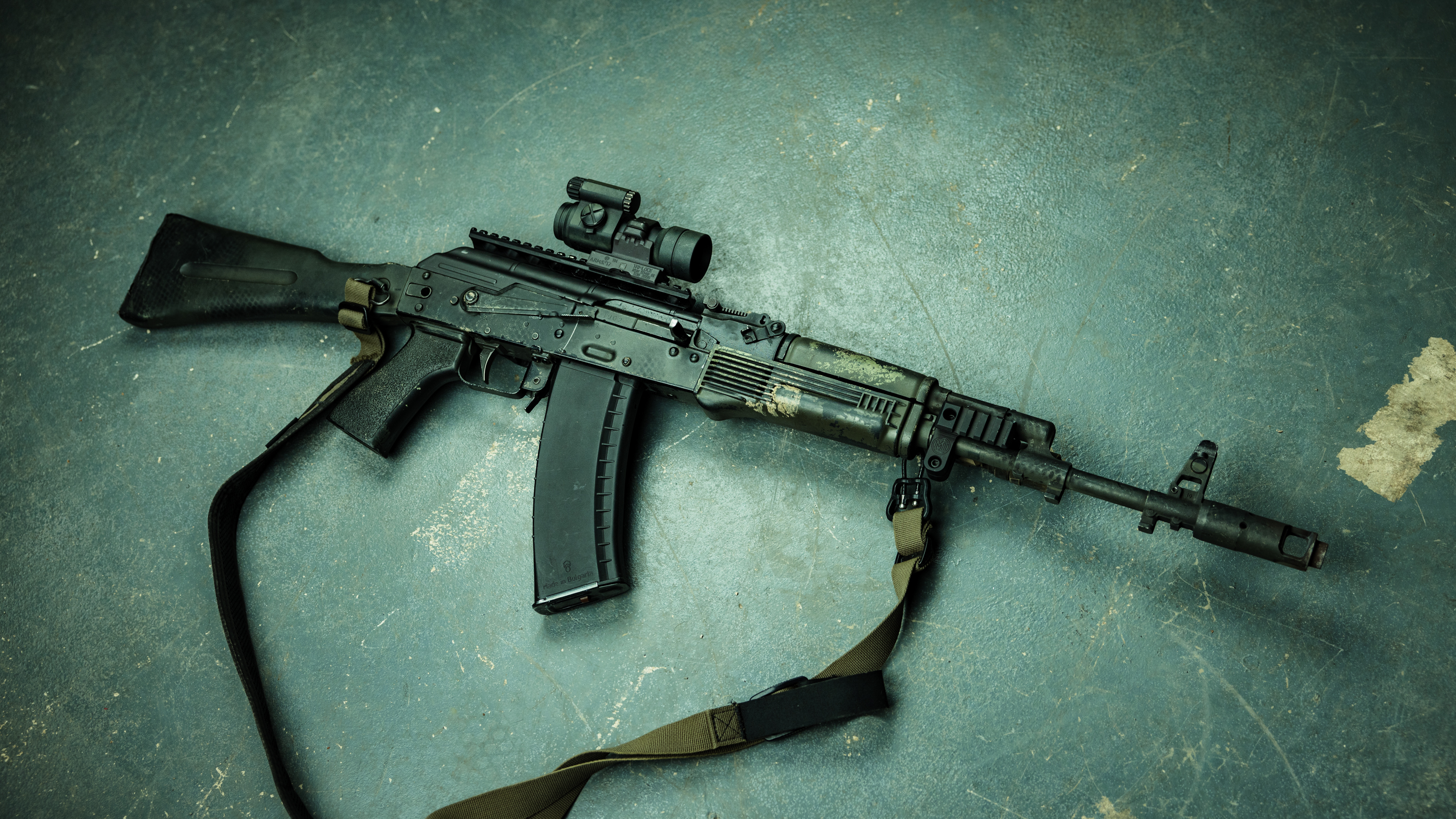 This Arsenal 104FR has been kicking around our armory for quite some time now. AK's have never been the center of our content, but we decided this AK74 deserved its own video after all these years. The following article will detail the four different configurations we ran with this Arsenal SLR-104FR.
Loadout One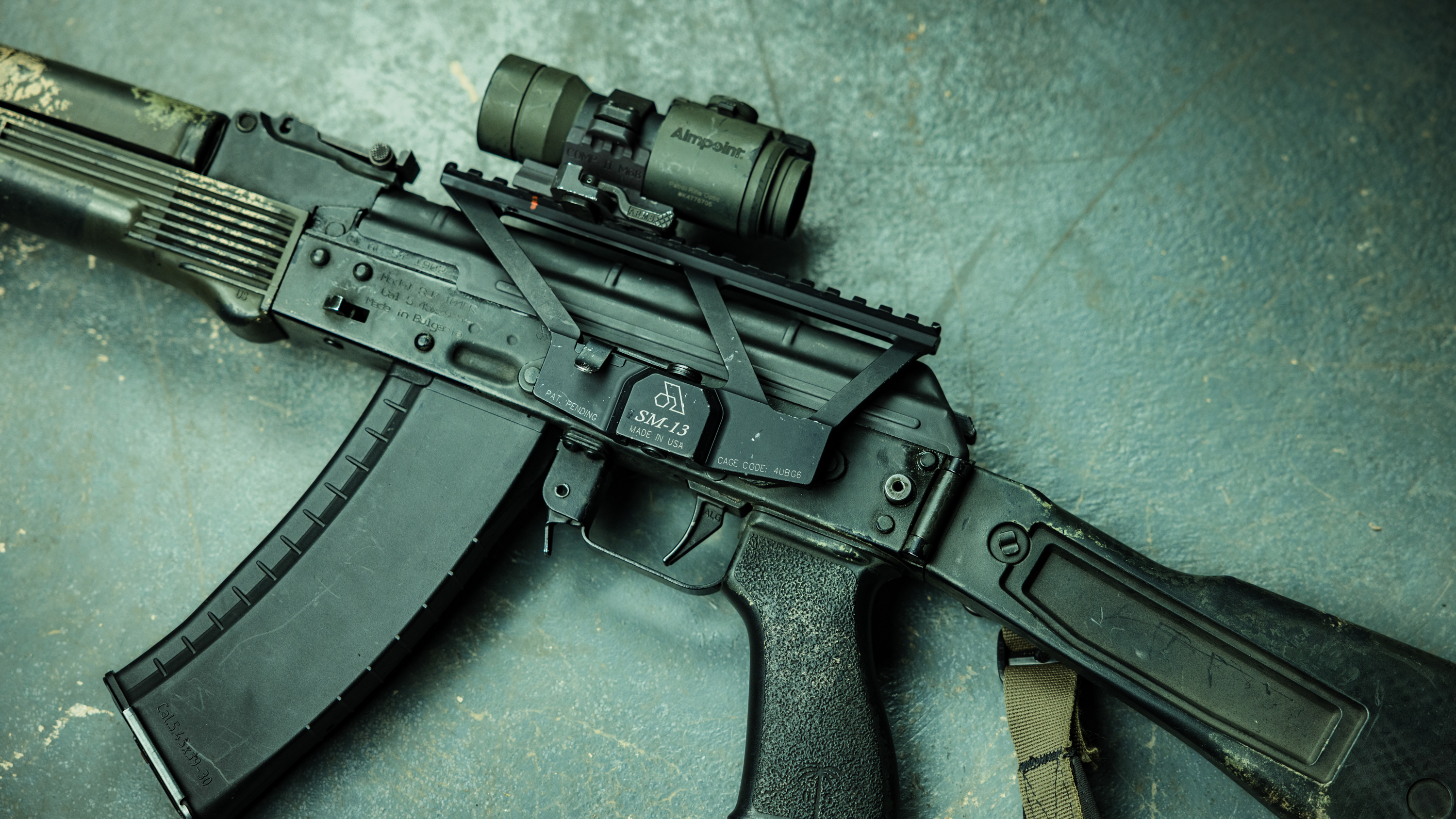 We started with a simple setup for our first loadout, as we usually do. We used an Arsenal SM-13 side mount for our optic. Side mounts are an oddity for those who are more accustomed to flat-top M4/AR15's, but this is a common, reliable, and well-tested solution for the AK platform.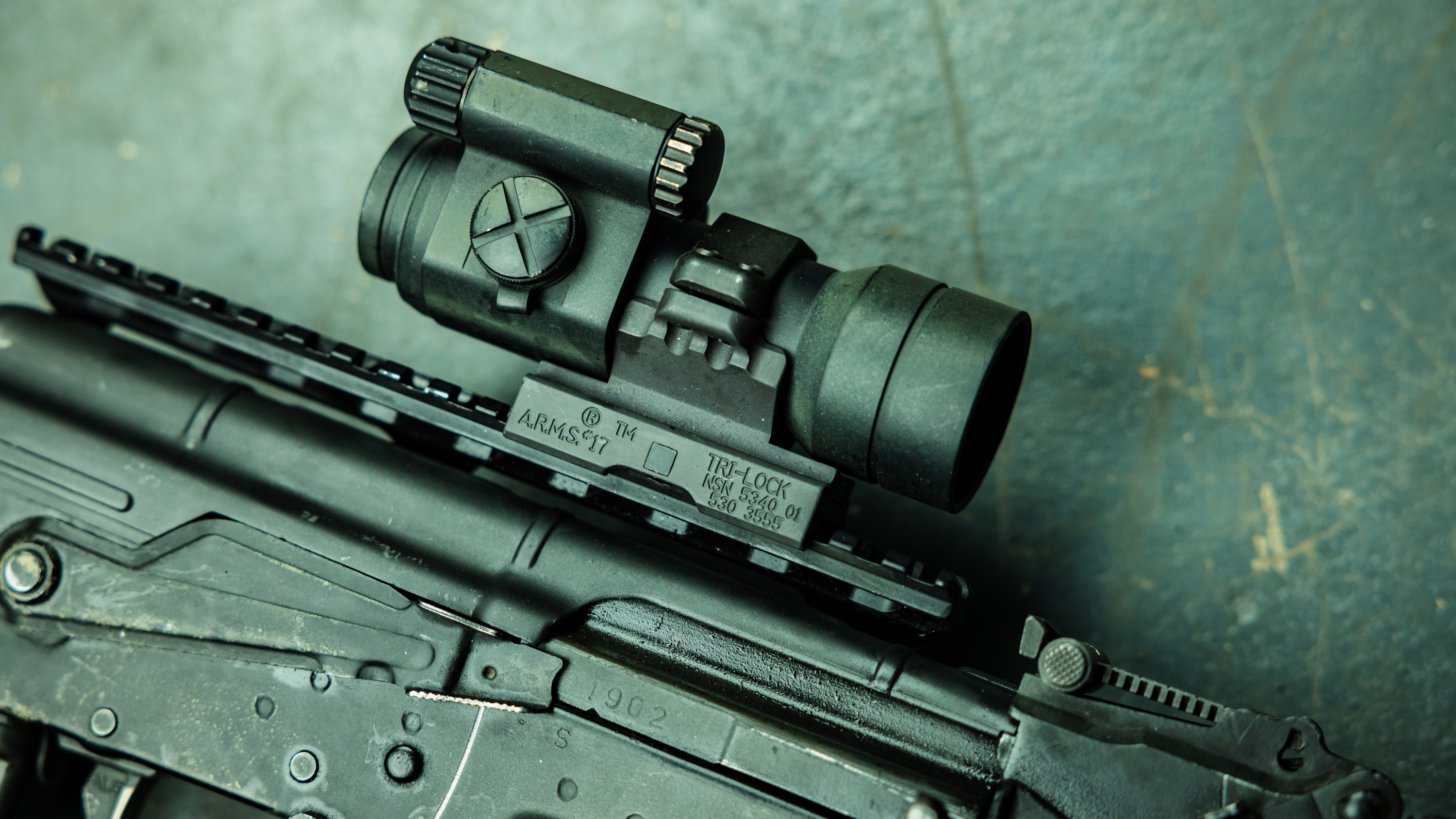 To keep with the simplistic nature of this build, the Aimpoint PRO was a no-brainer. The PRO is our favorite "budget" optic because it balances price and reliability well. The PRO is larger than its smaller T-2 and CompM5 counterparts, but it's built like a tank and around half the price. We chose to forgo the standard QRP2 mount for an ARMS #17 30mm mount to keep the optic and mount as slim and solid as possible.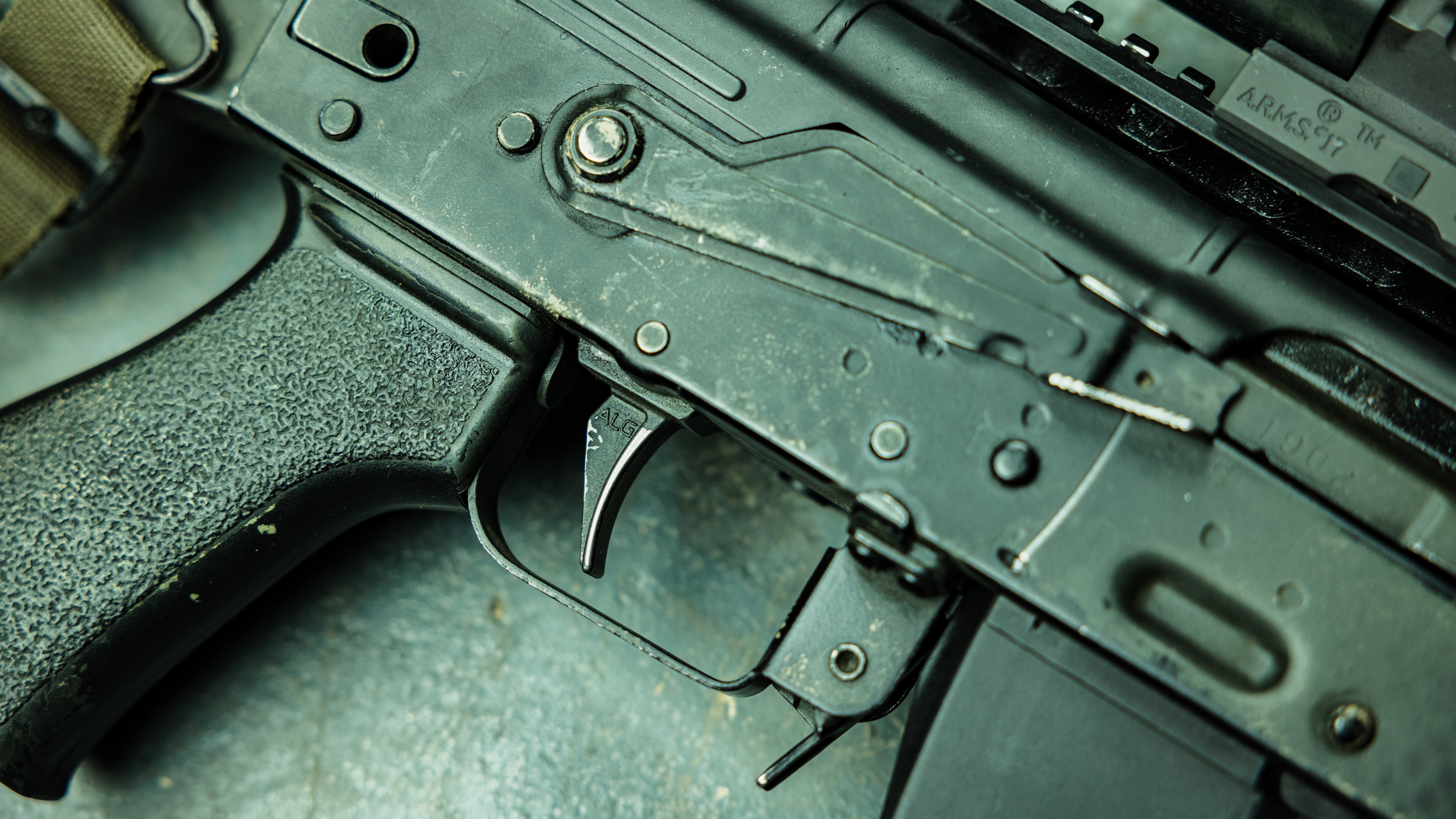 The ALG AKT single-stage trigger takes a little bit of fitting and some extra concern for safety function as compared to your standard M4/AR triggers because of the quirks of this platform, but once that is squared away, this trigger is a much-welcomed upgrade. This AKT breaks around 5 lbs and has a short, crisp reset, making this gun a lot easier and quicker to shoot.
We also added a US Palm grip to enhance the rifle's ergonomics. The stock AK grip works great for gloved shooting, but we don't often find ourselves shooting with gigantic winter gloves, so the US Palm grip makes more sense.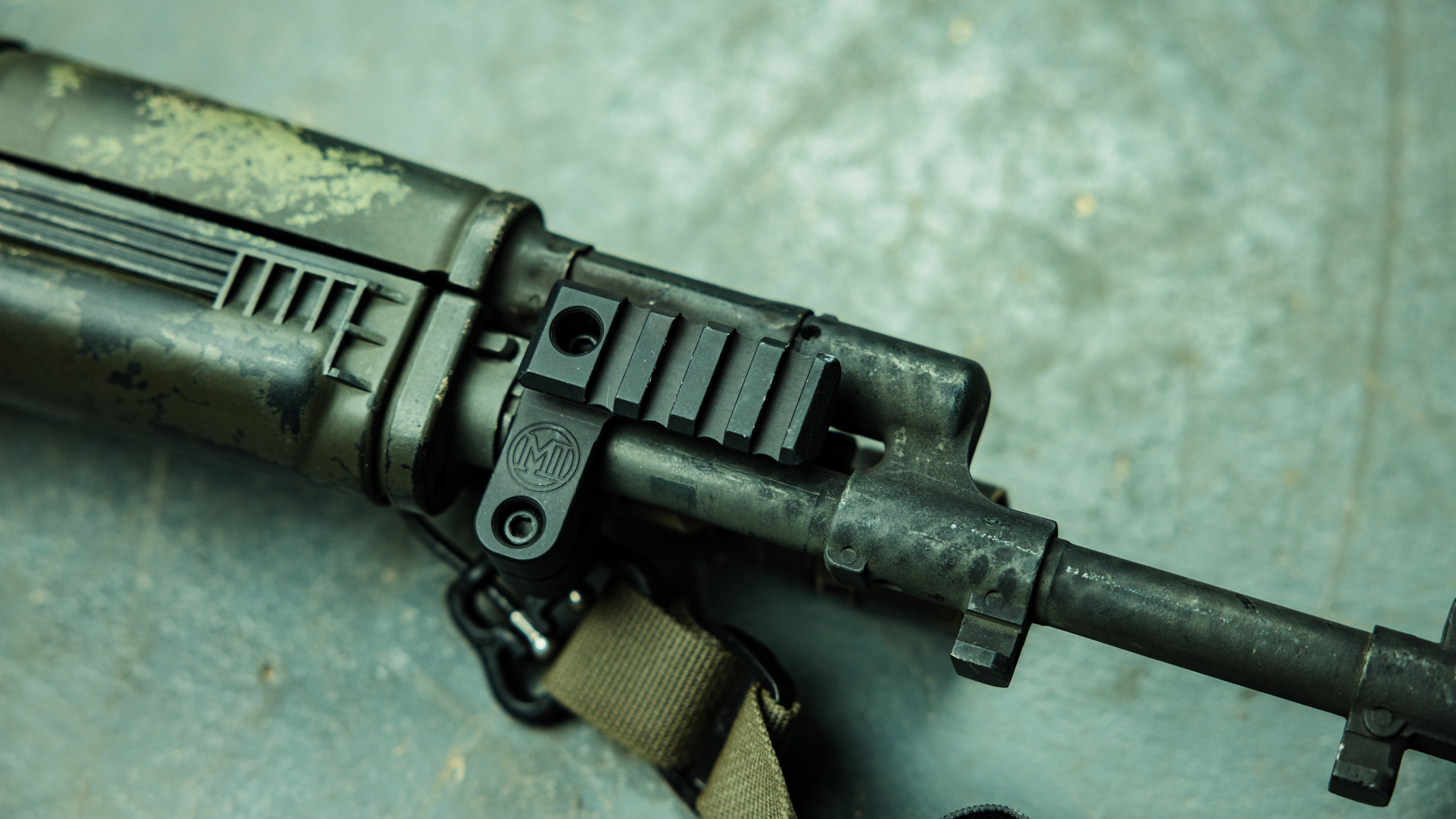 Light mounting can get tricky with AK's, especially if you are not using aftermarket handguards. Luckily Midwest Industries has a solution. This mount wraps around the barrel and gas tube, giving a solid mounting surface for lights and even IR lasers, should you be inclined to run one in this location. This is an upgrade from the hose clamps, tape, and zip ties we've used to mount lights on stock AK's in the past.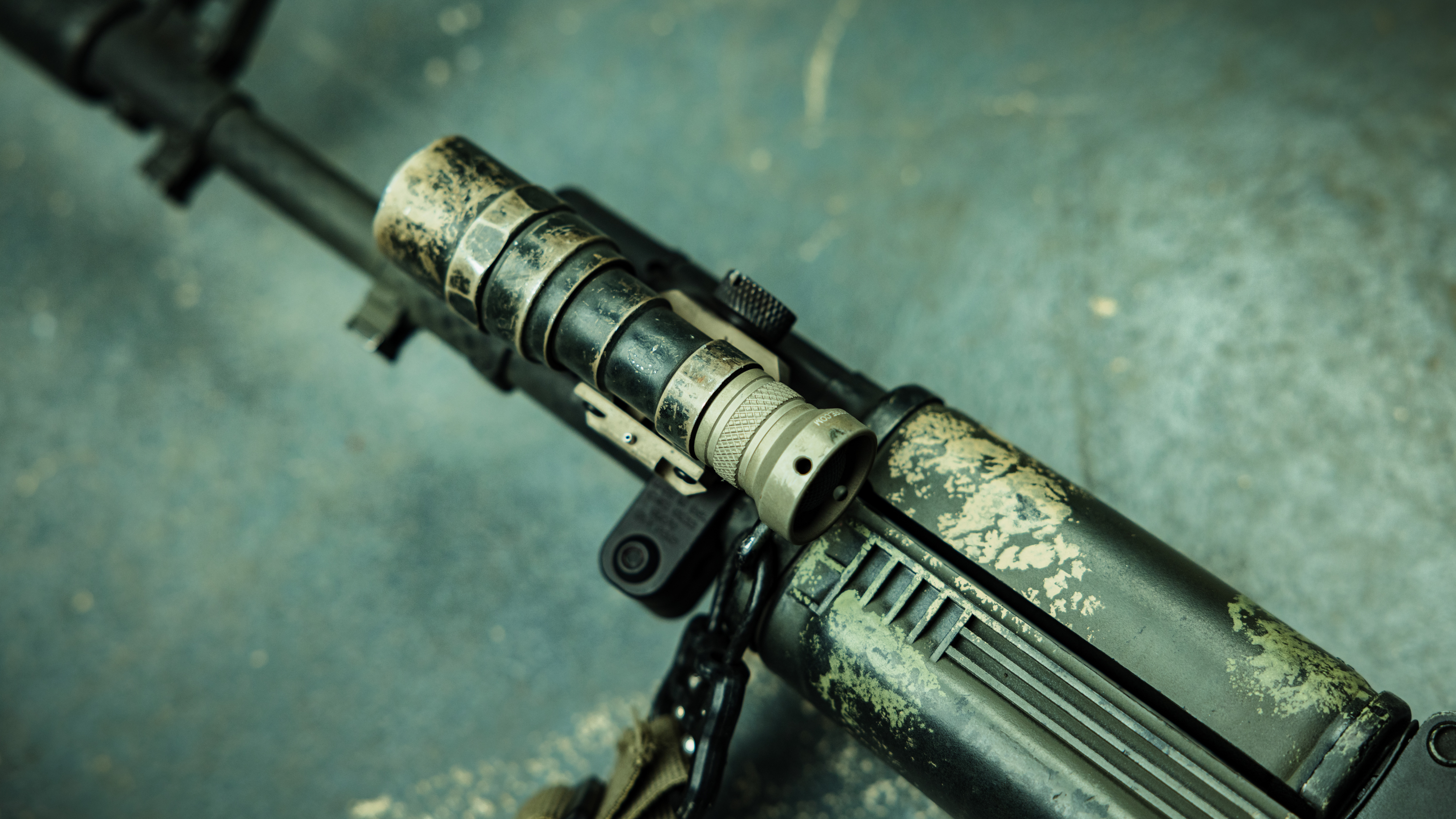 White light is necessary on any serious rifle build, so we took full advantage of our new mounting positions and attached this SureFire M300C with a SureFire tailcap. Because of the location, this setup would benefit from our Lightbar mount, but the standard Picatinny mount will work fine for now.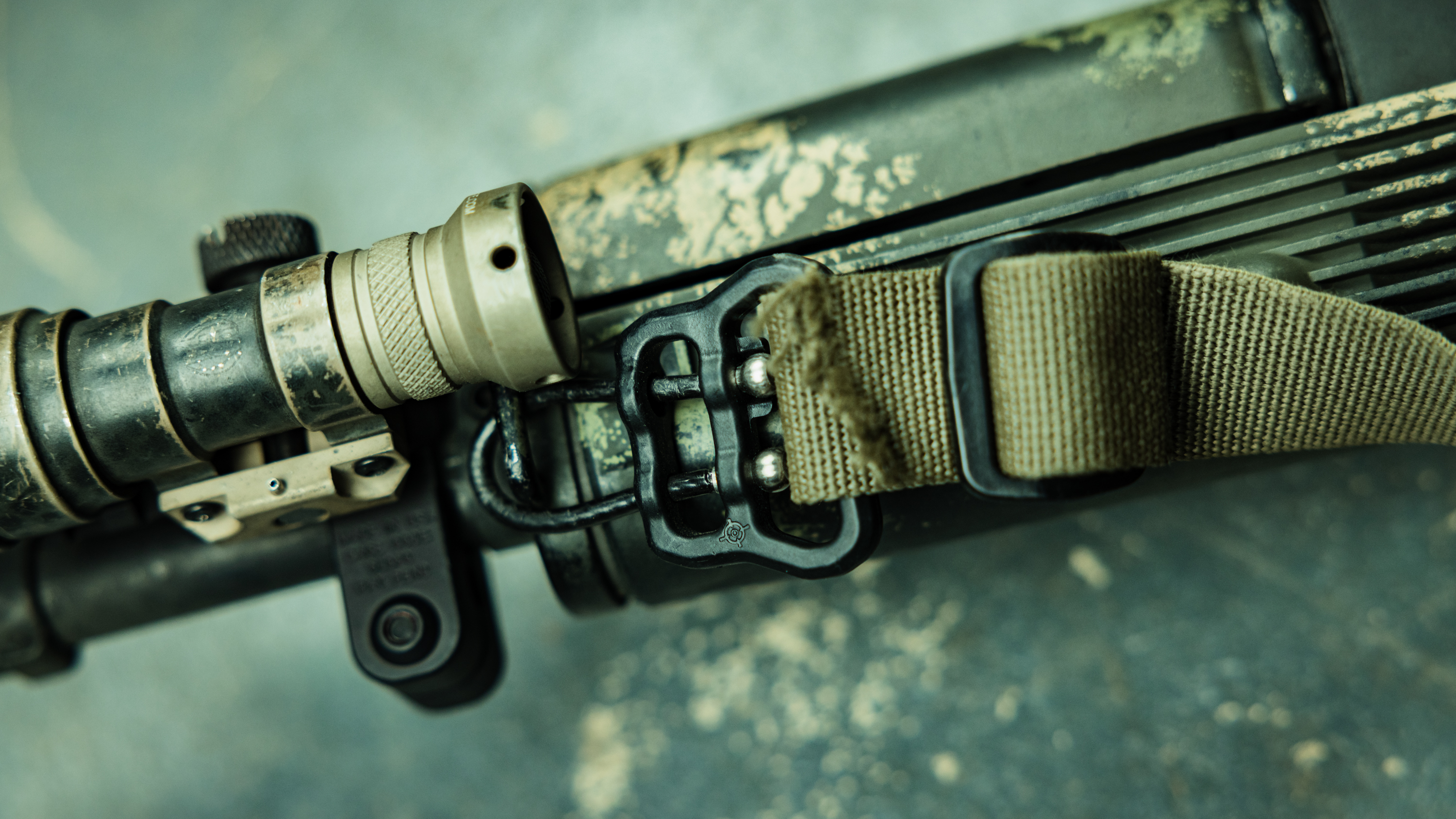 Last but not least is the sling. Every rifle needs a way to be stored against the body, and we're pretty fond of our T.REX Sling. Its minimalist design keeps everything as slim as possible while providing some padding. Back it up with some BlueForce ULoops, and you have a solid sling setup that is adaptable between various rifles.
Loadout Two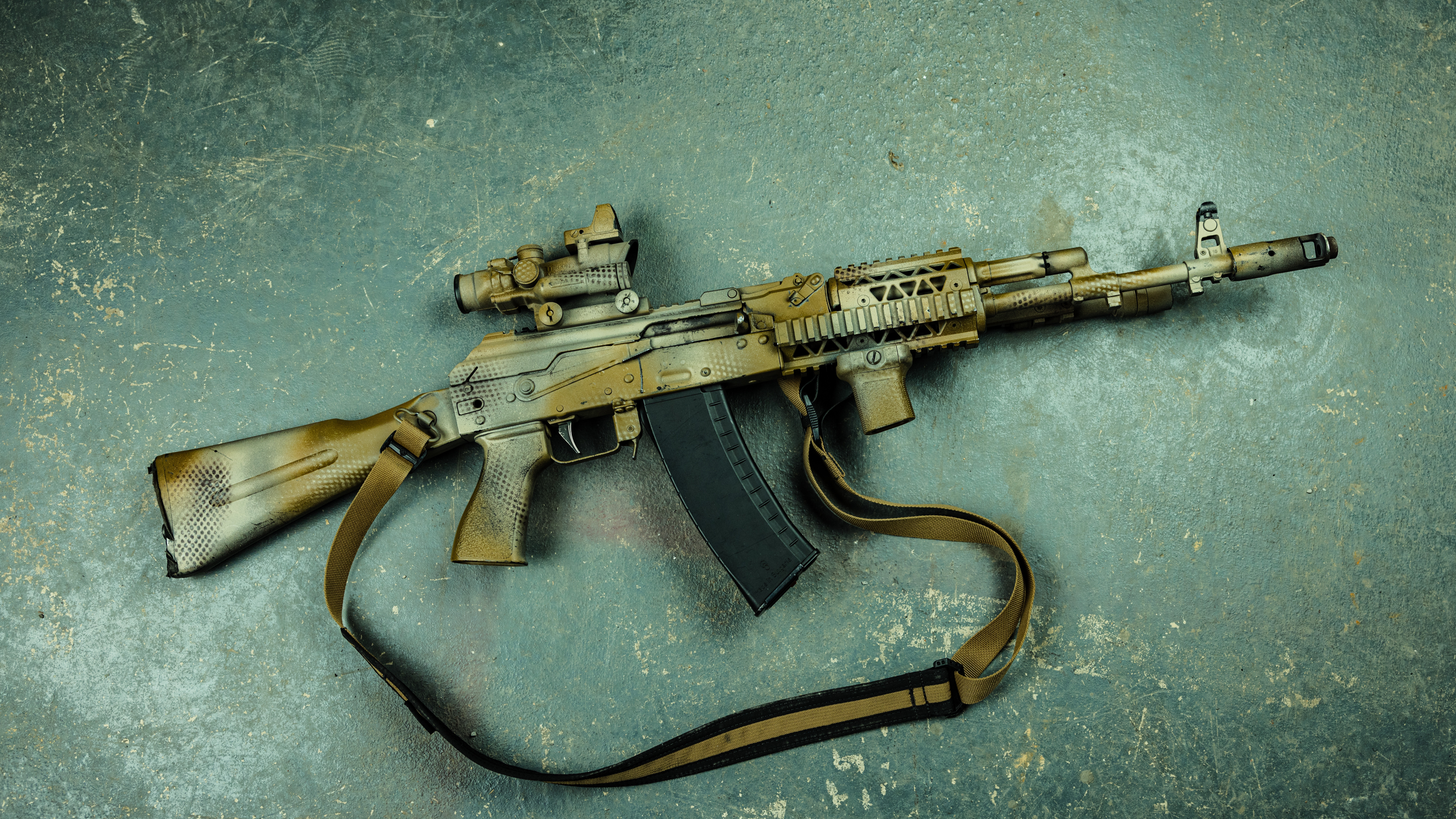 Our second loadout will expand slightly on the first by adding some new parts and using an optic setup that is not particularly common within the AK community. Let's get into some of the changes we made for this go-round.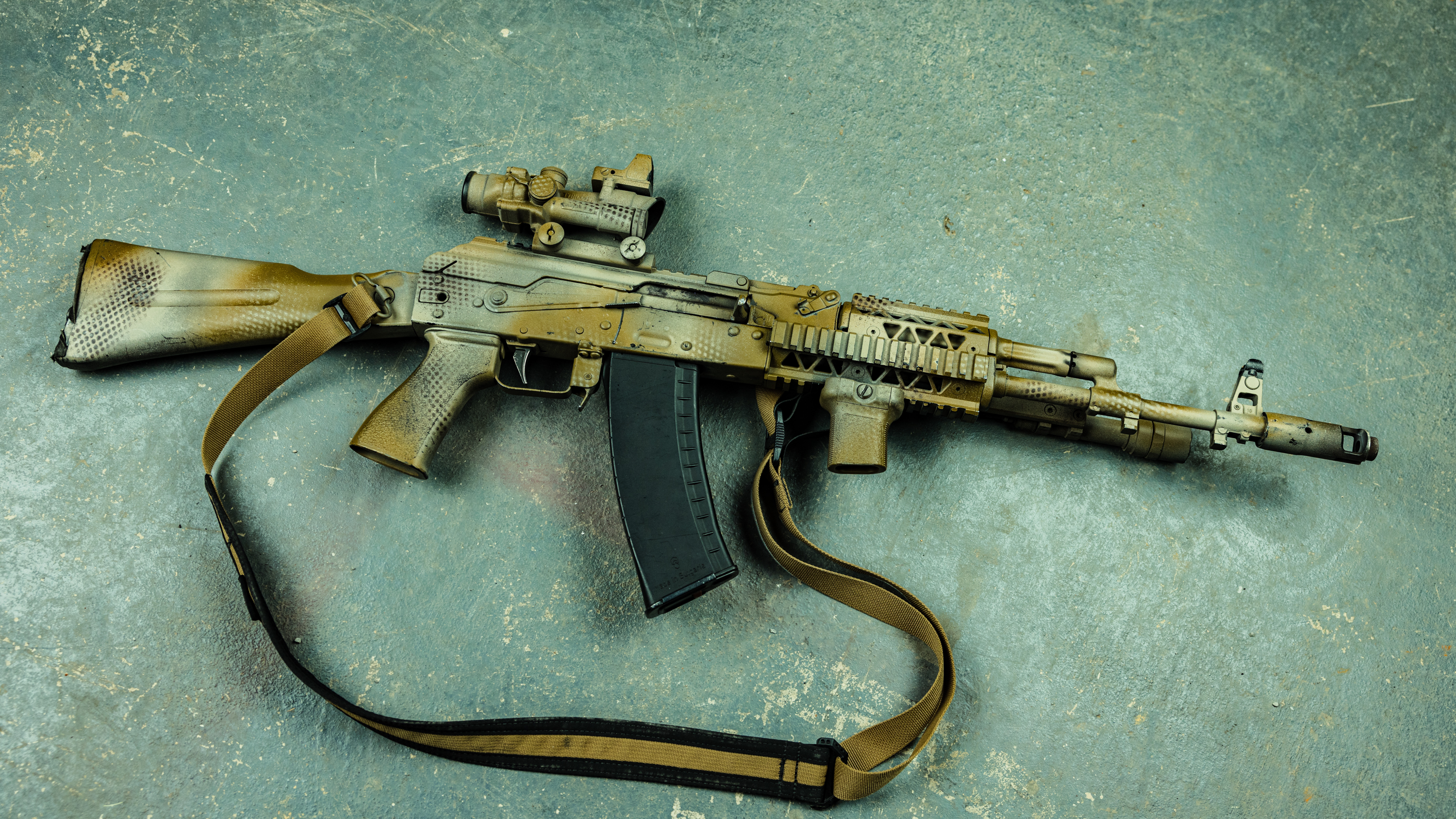 The first and most noticeable change we made was the optic setup. We swapped the Arsenal SM-13 side mount for a Texas Weapon Systems Dog-Leg Rail. This allows us to mount our optic on the dust cover, more like the M4/AR's we are used to. To compliment our new rail, we threw on this Trijicon TA02 with a piggybacked RMR. This optic setup has become a staple in our armory, so we thought it would be worth a shot on this AK.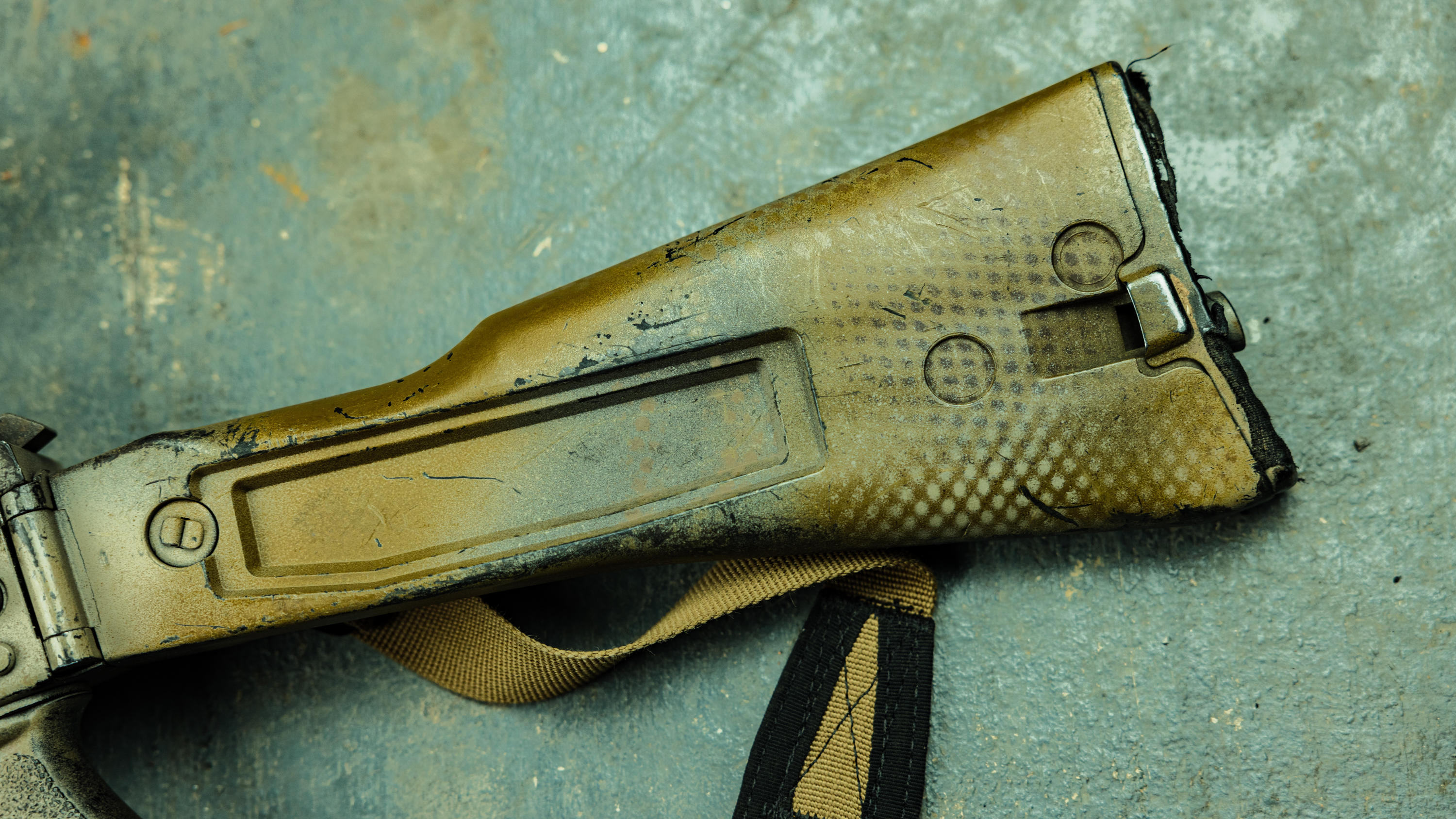 The standard Arsenal side folder works well with the short eye relief of the ACOG. So we'll be keeping it for this setup. Since we removed the Arsenal side mount, we can now lock the stock in the folded position. This may not seem like a huge deal, but it's a nice luxury.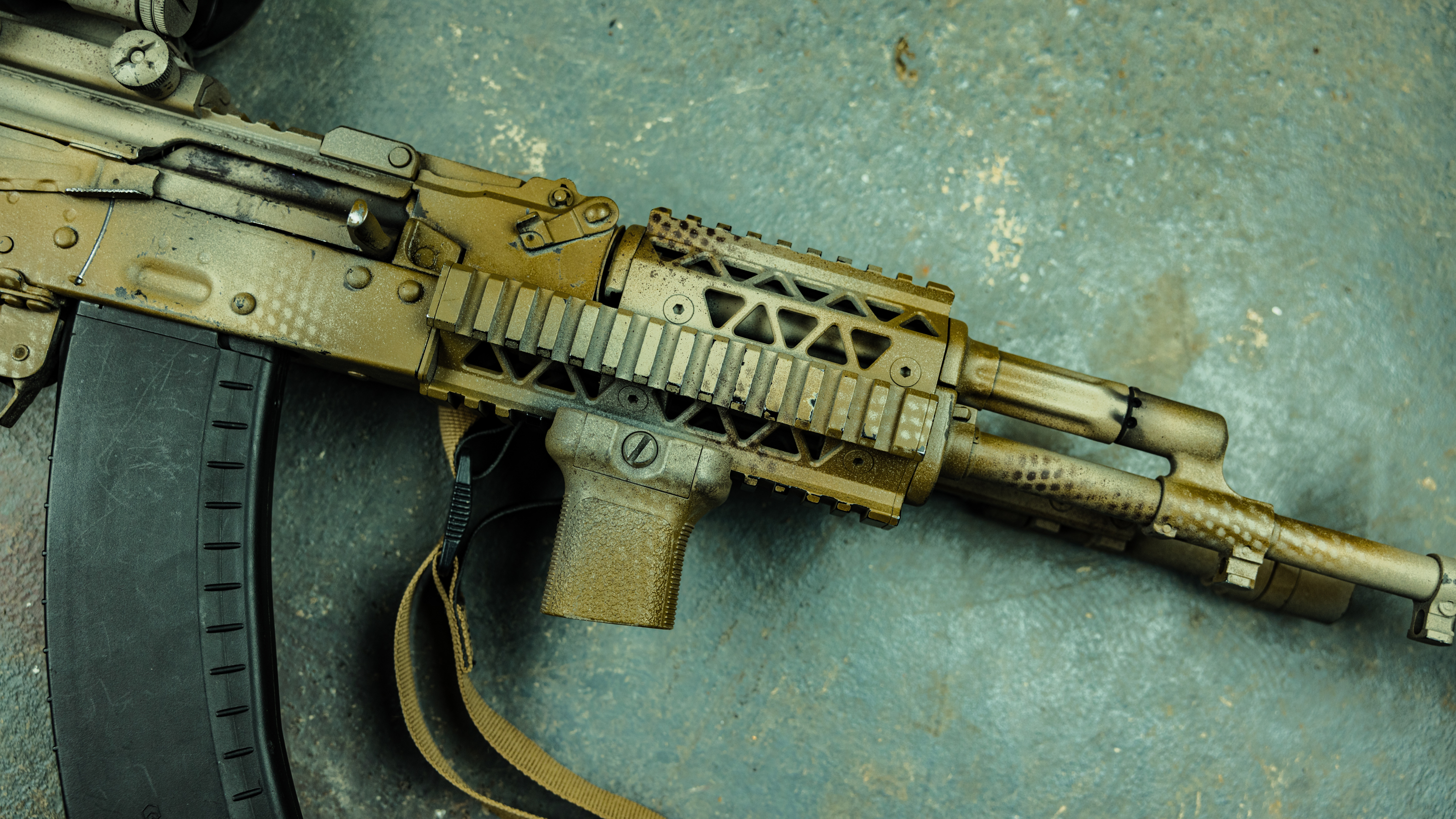 Along with the TWS Dog-Leg Rail, we swapped out the handguard for this Arsenal quad rail. This allowed us to utilize a BCM vertical grip and any other Picatinny attachments we may want to add.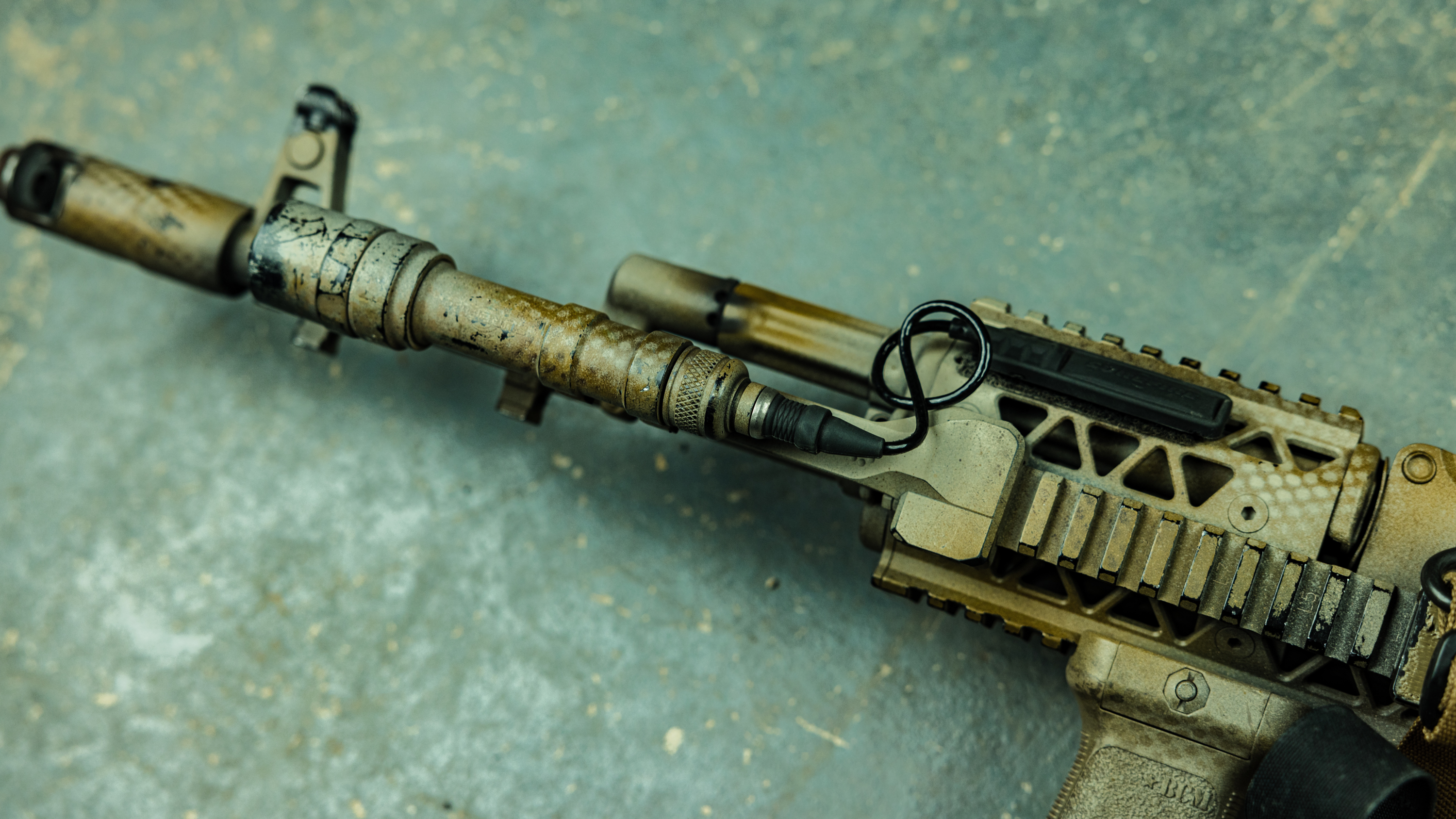 We also swapped out our M300C for this M600U on our Picatinny Lightbar to lessen the barrel shadow from the light. Although this setup does not eliminate barrel shadow, you can only do so much on certain configurations. We paired this with a SureFire UE tailcap and ST07 pressure pad velcroed at 11 o'clock. We'd do a better job of cable management if this setup weren't going to change in a few days, but for now, this will do just fine.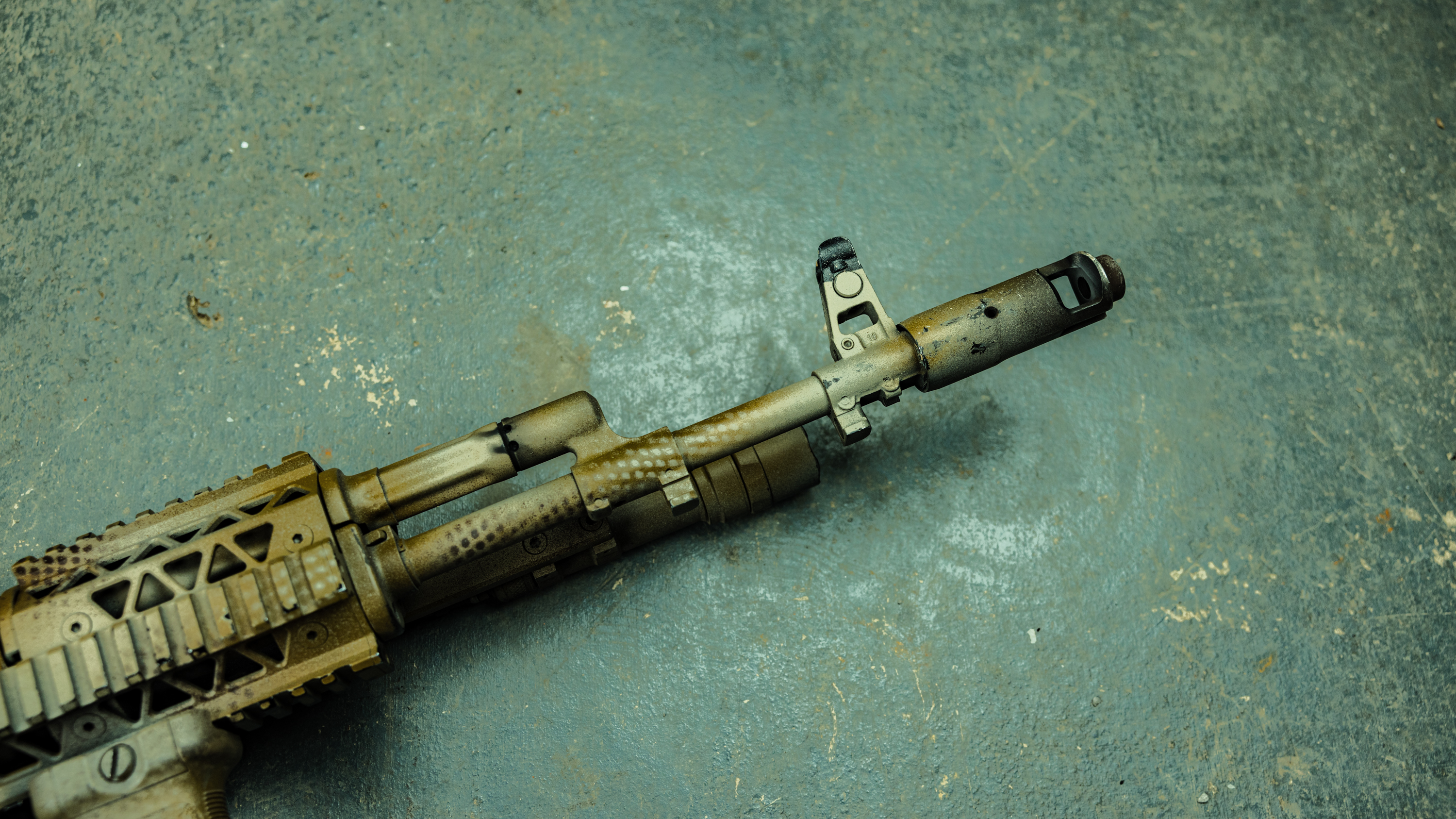 While it's hard to beat the aesthetics of the standard AK74 muzzle brake everyone knows and loves, we will be suppressing this rifle very soon. But we'll keep the brake for this build.
Loadout Three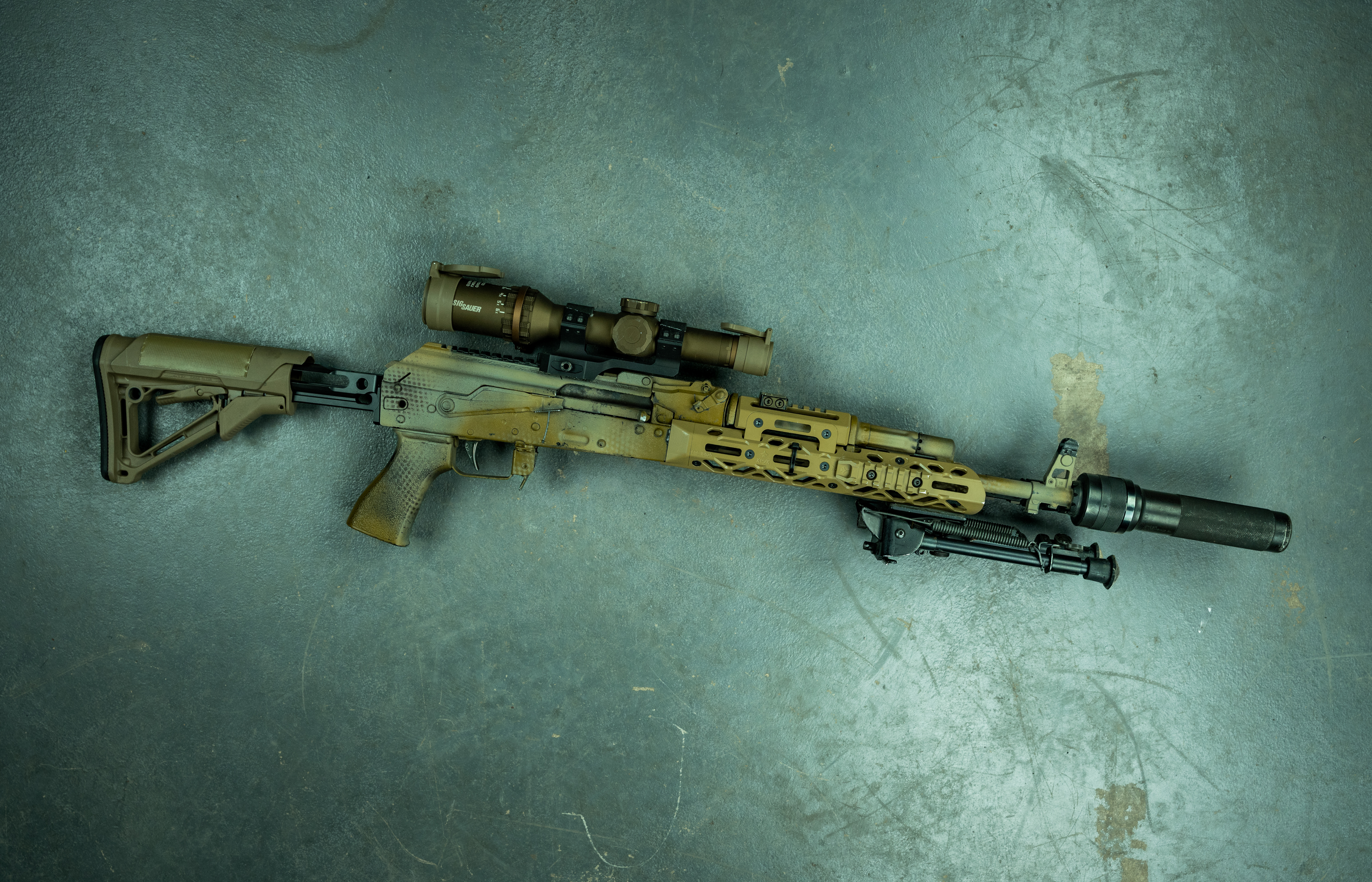 If you thought the AK/ACOG combination was weird, prepare for this next one. For our third build, we decided to push this Arsenal further with some more magnification.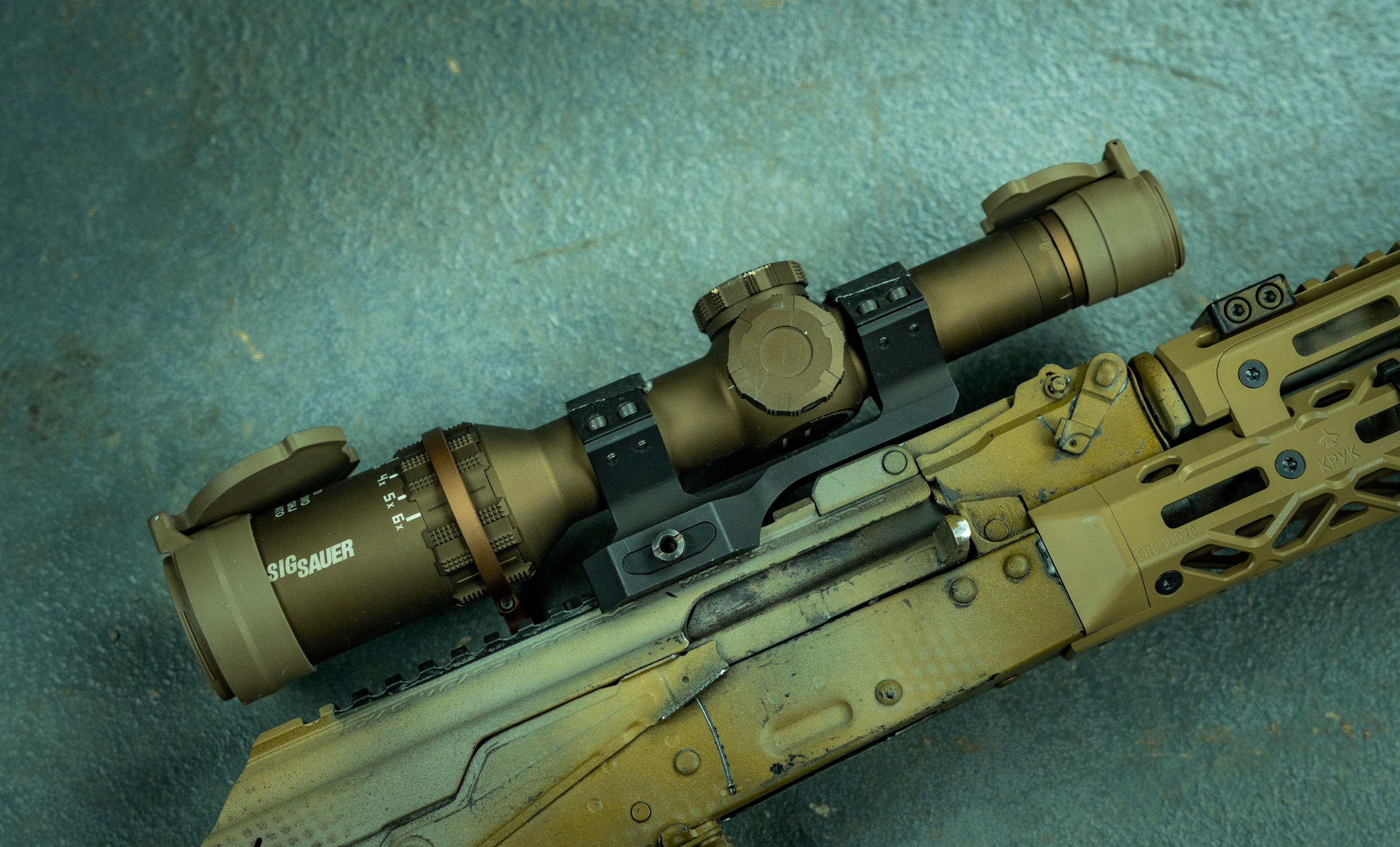 For this setup, we'll give this TANGO6T a shot. This is the contract overrun DVO model with the DWLR-556 reticle. While 5.45 is similar to 5.56 in many ways, it would be wise to learn your own holds with BDC-style reticles when using them with odd calibers since their trajectory won't be a perfect match.
AK optic mounting is tricky, as we've already seen. This EOTECH scope mount is weird enough to work well, given this AK's limited rail space and optic mounting capabilities.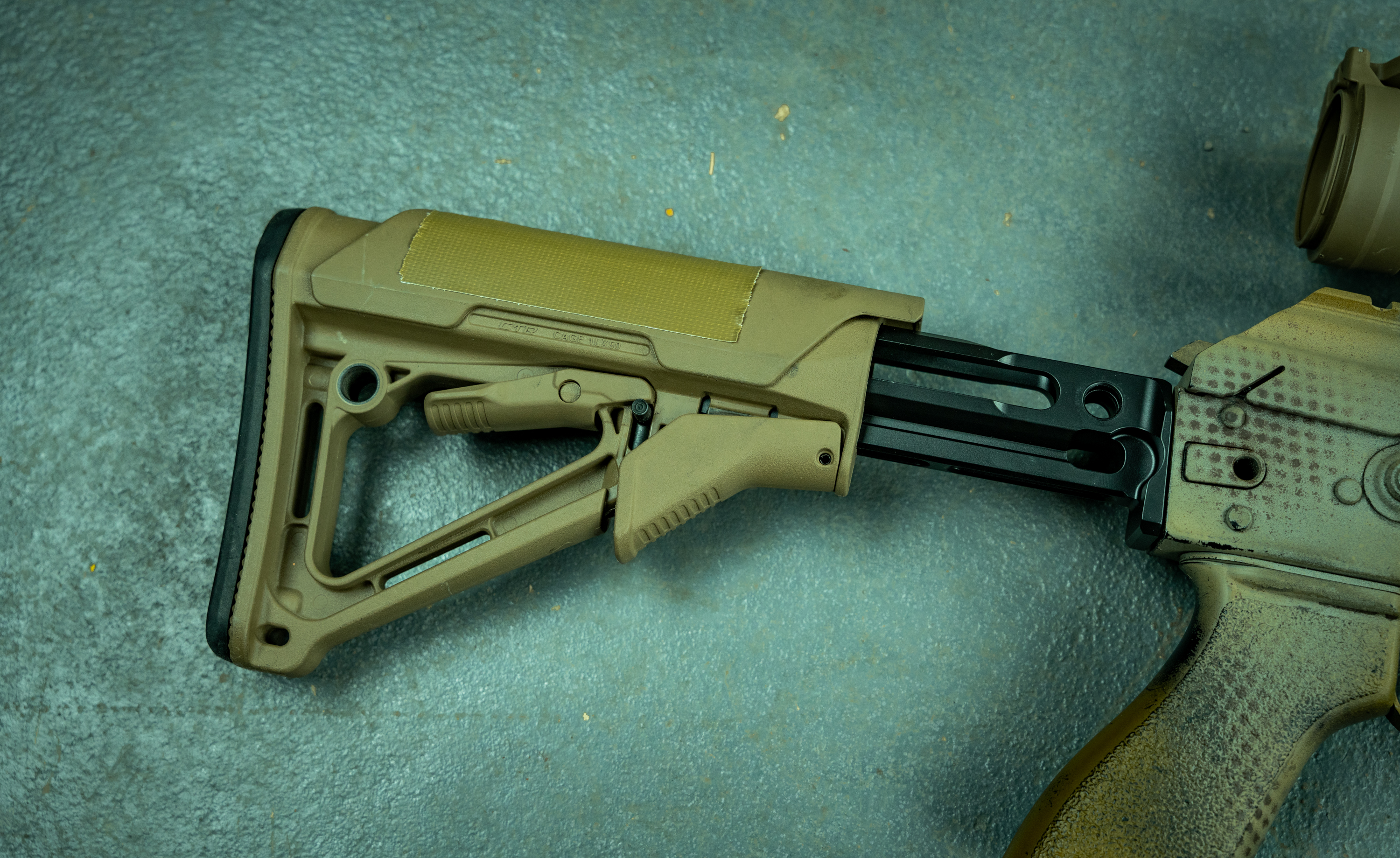 We also swapped the Arsenal folder for this buffer tube adapter. This lets us use a standard Magpul CTR stock and allows us to change our length of pull. Since we don't have a charging handle to worry about, we also used a Magpul Cheek Riser to give us a more comfortable optic height and cheek weld.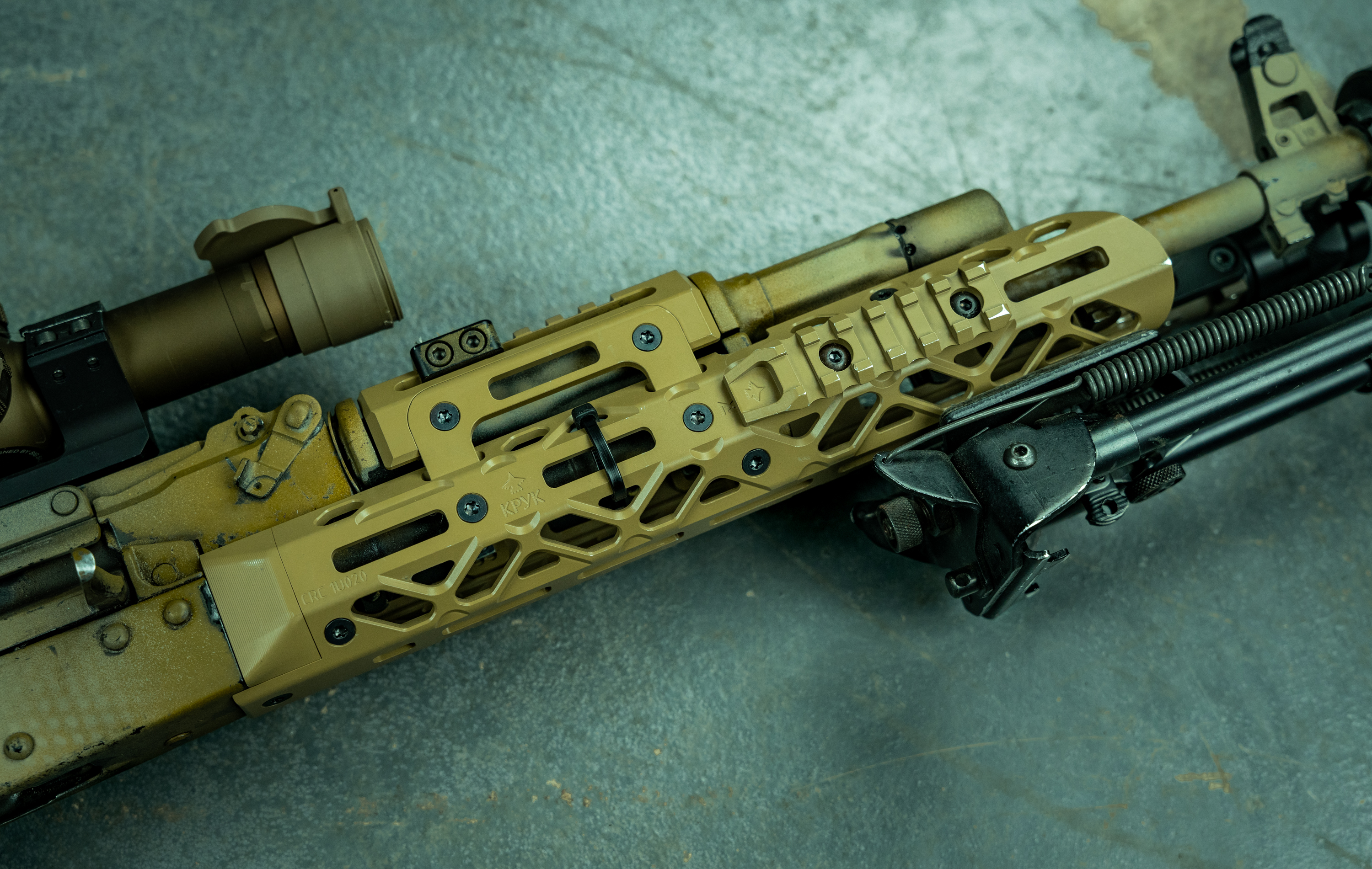 Out front, we added this KPYK handguard, which you may have previously seen in our Tarkov Loadouts. This M-LOK handguard extends forward quite a bit, allowing us more rail space for our various attachments, and is sturdy enough for optic or laser mounting on the top rail.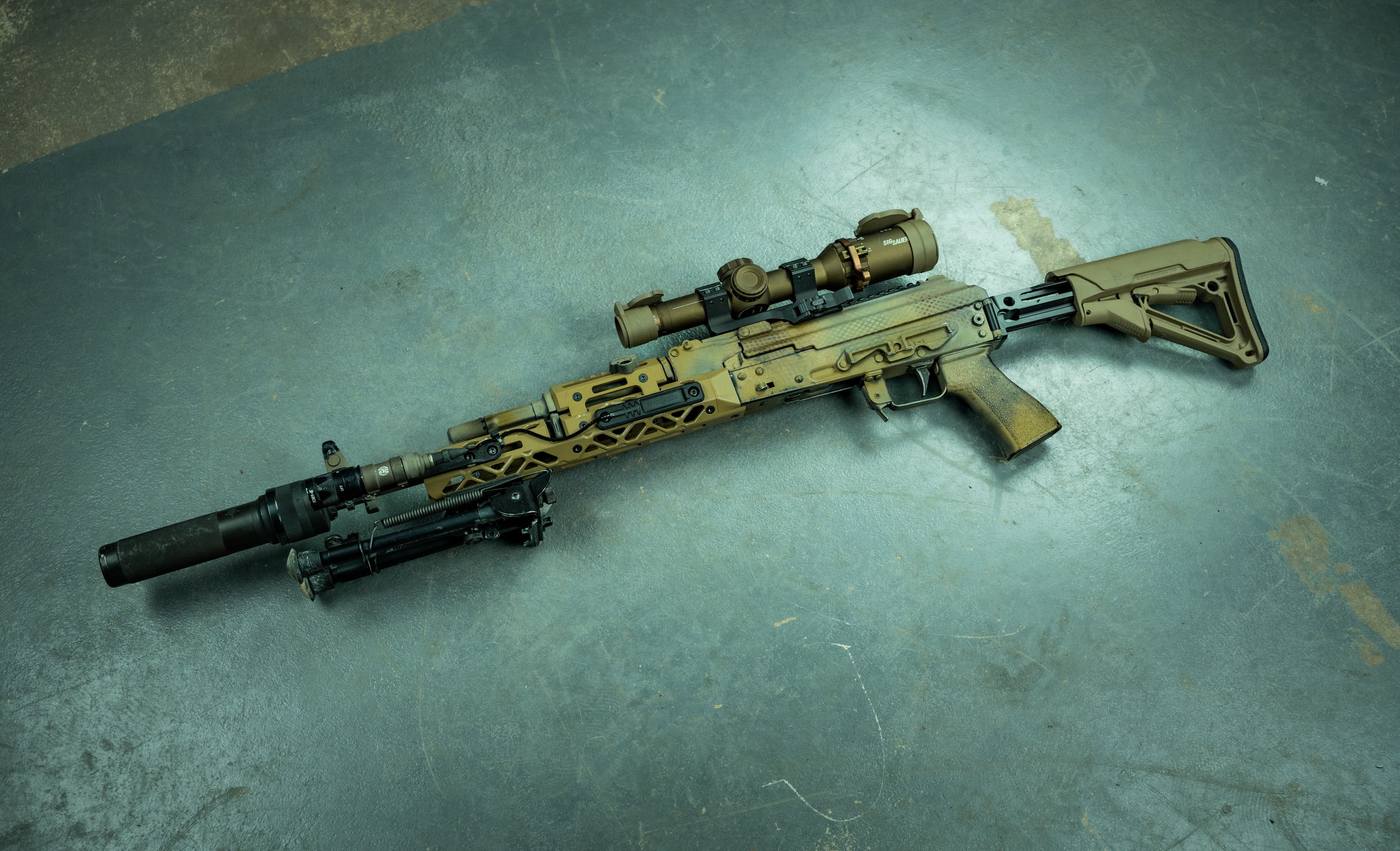 Over on the left side of the handguard, we used our M-LOK Lightbar to push our M300V out as far as we could to eliminate the extra shadow from the suppressor. This leads back to a SureFire ST07 pressure pad mounted with a Magpul ST07 M-LOK mount. To round out the front, we have a Harris Bipod to help us stabilize the rifle for longer shots. The AK platform isn't known for precision, but it's worth seeing what it can do to 2-300 meters.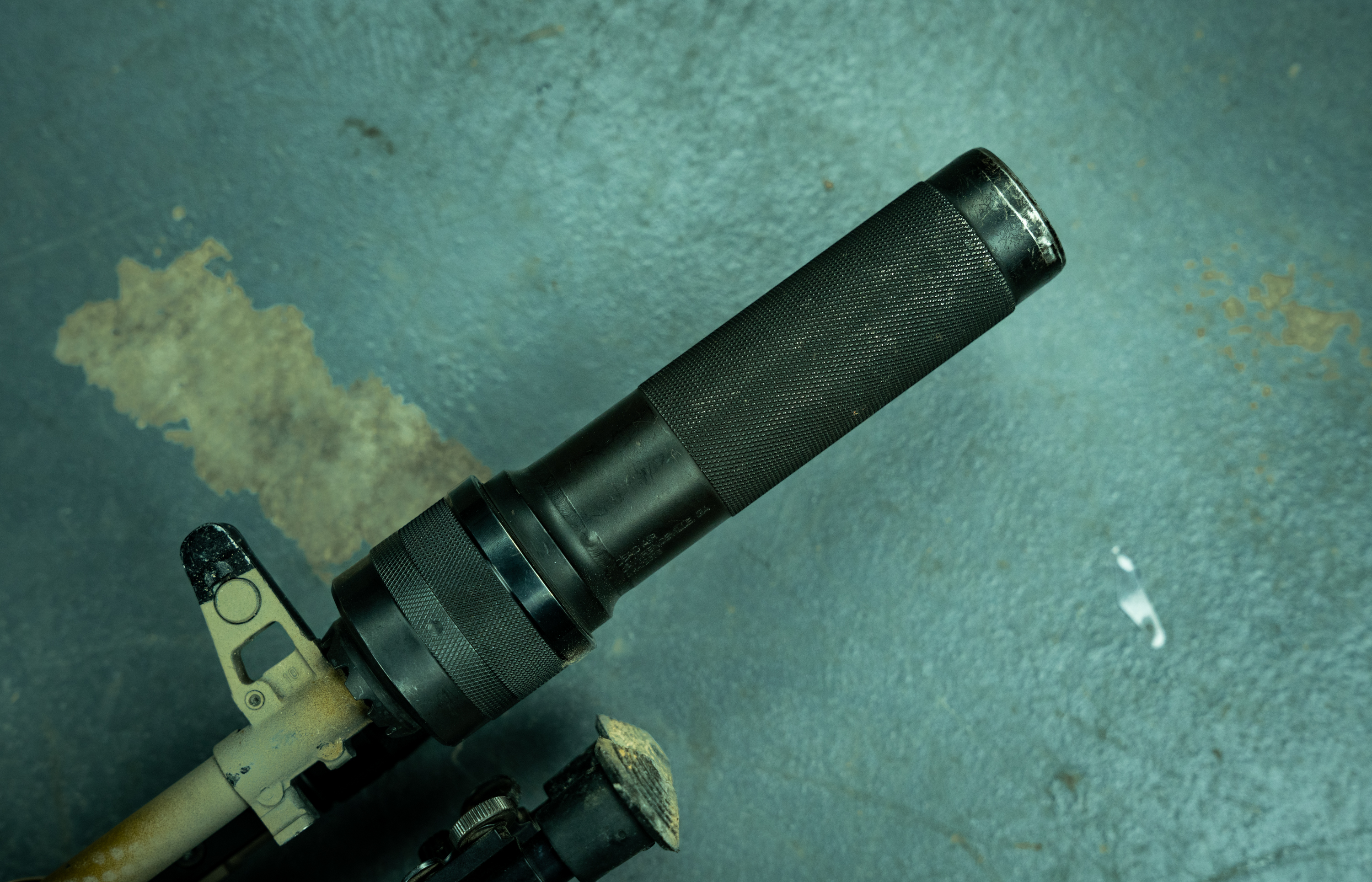 The final piece to this build was the Dead-Air PBS-1 suppressor. This can is modeled off of the original Russian PBS-1 silencer, but it brings many modern features and materials. The main design feature is its very generous bore, which accommodates the non-concentric nature of most AK muzzle threads. This also reduces the backpressure of the suppressor, making the gun run smoother.
Loadout Four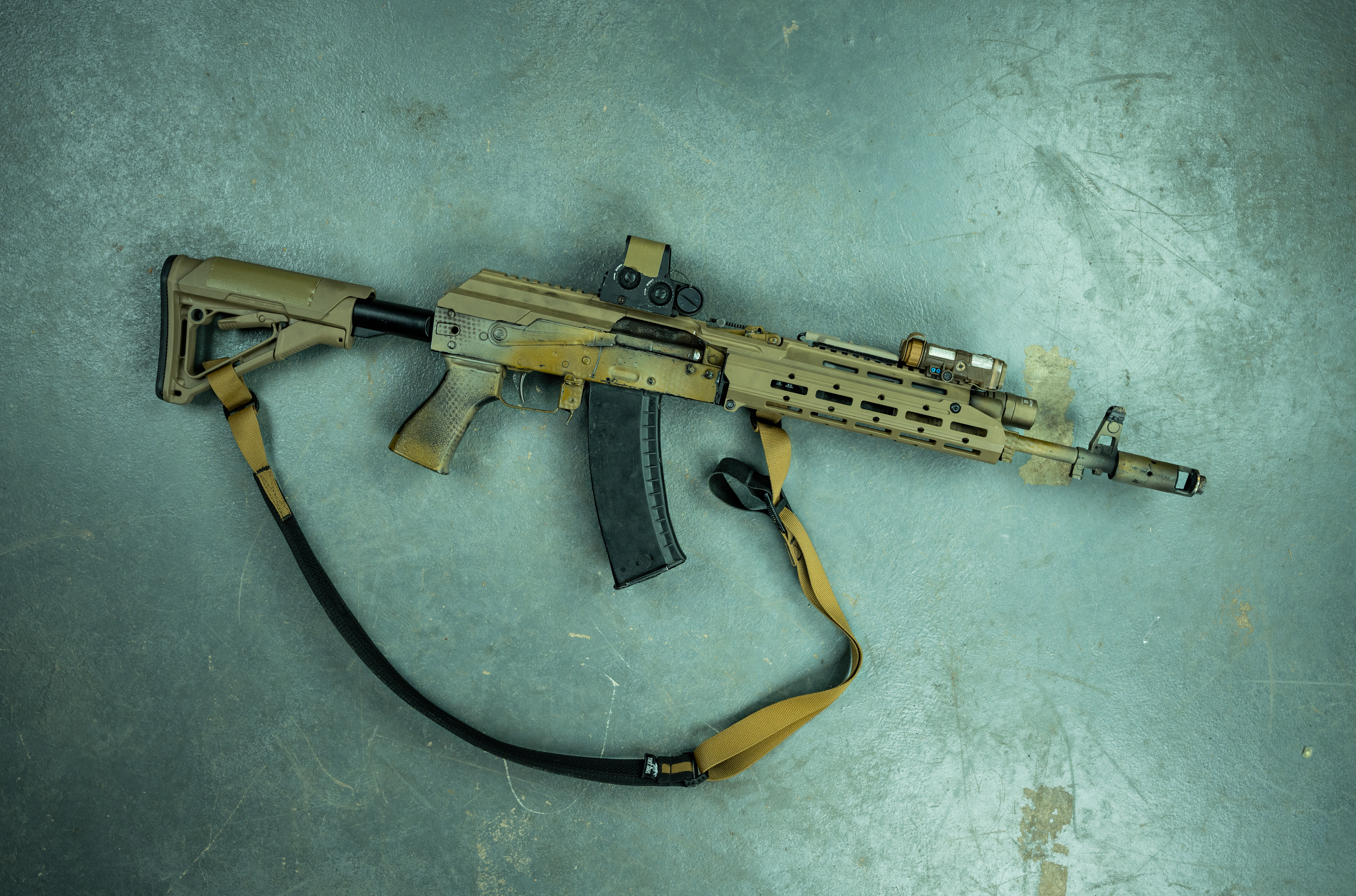 For our fourth and final build, we returned to what we would consider a more normal setup. Let's talk about the Arsenal's final state... (until it inevitably changes in a month or two).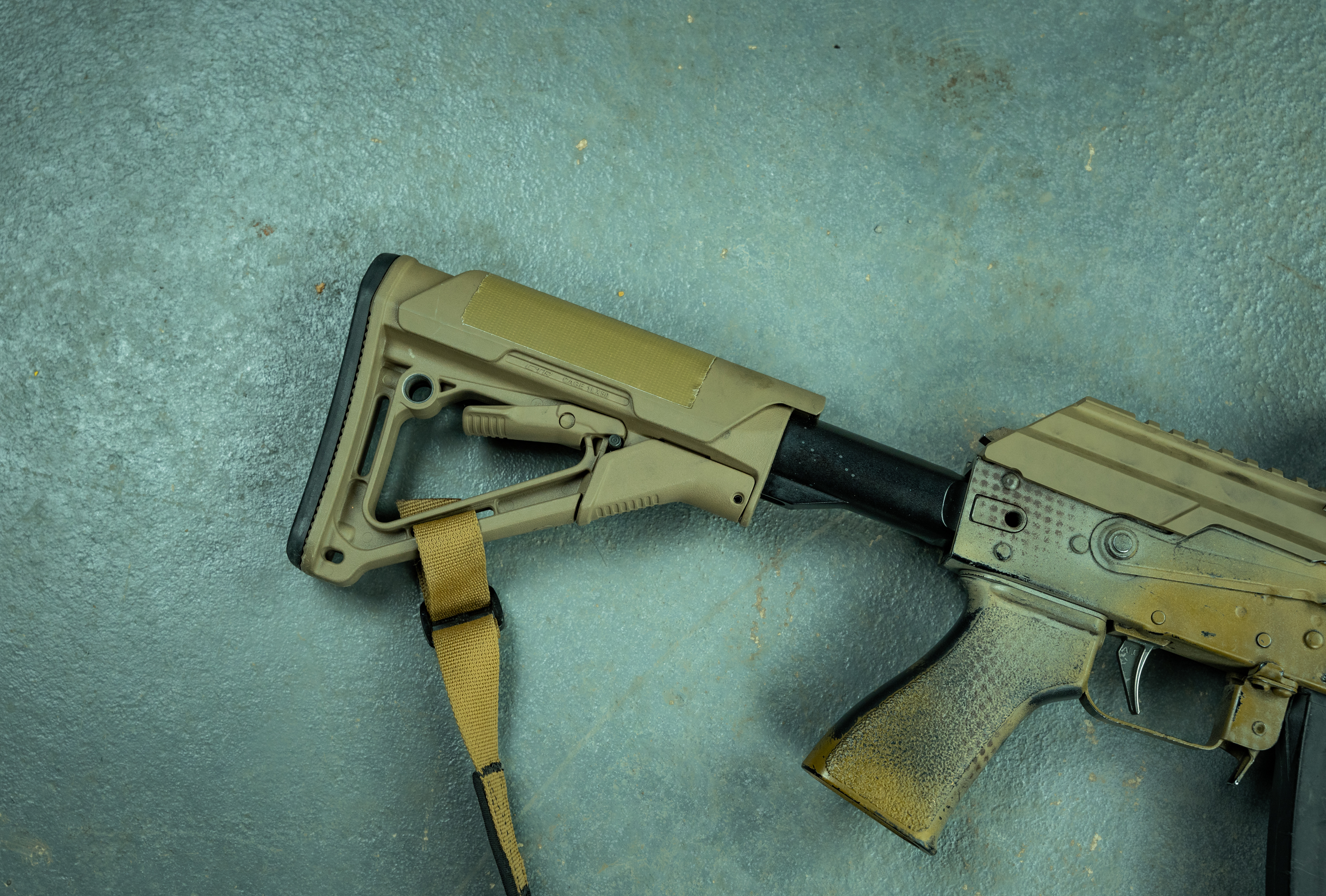 We didn't have a ton of luck with our first buffer tube adapter, so we swapped over to this one from Meridian Defense. We liked the CTR setup from our previous build, so it stayed as is. Stocks on AK's can be finicky. Some fold and some don't, some need modification, and others are basically drop-ins. Luckily this 104FR just takes a hammer and a punch to remove the hinge pin and swap out the stock.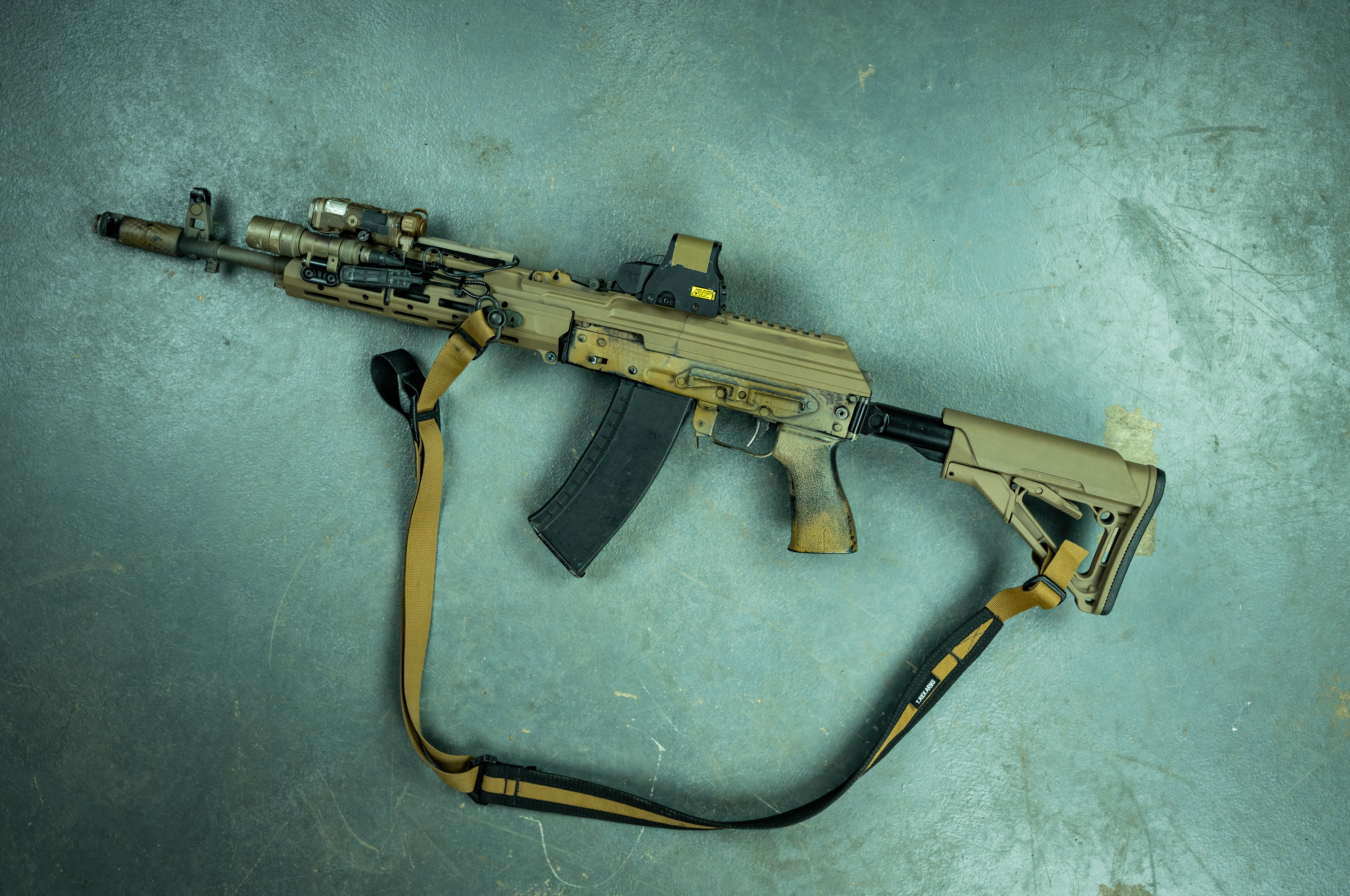 One of the major changes we made was installing the SureShot Armament MK3 Chassis system. All things considered, this rail system is pretty rigid and lightweight, although it could use some threadlocker upon installation.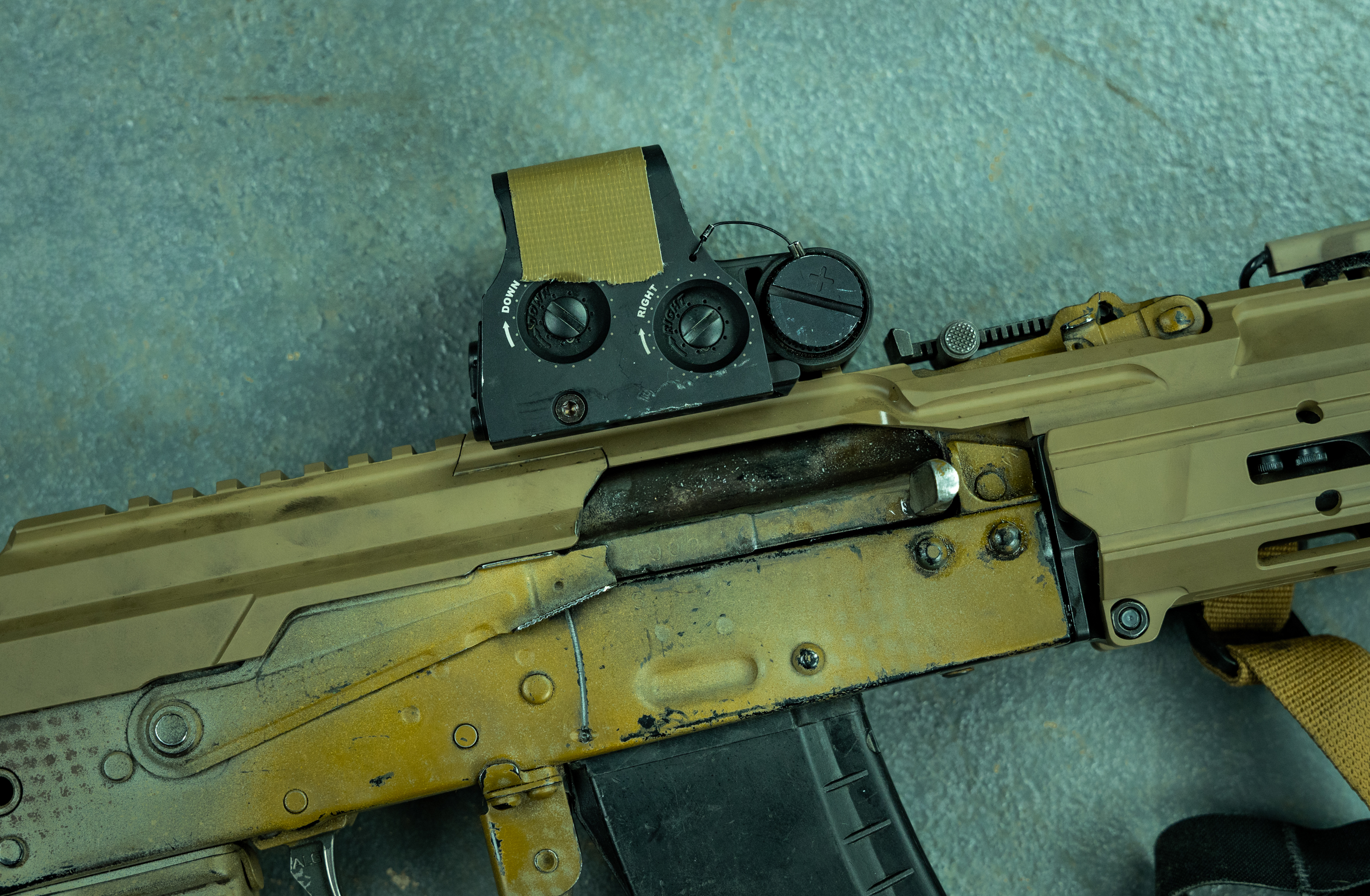 For our optic selection on this final build, we went with the EOTECH XPS 2-1. While some find it odd to have an EOTECH without the standard "donut of death," the single 1 MOA dot mixed with the large optic window makes for a great combination.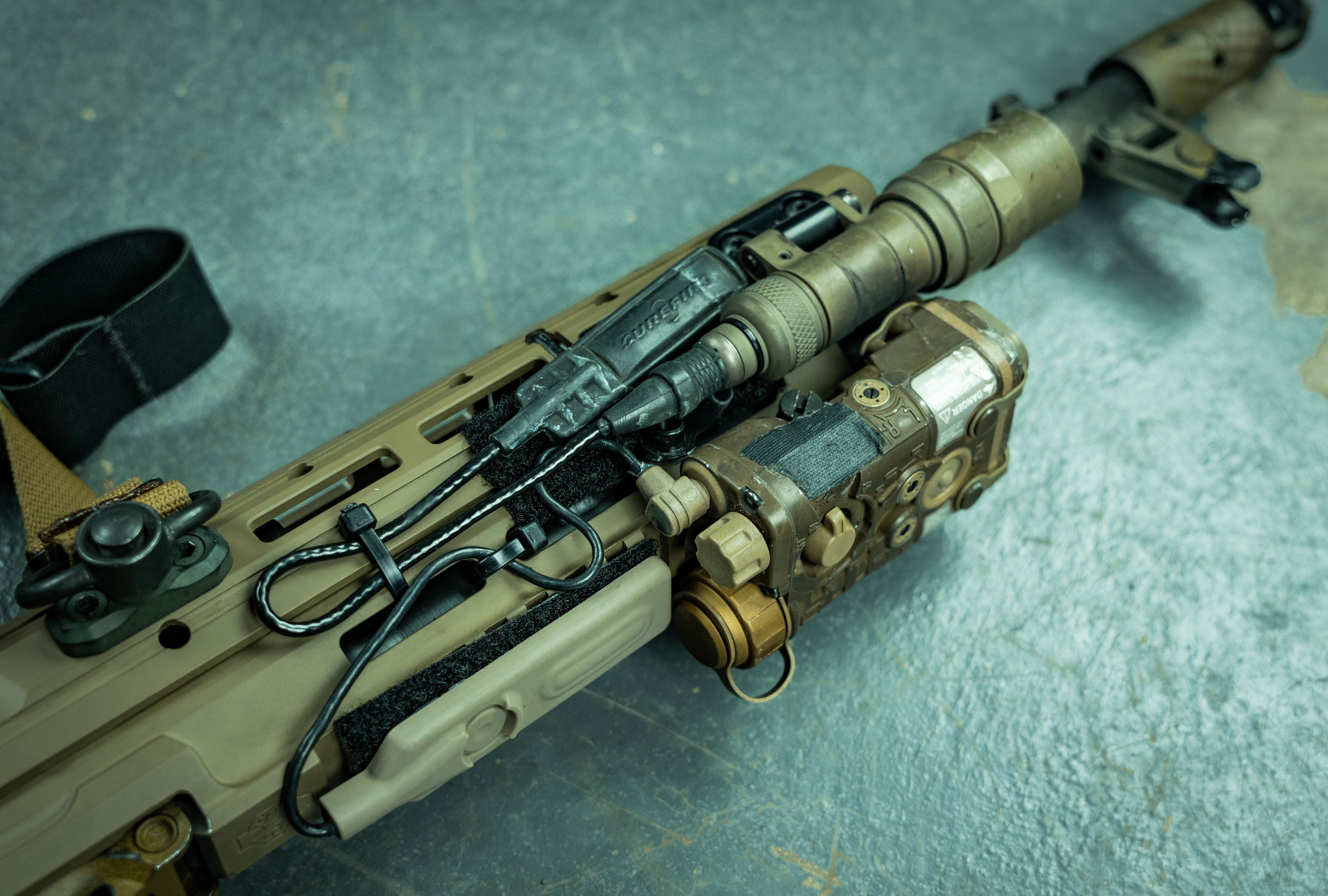 The SureShot rail gives us a lot of room for activities, so we took full advantage of that. Up top, we mounted an L3 NGAL with the stock pressure pad for IR aiming capabilities. Off to the side, we mounted our M340C SureFire PRO light on the stock M-LOK PRO mount. The PRO mounting system allows us to swivel the light up against the laser, keeping the setup as slim as possible.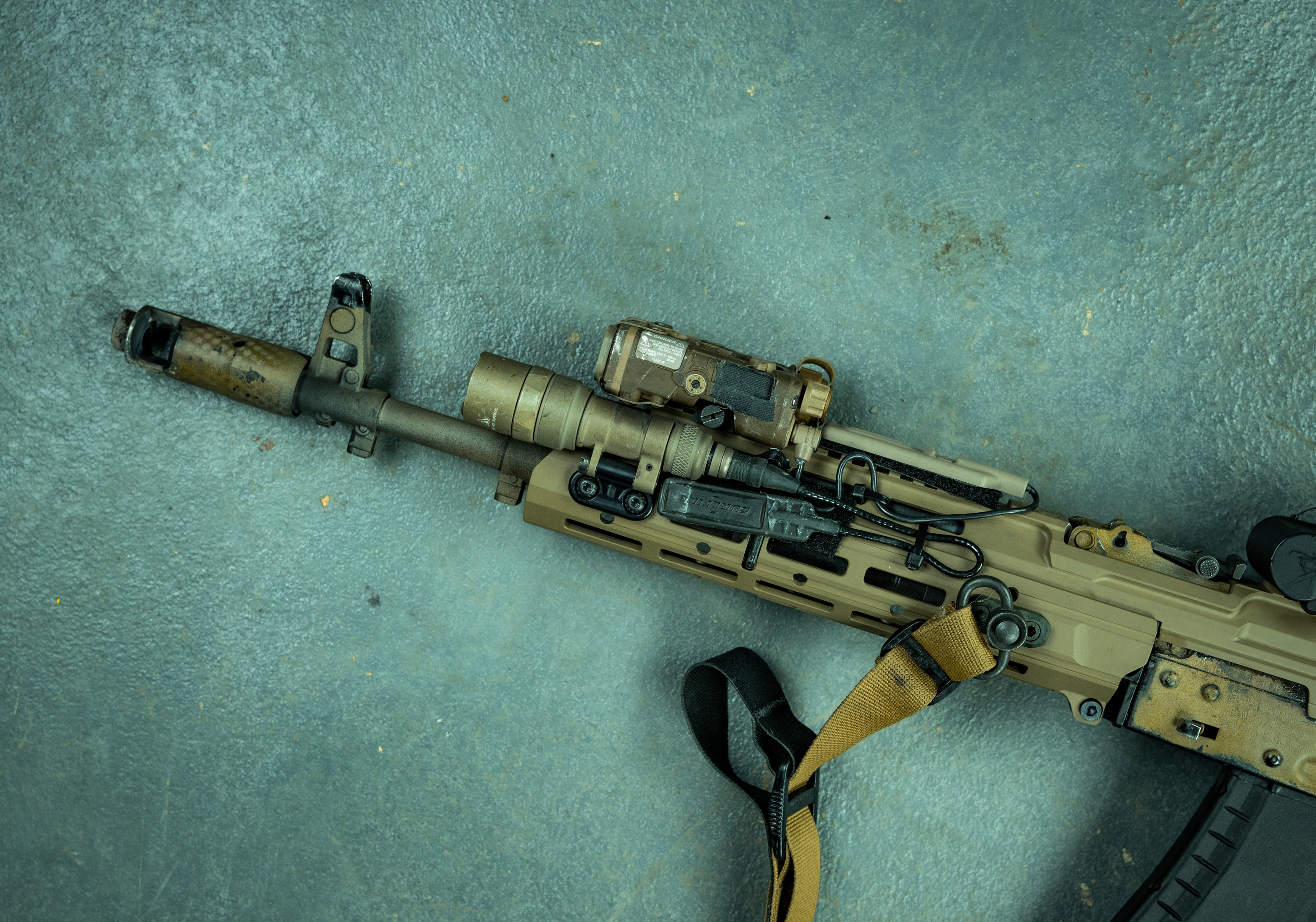 And with that, we have concluded our brief overview of all the configurations our Arsenal 104FR saw over the course of the video. If you haven't already, please check out the accompanying YouTube video.
If you have any further questions, don't hesitate to email us at team@trex-arms.com.