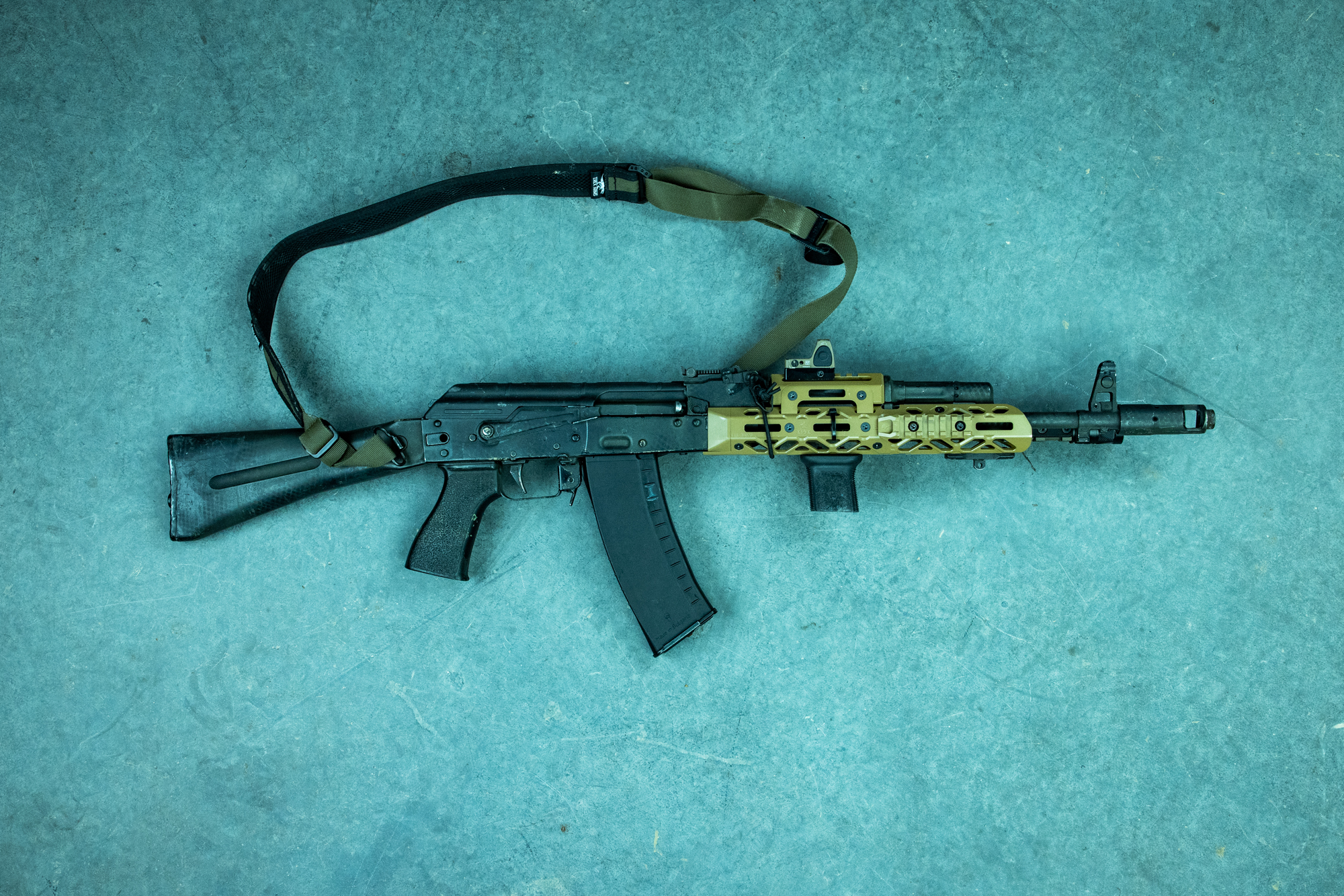 Arsenal has produced quality rifles over the years, and the SLR104FR is no exception. This rifle has held multiple configurations over the time we've had it, but this one may be our favorite. Much like the AKS-74U featured in one of our other loadouts, the SLR104FR is chambered in 5.45x39 but uses a longer 16-inch barrel instead.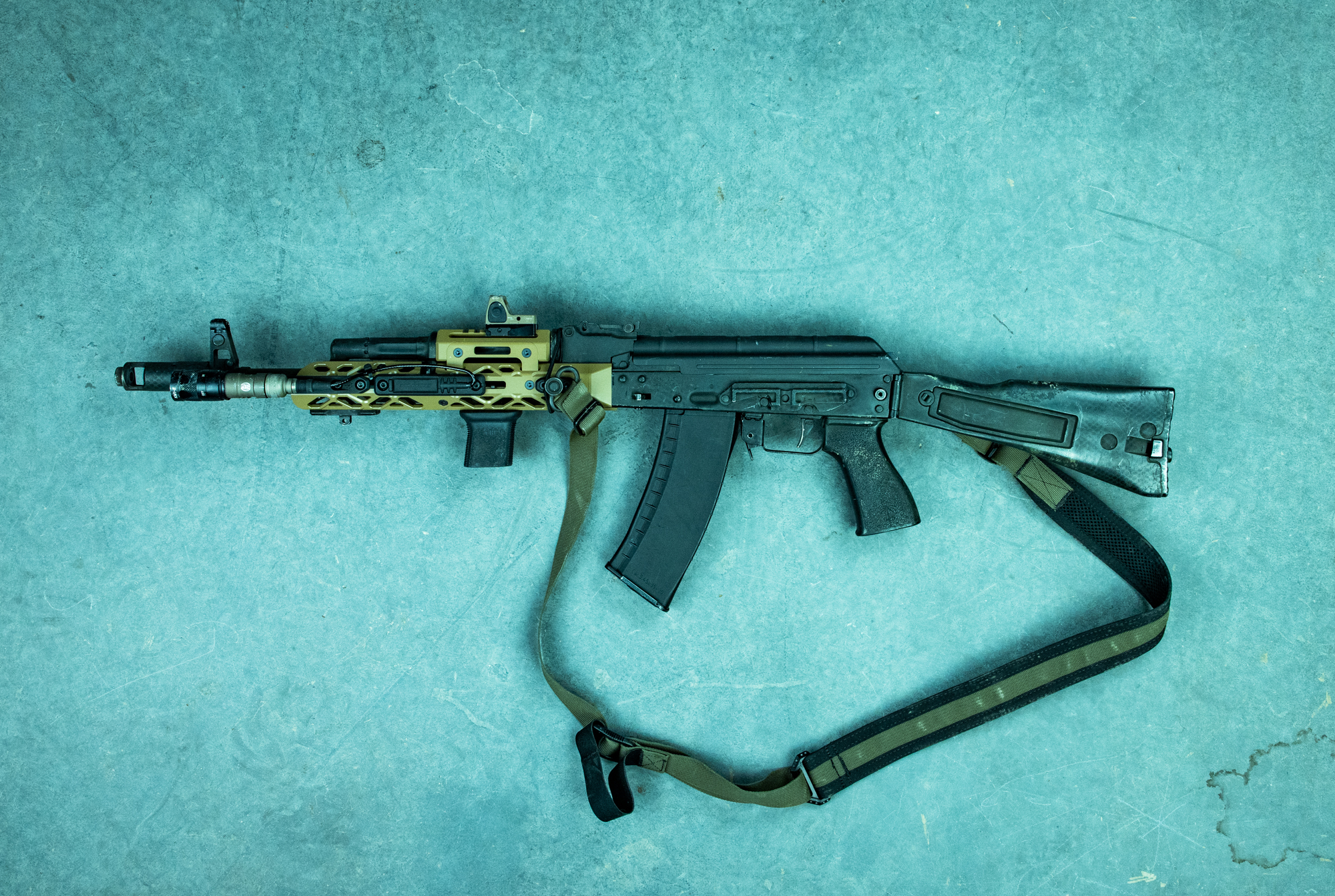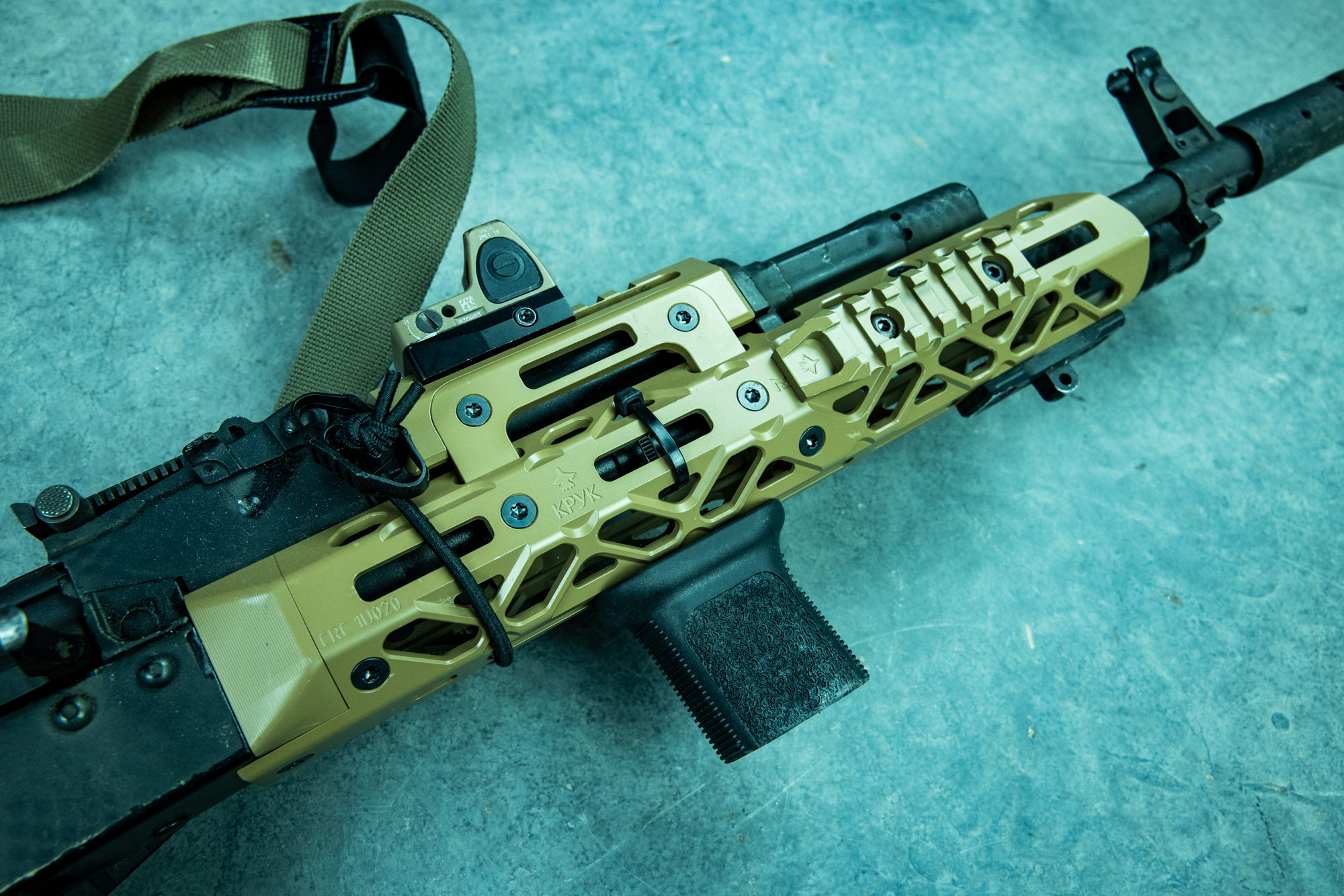 By this point, you have probably noticed the FDE handguard from KPYK. It really helps with attaching lights, optics, and other things to a platform that can be difficult to navigate otherwise. Primarily, this handguard gives us rail space and lets the barrel breathe when it gets hot. It also features M-LOK at 3, 6, and 9 o'clock and a 1913 rail for optics at the 12 o'clock position allowing for plenty of attachment points.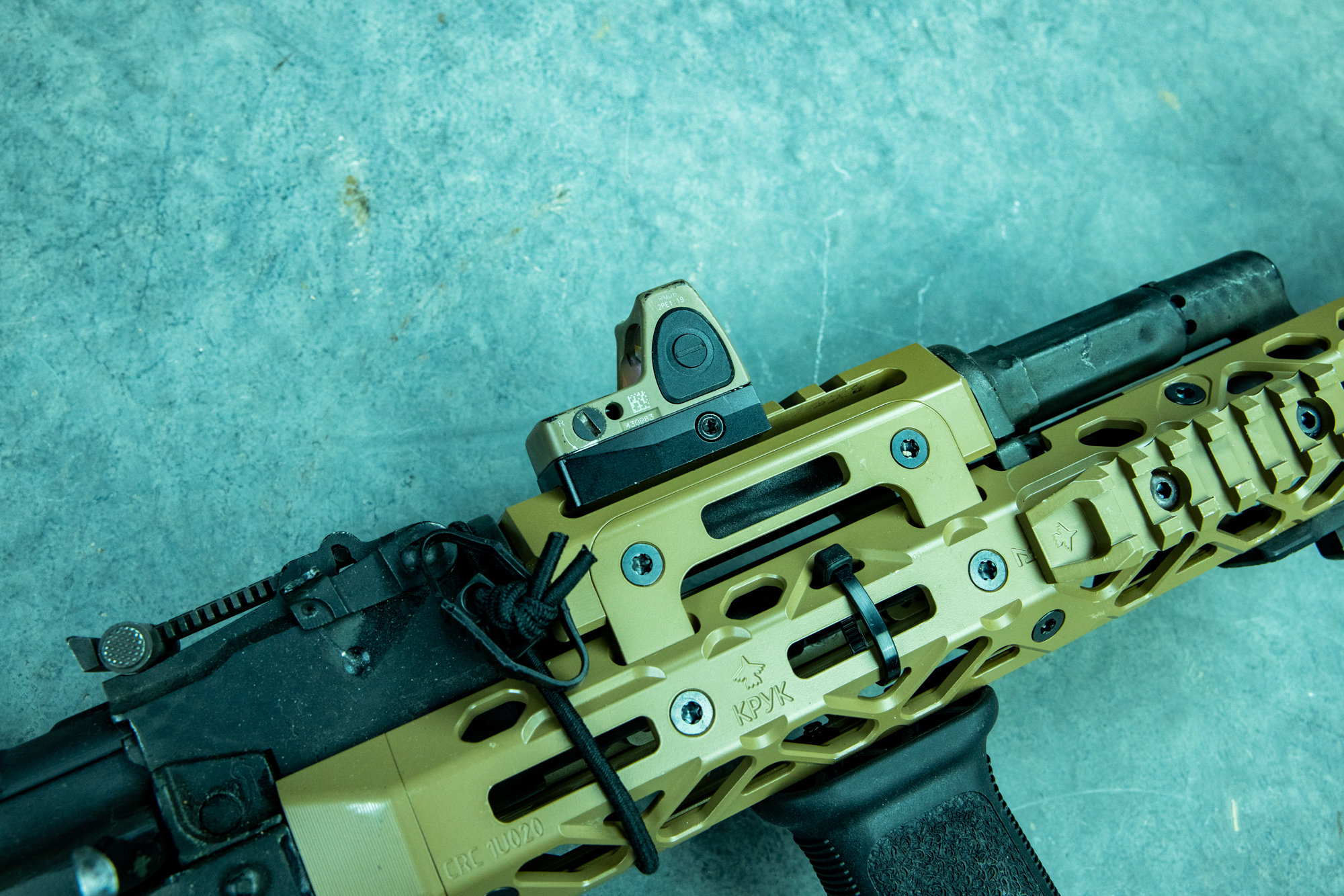 While we could have placed a full-sized optic like an EOTECH up here, the small RMR keeps a low profile and still accomplishes the mission. Target-focused aiming with a durable sighting system is just what we need.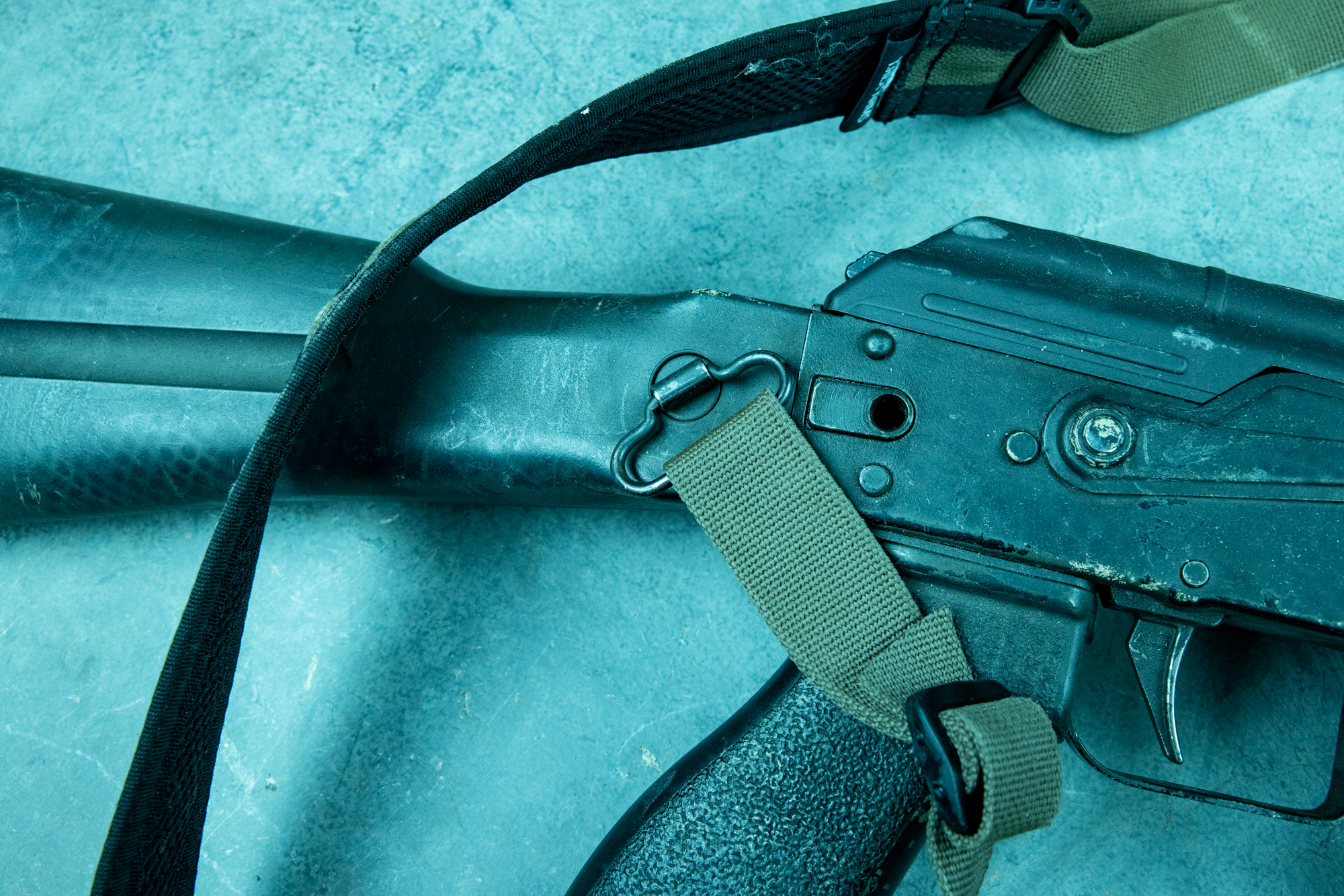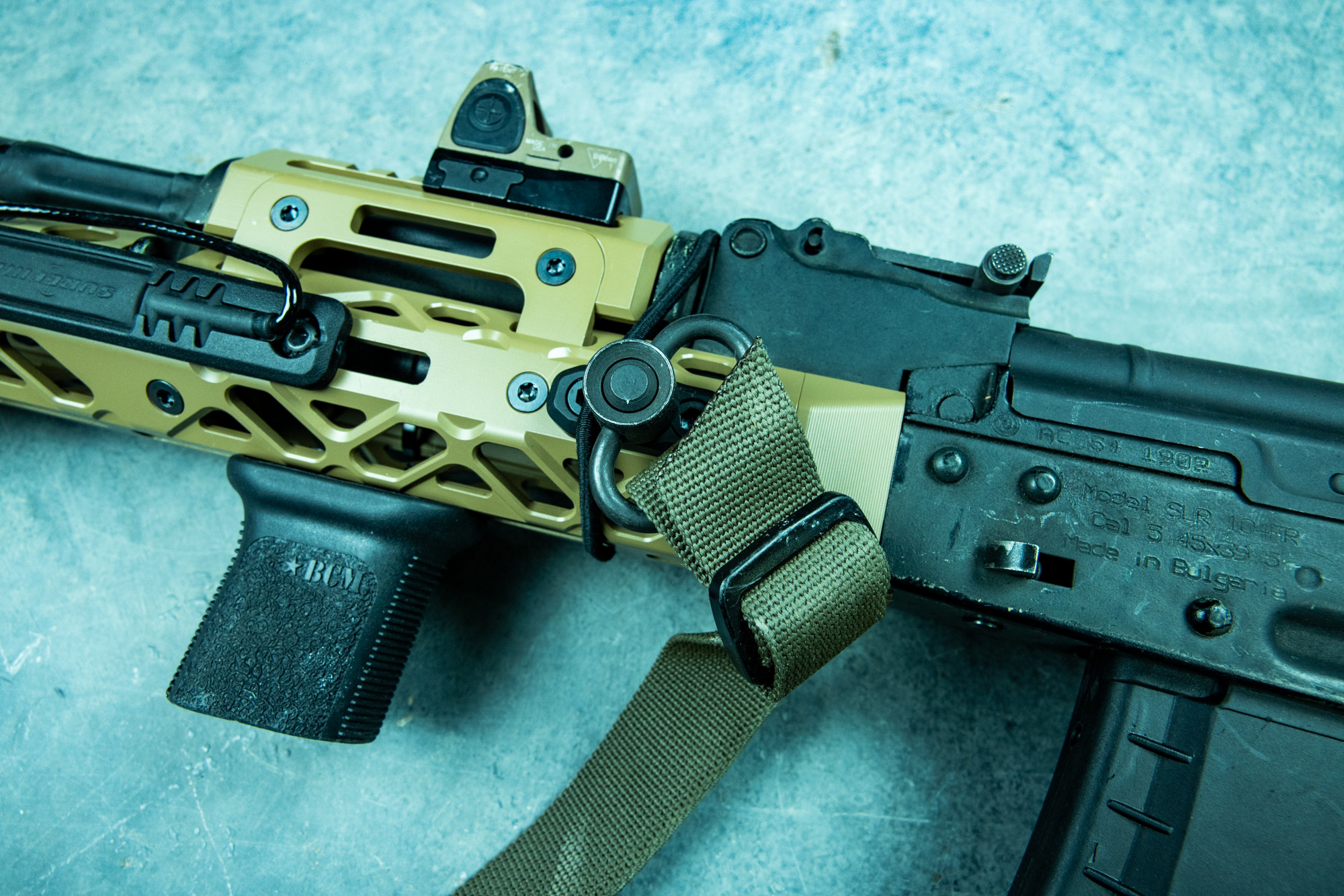 Again, much like the AKS-74U, the SLR104FR features a sling loop in a relatively preferable spot. In the rear, we just looped the sling straight to the built-in loop; then, we finished out our sling attachments by using a BCM QD Sling Swivel upfront to an Arisaka M-LOK QD Mount.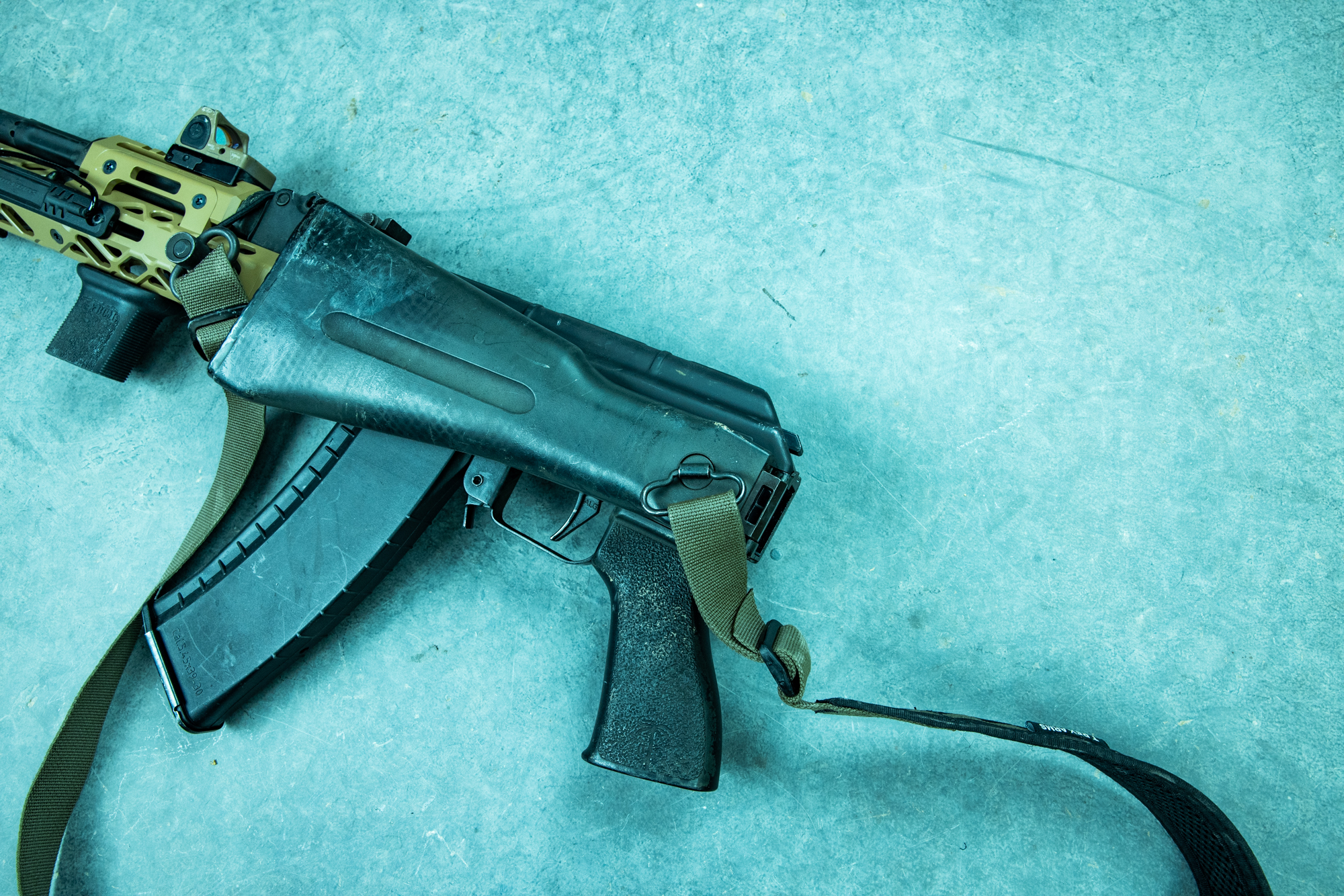 The sling does not bind or inhibit the shooter from moving even with the stock folded. This is not always the case, but for this rifle, the sling placement hardly moves when the stock is deployed. Just keep your hand clear when you throw the stock over. Anyone who has spent time with a side-folding AK knows this is a serious pinch point on this platform.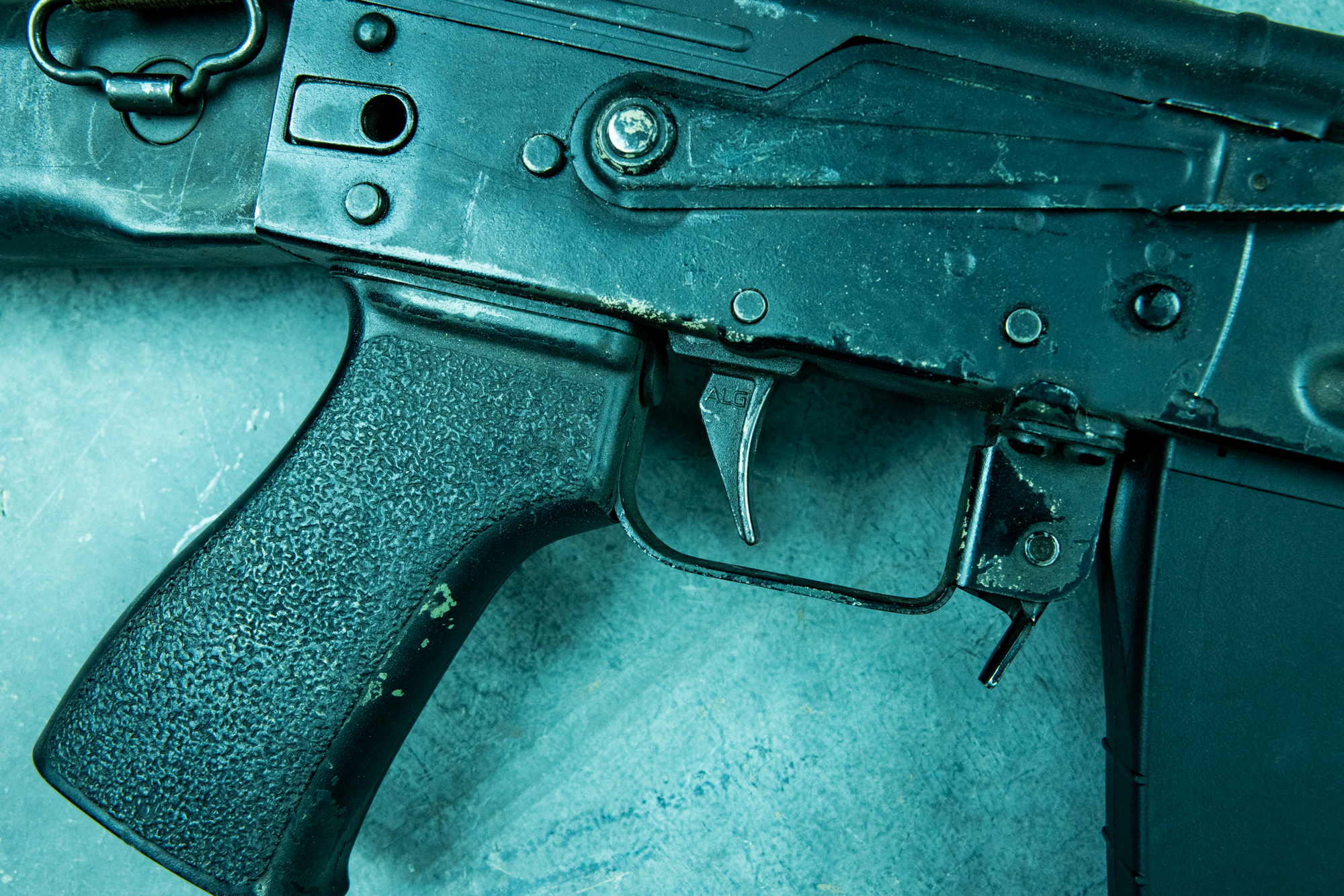 AKs are often known for having bad triggers, but over the years, ALG Defense has fixed that. This AKT-EL is a single-stage trigger with a clean break and a fast reset. It also has an easy install and is a good upgrade considering the price.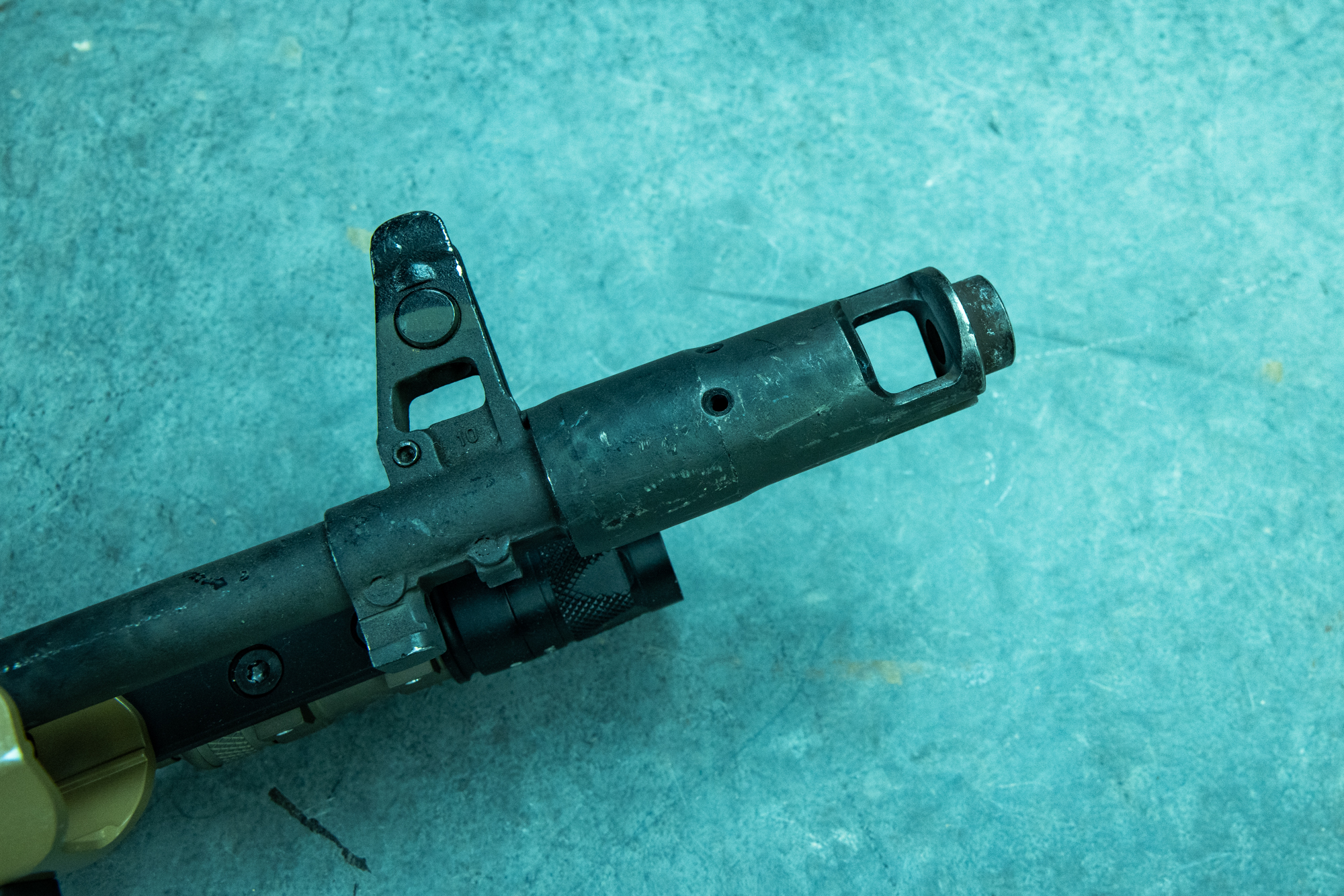 While we are not a big fan of muzzle brakes, the stock brake that comes on the SLR104FR just fits the looks of the gun and makes it shoot extremely flat. It will likely stay right where it is, for now.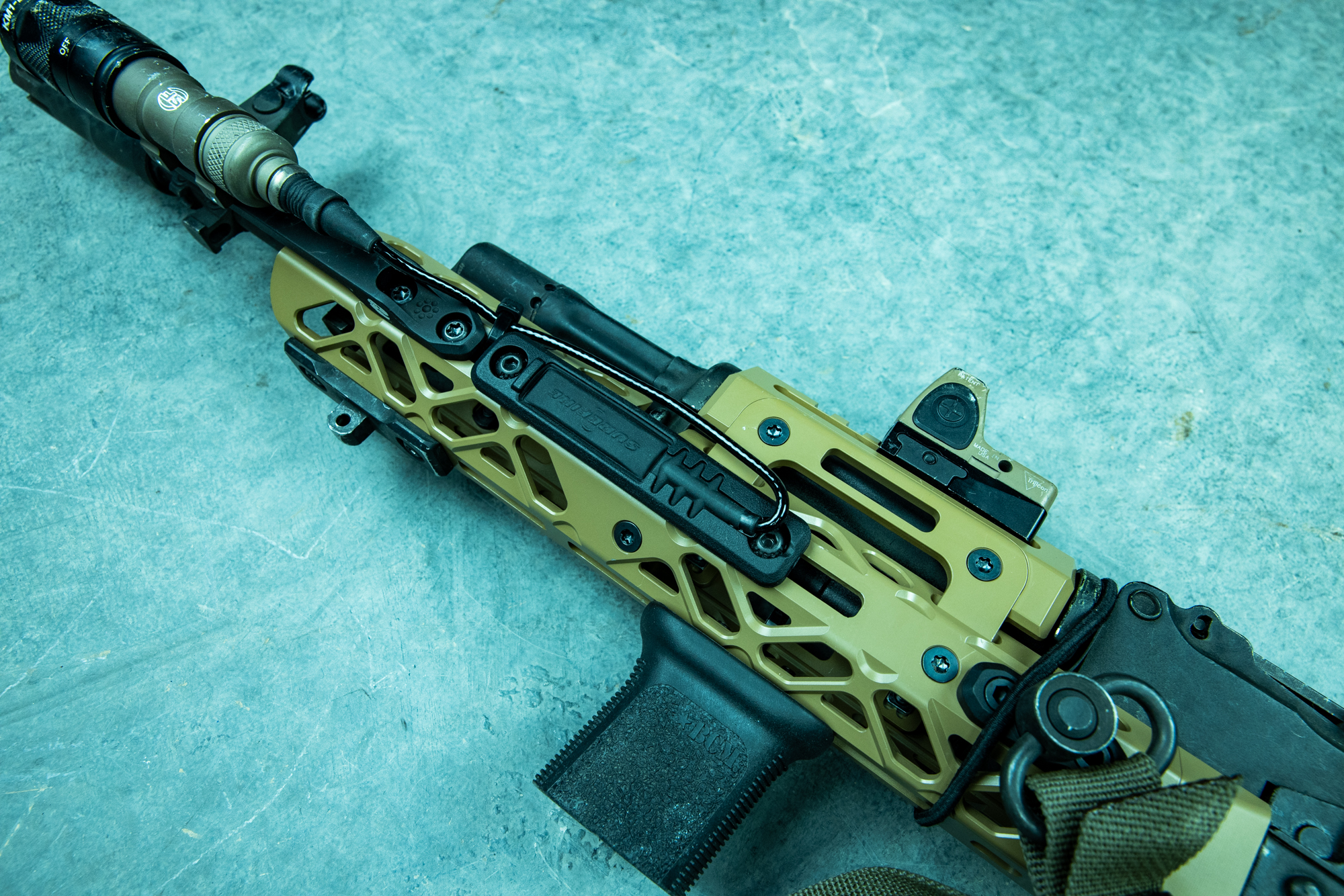 Much like slings, every gun needs a light, and once again, we are back at the upgraded handguard. We installed a SureFire M300V and an ST07 pressure pad. The light is on the left-hand side of the gun to keep the weight closer to the shooter. While the light doesn't weigh much, the further it gets from our hand, the more leverage it creates. The ST07 is installed using a Magpul panel, and because it's M-LOK, it removes the need for zip ties or electrical tape.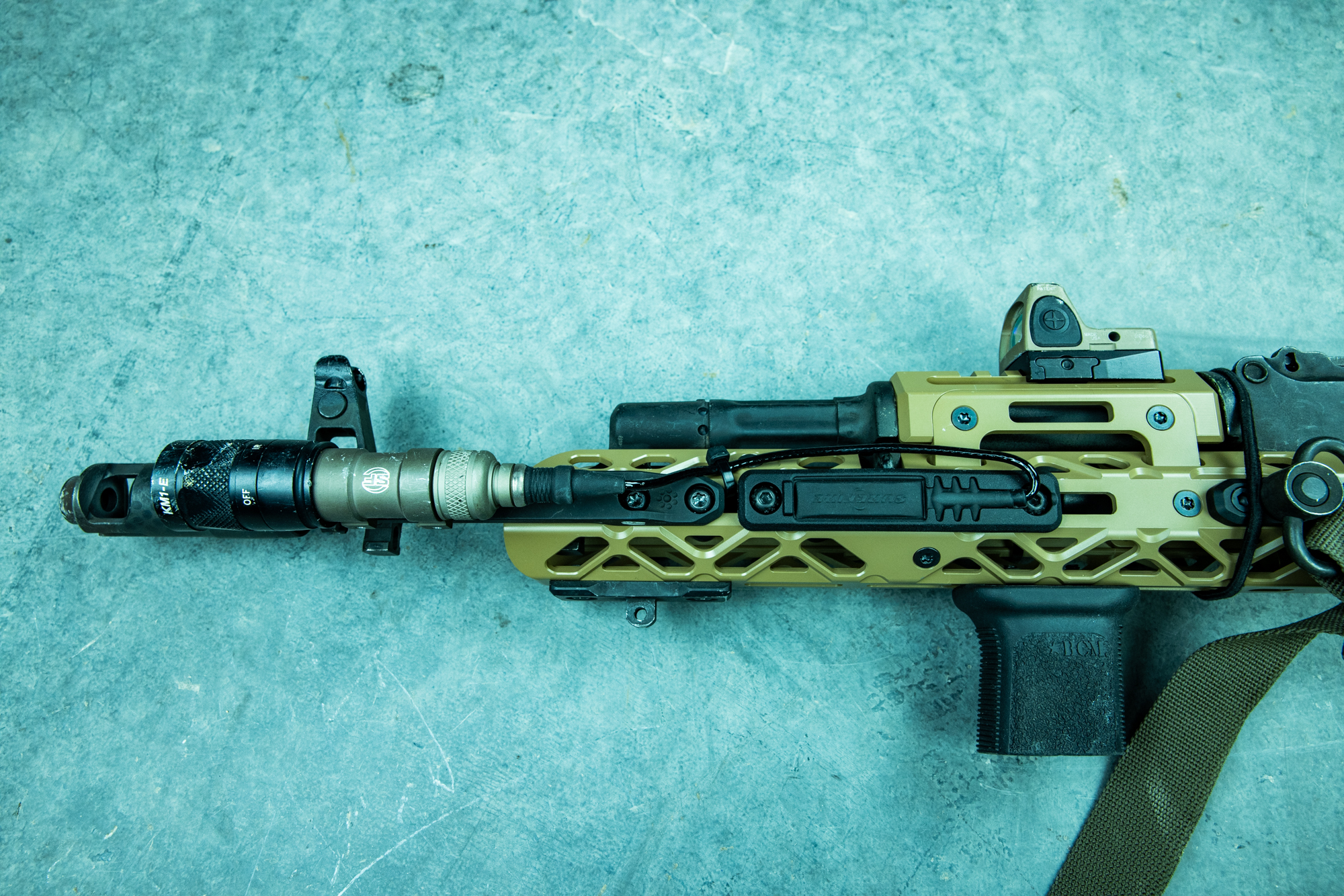 The M-LOK Lightbar used on this build also does a few things for us here. First, it buys us rail space by pushing the light forward. In doing so, it accomplishes another task and reduces most of the muzzle shadow, and provides a solid mounting point for our SureFire light.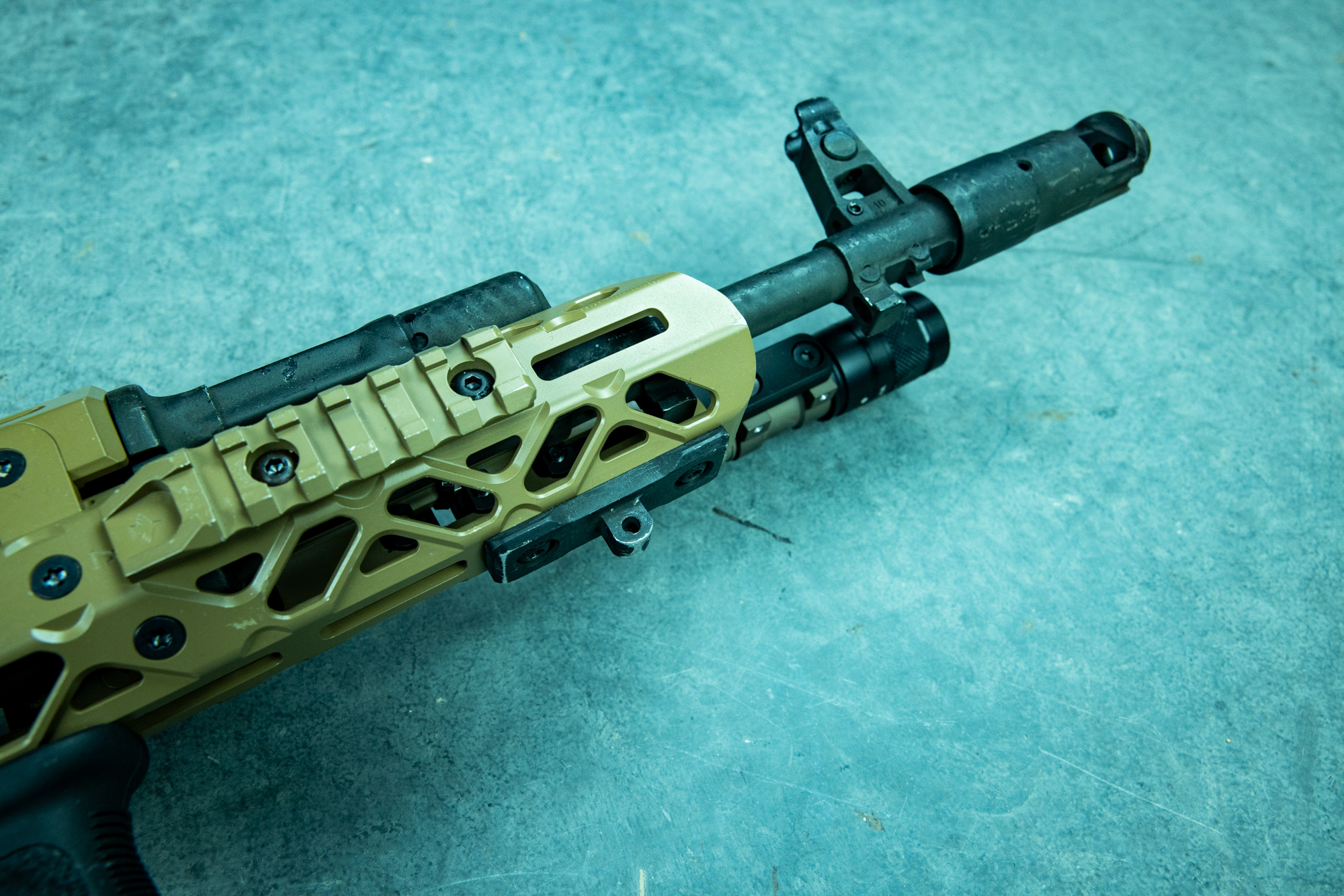 Lastly, we have a bipod stud installed at 6 o'clock. While we don't intend to carry a bipod on this rifle all the time, it's sure helpful to have it when you are shooting past 100 meters. All in all, we love this gun. It shoots smooth, always cycles, and in proper T.REX form, will probably be reconfigured in the next month or two, if it even lasts that long.
In addition to this in-depth Loadout Article, you can watch our full video on it below!
Build List
Attachments
If you have any further questions, don't hesitate to email us at team@trex-arms.com.